Entertainment News
Botox Mom's Story Is A Hoax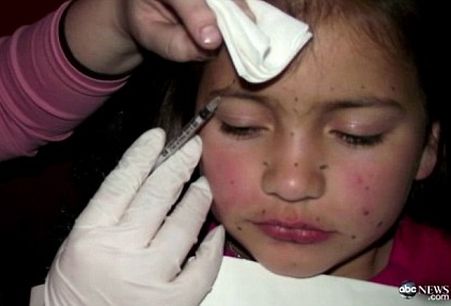 It's the story that got Americans and parents outraged. A woman recently went on "
Good Morning America
" admitting she injected her young daughter with regular Botox injections for her upcoming beauty pageants. After receiving hundreds of complaints from concerned viewers, child protective services stepped in to investigate and eventually took the daughter away from her mom.
After losing her child, mother Kerry Campbell just recently went under oath and declared she made the entire story up in order to gain some money. "The truth is I have never given my daughter Botox, nor allowed her to get any type of waxing, nor is she a beauty pageant contestant." In fact, after going to UCLA Medical Center to examine the young girl, doctors found no evidence she received Botox or other injections.
According to Campbell, she was offered compensation for appearing on "Good Morning America" and "Inside Edition" if she told her controversial story on camera. "Good Morning America" denies she received any money for her interview.
No word as to when and if Campbell will be awarded custody of her daughter once again.
Read more from TMZ about the hoax here.
Reach Mike Vulpo here