Science
Billions of Planets Wander Alone In Milky Way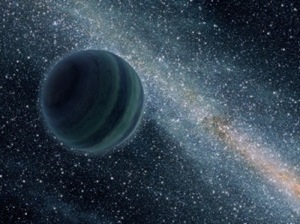 An international group of astronomers said Wednesday they have discovered ten potential Jupiter-sized planets lonely floating in our Milky Way galaxy, leading the researchers to suggest hundreds of billions more exist there.
Based on observations of the center of the Milky Way during 2006 and 2007, the team concluded that for each star present in the galaxy, there are nearly twice as many free-floating planets the mass of Jupiter.
The research, led by Takahiro Sumi from Osaka University in Japan, noted it's possible some of the planets are not orphans but are orbiting their parent stars at very far distances.
But "[o]ur results suggest that planetary systems often become unstable, with planets being kicked out from their places of birth," said David Bennett, a NASA and National Science Foundation-funded co-author of the study, from the University of Notre Dame in Indiana.
Free-floating planets have been predicted, but how many there are has been a puzzle. Findings are expected to help astronomers better understand planet formation and evolution models.
The study is published in the Thursday issue of the journal Nature. Read more here.