Los Angeles
A Bad Day In San Pedro Traffic Court
The San Pedro courtroom was packed. At least 40 people sat watching, waiting to be called up. Eight were lined up by the bailiff, ready to be heard. Another eight stood facing Judge Michele E. Flurer. It was only 8:30 in the morning on a recent Monday, but the windowless courtroom air felt stifled and hot.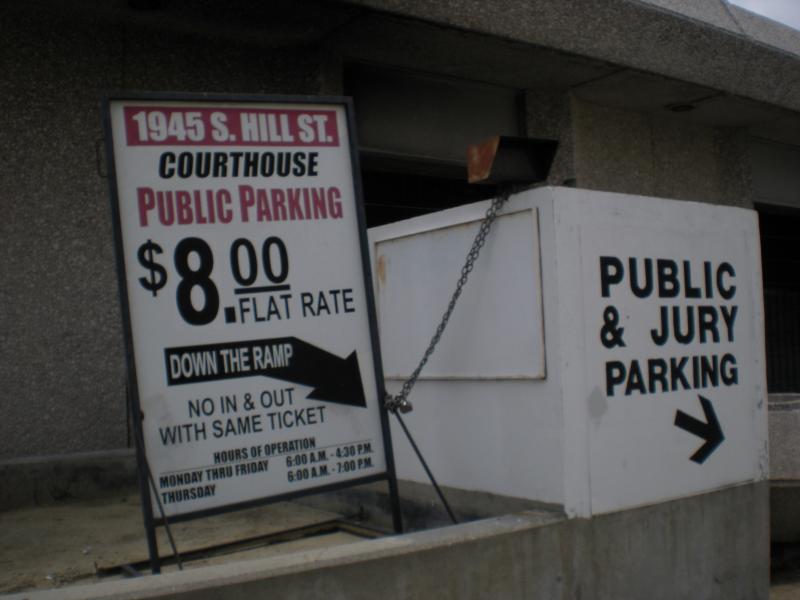 Bryce Doyle was ticketed for a broken taillight on his car. Doyle handed the bailiff proof that he corrected the violation.
The next person, Kevin Baraza, was caught speeding. He pleaded no contest and Flurer told him he could do traffic school.
Opal Martin and Salvador Salvez were also caught speeding. The next three had similar offenses.
The next group was summoned to the front.
The fourth person, Ricardo Avipez, had a failure to appear in court due to a gridlock violation, which is when you are stuck in an intersection after the light turns red, blocking traffic. Through a translator, Avipez pleaded no contest but told Flurer he had no money and a disability that prevented him from doing community service.
"If you can answer a phone, you can do community service," Flurer said.
Ricardo and the translator began conversing in Spanish while Flurer was still speaking.
"You need to listen. You either pay it or not and do community service," Flurer said, looking annoyed.
The third group of eight would have been done within a few minutes, but a Mr. Cole was not happy with having the choices Flurer gave him, either to pay or do community service.
He told Flurer he couldn't do community service because of his illness.
"There have been people on dialysis who have completed community service," Flurer said.
Cole raised his voice and told the judge he will be receiving chemotherapy and also an organ transplant and that he had no money to pay the fines.
"Do you have evidence?" Flurer asked.
"Of course I do," Cole replied back.
"I am denying the request because you need to write to the court and say you cannot do community service. You've been coming to the court about this for a year. If you just did your community service you would have been done," Flurer said.
Cole began talking about his illness and a bone marrow transplant angrily.
"Mr. Cole, have a seat. I do not discuss medical conditions in open court," Flurer said.
Carol Sheedy, a blonde woman in her forties, listened while an officer told Flurer why he ticketed her. Sheedy was driving a 1998 4-door Honda Accord toward an entrance on eastbound on Pacific Coast Highway and failed to leave a stop sign safely.
"Traffic at 4:30 is pretty hard. As I came to make a left on PCH, the sun was beaming straight in my eyes," Sheedy told Flurer, as to why she didn't watch for oncoming cars.
"You can only make turns when it is safe," Flurer said.
"I am saying the sun was in my eyes. I will never do a left turn there again," Sheedy said, while a few people in the courtroom chuckled at her statement.
Reach Sarah Sotoodeh here.
Click here for more of our L.A. traffic court coverage.