NBA
2011 NBA Lottery Mock Draft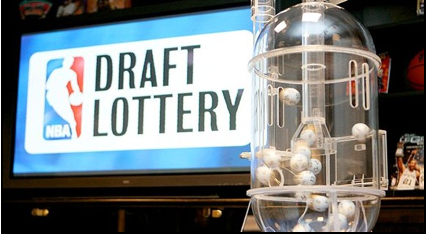 The 2011 Draft Lottery [rigged or not] is finally set.
The Cleveland Cavaliers won the lottery sweepstakes with two of the top four picks.
Cleveland fans can thank Dan Gilbert (and his large pockets) for that.
The Utah Jazz will also have two picks in the Lottery, 3rd and 12th, jumping three spots from their projected 6th pick before last night's draft lotto.
Let's take a look at our 2011 NBA Lottery Mock Draft (Picks 1-14):
1. Cleveland Cavaliers
PG Kyrie Irving, Duke
The selection of Irving will begin the rebuilding of a franchise and fill a huge need in the mediocre Cavaliers' roster.
Will Dan Gilbert and Cavaliers' coach Byron Scott look at Arizona forward Derrick Williams? Probably, but Kyrie Irving's 17.5 PPG in just 11 games at Duke seem to be enough for scouts to rank him as the number one player in this year's thin draft.
Irving might not have 2011 NBA MVP Derrick Rose's scoring ability, but he'll be a formidable force in the Cleveland backcourt for years to come.
2. Minnesota Timberwolves
F Derrick Williams, Arizona
In my eyes, Williams is the most complete player in this year's draft. However, the Timberwolves are deep at the power forward/small forward position with leading scorers Kevin Love and Michael Beasley along with Anthony Rudolph, Martell Webster and Wesley Johnson.
The Timberwolves have options though. Look for them to strongly consider trading down in hopes of providing talent to their backcourt.
3. Utah Jazz
PG Brandon Knight, Kentucky
Early on during Kentucky's season, Knight was barely holding on to a first round draft grade. The season provided its fair share of ups and downs for the former number one prospect coming out of high school, but his clutch performance in the tournament propelled the Florida native into the lottery.
The Jazz are loaded in the frontcourt with Big Al Jefferson, Paul Millsap and Derrick Favors. Knight will pair well with current Jazz point guard Devin Harris who ended last season on the injury report.
4. Cleveland Cavaliers
PF Enes Kanter, Lietuvos Rytas, International (Kentucky)
Kanter was unable to suit-up for Coach Calipari and the Kentucky Wildcats due to NCAA Eligibility rules during the 2010-2011 season. He might be the best offensive post-player in this year's draft and would team up well with the Cavaliers' first selection Irving.
If the Cavaliers do not choose Kanter, look for them to listen to offers for teams wanting to move up.
5. Toronto Raptors
PF Bismack Biyombo, Baloncesto Fuenlabrada, International
Biyombo wowed scouts in the Nike Hoop Summit in Portland both on and off the court. He measured in with a 7-7 wingspan and his ability to block shots and rebound is unparalleled.
The 18 year-old originally from the Democratic Republic of the Congo is raw in the offensive block, but has the potential all scouts look for. Biyombo will look to take pressure off of Raptors' leading scorer Andrea Bargnani.
6. Washington Wizards
SF/PF Jan Vesely, KK Partizan Belegrade, International
Vesely is an athletic specimen with tremendous versatility on the offensive end. He has the length of a center, but the ability to make shots from distance.
With the Vesely pick, the Wizards will be one of the most athletic teams in the league with leading scorer Nick Young and John Wall leading the young team.
7. Sacramento Kings
PG Kemba Walker, Connecticut
Walker's performance in both the Big East Tournament and March Madness increased his stock ten-fold. He's not a true point-guard but this selection will allow Tyreke Evans to evolve into an off-the-ball player.
If Walker can show King's scouts he's willing to be a game-managing point-guard, Sacramento will be happy to take him at seven.
8. Detroit Pistons
SG Alec Burks, Colorado
Perhaps the best scorer in this year's draft, Burks can fill the role of the aging Richard "Rip" Hamilton.
Burks averaged just over 20 points a game while struggling from long-range at Colorado. He'll be a great fit for a Pistons team with a lot of holes to fill.
9. Charlotte Bobcats
SF Kawahi Leonard, San Diego State
The Bobcats have a lot of needs, but very few options. Leonard's athletic prowess and rebound ability could be the best in this year's draft.
If Leonard can improve his shooting ability, his value at the 7th pick overall will be great for the Kings given their slide in the lottery.
10. Milwaukee Bucks
PF Marcus Morris, Kansas
A very productive player while in Lawrence, Kansas, Morris, who averaged 17.2 PPG, has all of the offensive intangibles. His defense is suspect and will need to improve for Bucks' head coach Scott Skiles, but his offensive ability, both on the block and from mid-range, will improve one of the worst scoring teams in the league.
11. Golden State Warriors
PF Tristan Thompson, Texas
Golden State needs size, effort and toughness in the paint and on the boards and Thompson has everything the Warriors are looking for.
Thompson struggled on the offensive end while at Texas and surprised many by staying in the draft. Frankly, he's quite raw on the offensive end, but he'll rack up a few put-backs due to his high energy playing style. Plus, he doesn't need to be a dominant scorer in a Warriors' offense that scores just over 103 points per game.
12. Utah Jazz
SG Klay Thompson, Washington State
The PAC-10 player of the year will add quality depth to a backcourt that will select point guard Brandon Knight with the third overall pick in the draft. Thompson will be a legitimate scorer in the league and averaged 21.6 points during his final season with the Cougars.
He might play behind both Raja Bell and Gordon Hayward, but he'll see quality time off the bench and will be a great choice for a rather young Utah team.
13. Phoenix Suns
PG Jimmer Fredette, BYU
The 2011 Naismith Men's College Player of the Year can score and score in bunches but he lacks the defensive ability and effort to guard the likes of Chris Paul or Russell Westbrook.
The Suns are set in the frontcourt, and have quality depth at the point guard position with Aaron Brooks backing up Steve Nash. However, Fredette will never be a true point guard and hopefully, he can evolve into a player who can create shots for himself without the ball.
14. Houston Rockets
SF/PF Tobias Harris, Tennessee
The Rockets lack a quality small forward who can also guard athletic fours. Harris is one of the most consistent players in this year's draft as well as one of the most versatile. His game imitates NBA's Sixth Man of the Year Lamar Odom, as Harris can shoot and make open threes in addition to facing up or posting up a smaller player on the block.
Harris will be a steal at 14 and a solid choice for a Rockets team who finished just three games out of the Western Conference Playoff picture.
_____________________________
Reach Eric by email, or follow him on Twitter.