Los Angeles and Region
Why Didn't Twitter Move To South L.A.?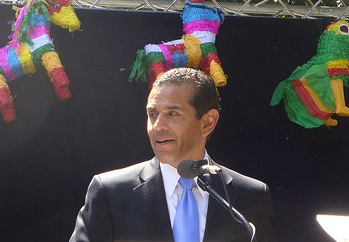 Mayor Antonio Villaraigosa will return to one his defining issues during his State of the City address Wednesday, championing reform of the school district he once sought to take over.
With his school board allies re-elected last month, Villaraigosa could make significant headway during his final two years in office toward bringing greater choice and accountability to the nation's second largest school system. For a mayor nearly six years into his job, visions of quick construction of a subway through West L.A. and a hub of clean tech start-ups near East L.A. were slowed by an economic downturn.
The mayor's priorities turned to softening a budget deficit and revitalizing L.A.'s economy. Whether Villaraigosa should have exercised greater leadership in making the city more business-friendly is up for debate. Billionaire developer and potential 2013 mayoral contender Rick Caruso said last week that Villaraigosa and the city he operates have been lazy in creating jobs. The city's unemployment rate continues to outpace that of the county, state and nation.
"The city's focus on building its economy needs to be reinvigorated," Caruso said in a brief interview at his office.
Speaking from Jefferson High School on Wednesday, Villaraigosa will have a chance to explain his focus on education and his shift away from the themes of environmental stewardship and job creation that have defined his most recent State of the City speeches.
"It's a chance to elevate his position on education," said Raphael Sonenshein, an expert on L.A. politics at California State University, Fullerton. "He's playing with a stronger hand than before."
Of the four L.A. Unified School Board spots open for election last month, two Villaraigosa-financed incumbents held onto their seats. A third candidate supported by Villaraigosa will face a runoff challenge in May. An incumbent backed by the United Teachers of Los Angeles also held onto her seat.
"If it weren't for the budget going south, education would have been his thing all along," Sonenshein said. "You can only talk about how bad the budget is for so long."
Caruso is less forgiving, warning that the city is not being aggressive enough in attracting new investment and pointing to San Francisco as a good example of what it should be doing.
San Francisco, which unlike L.A. has a payroll tax, made a swift decision last week to keep within city limits social networking company Twitter and the 2,000 employees it expects to add during the next few years. San Francisco's version of a city council created a special zone in a blighted area, allowing companies that operate there to forgo payroll taxes for new hires for six years. It's a strategy Caruso praised.
Twitter moving its' headquarters to the special zone is expected to save it $22 million. Several other companies quickly expressed interest in moving to take advantage of the tax beak. Detractors worry about the impact on city's tax revenues and the precedent it sets for other companies who may threaten to leave the city unless they too get favorable treatment.
L.A.'s approach appears to be far more cautious and comprehensive. And with redevelopment agencies and enterprise zones still tagged for removal by Gov. Jerry Brown and the legislature's Democrats, the effort appears more important than ever.
The city council is expected to consider a proposal this summer to revamp its business tax structure—a year after Council President Eric Garcetti first raised a couple of ideas to provide more incentives for businesses. USC professor Charles Swenson was awarded a three-month, $50,000 contract to analyze suggestions from councilmembers and a special business tax advisory committee. He did not return an e-mail or voicemail seeking comment.
"It's tough to ask a mayor to be a job creator," Sonenshein said since cities can't take on debt.
But taxes and fees have not been the only issues helping keep the city's unemployment rate above 13 percent since July 2009.
In some of the hardest-hit areas such as South L.A., Caruso said landowners have an "inflated" view of the value of their property. Without better prices, there's little attraction for developers and companies.
"You just can't make sense of it," he said.
One of the South L.A. councilmembers, Bernard Parks, said his district has more than 200,000 square feet of commercial space available—much of which used to be furniture showrooms.
"I have been living here my whole life and I haven't heard of him trying to build here," Parks said of Caruso, who led the city's police commission when Parks was fired as L.A. police chief.
The same architectural firm that designed the Grove is working on the plan for USC's University Village transformation, which sits just on the edge of Downtown in Parks' district. Caruso said he hopes to have a hand in that project once the plans are settled.
Caruso has regularly expressed a desire to build in less wealthy areas, especially the Boyle Heights neighborhood where his father grew up. But he maintains the right deal hasn't materialized. Parks has focused on smaller retail projects in his district such as the Baldwin Hills shopping center.
"I can only talk about reality," Parks said, rejecting any hope of seeing a Grove-like complex in South L.A. anytime soon.
The city's maze of websites, offering conflicting or outdated information about the benefits currently in place, isn't any help either.
The paperwork is an even worse story. In his first week on the job, first deputy mayor and potential 2013 mayoral candidate Austin Beutner persuaded Chinese automaker BYD not to be overwhelmed by a pile of forms needed to open its North American headquarters in L.A.
The idea of a clean tech corridor just east of downtown in a blighted area along the L.A. River has received a boost in recent months. There's a business plan in place for a clean tech start-up incubator led by nonprofit group Community Partners to begin work this summer in a temporary space. The incubator will receive about $5 million in funding through redevelopment money and federal community development block grants as it becomes the first anchor in the corridor.
The mayor's office wants to have a developer break ground on a permanent site for the incubator by the end of the year—finding a developer remains a challenge. It would sit alongside a research center on a 20,000 square foot innovation campus. Whether the mayor's initiative is a success likely won't be determined until he's out of office.
Parks said that clean tech companies he has sought to bring to his district have wanted undeveloped land to build-out on their terms—a desire quite hard to find in ravenously built-out L.A.
His other major plans focus on bringing a football team to L.A., and expanding public transit, including extending the Purple Line subway toward UCLA and expediting the process of building a dozen projects through a federal loan. Both are rolling along with moderate success.
Caruso on the political right and Villaraigosa on the political left can look to the recent wisdom of Gov. Brown, whom both admire.
"Leadership is not about complaining or shirking back from the tough decisions," Brown said last weekend in a visit to Orange County. "It's not about me and me. It's about us."
Like reporter Paresh Dave on Facebook, find him on Twitter or send him an e-mail.