Books
What To Expect: The L.A. Times Festival Of Books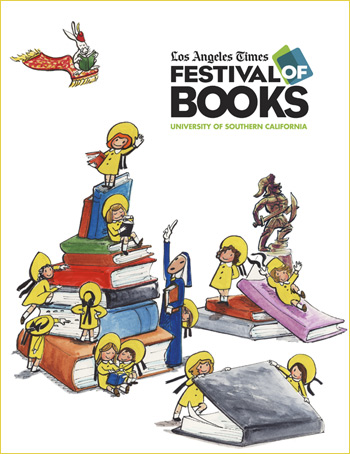 After a 15-year run at UCLA, the Los Angeles Times Festival of Books, the nation's greatest book fair, will move to its new home at USC's University Park campus this weekend.
Attendees can expect the best of USC's talent with performances by the world-famous Trojan Marching Band, a capella group Socal Vocal, and premier long-form improvisational group, Second Nature.
Among panels, appearances and musical acts, the Festival of Books will also recognize the 50 distinguished literary works that were nominated for the Los Angeles Times Book Prizes, an awards ceremony that preludes the festival.
The move to USC has been a hot topic among regular attendees of the festival, and was "not motivated by any one particular thing," said Maret Orliss, Senior Programming Manager for the festival.
"We thought a change of venue would provide for more parking, a more central location and an increase in diversity," Orliss said. "More people from the East Side, like Pasadena, will be able to attend now. Those who wouldn't want to trek to the festival when it was on the West Side can now come."
She added that USC's campus offers a chance for an increase in programming and food options as well as different spaces for exhibitors and their booths. She said the festival prides itself on showcasing all sorts of book culture, so that there is always something for everyone.
"It doesn't matter if you're a poet, or a mother with some kids or a serious literary drama fan, the festival will have something for you," Orliss said.
Some of the biggest names being buzzed about are from all different parts of the literary world. Patti Smith, musician and author of "Just Kids," a New York Times bestseller and National Book Award winner will be in conversation with Dave Eggers, the founder and the editor of McSweeney's.
Jennifer Egan, speaking in the "Fiction: Breaking Boundaries" panel and author of "The Keep" and "A Visit from the Goon Squad," is a 2010 LA Times Book Prize finalist in Fiction.
Cherished children's author Beverly Cleary, most notable for "Ramona and Beezus," will be honored with the Robert Kirsh Award for Lifetime Achievement this year.
Outdoor stages as well as panels provide a variety of authors and presentations. At the L.A. Times Stage, readers can hear Patton Oswalt, comedian and author, talk about his book "Zombie Spaceship Wasteland," or see food stars Jillian Michaels interviewed. The Target Children's Stage will provide musical entertainment and readings by prominent children's authors for the younger readers.
There is even a "Discover the World" stage where consulates from around the globe present cultural performances and readings of their own.
Orliss says the festival hopes to have 150,000 attendees over the two days at USC. The past few years have garnered over 140,000 people each year, but Orliss says the change of location will bring more people than ever before.
"Our event is living and breathing proof of no matter how people read, people still read — the format might just be different," Orliss said.
People come from all over the country and the state to experience a community full of people who love to read just as much as they do.
Though several panels have already sold out, people are encouraged to stand in stand-by lines that will begin letting people in 10 minutes before if there are seats available.
The LA Times Festival of Books is a must for any book lover who wants to hear their favorite authors read, discuss, and express their love of book culture as well as so much more.
Reach Staff Reporter Candice Aman here. Reach Staff Reporter Kristin Yinger here.