USC Sports
USC Football Spring Notebook - Practice 14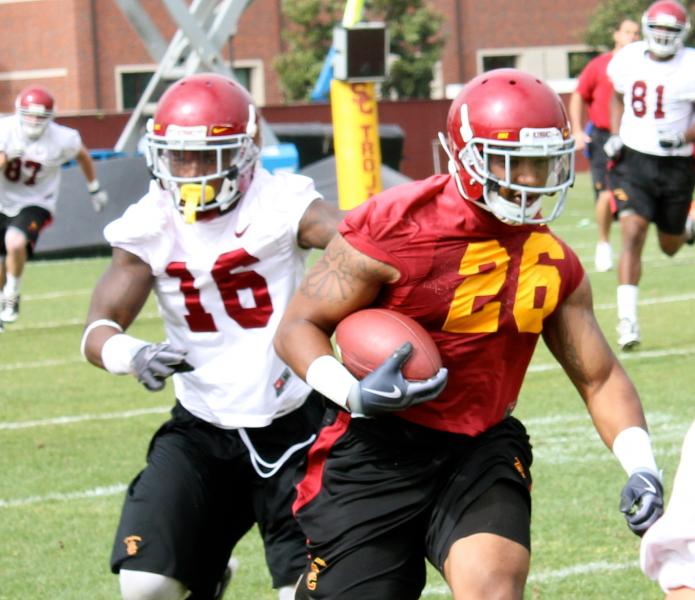 USC held its 14th practice Thursday at Howard Jones Field, the final practice before Saturday's Spring Game. The Trojans weren't in full pads, but they did practice for nearly two and a half hours.
WELCOME BACK: Thursday marked the return of several key members of the squad. Running backs Marc Tyler and Dillon Baxter returned, as did receiver Kyle Prater and defensive backs Tony Burnett and Demetrius Wright.
Tyler, Baxter, Burnett and Wright are all likely to play in Saturday's scrimmage. However, Prater is not cleared for contact and will only participate in warmups.
WOODS IS READY: Receiver Robert Woods was a Freshman All-American last year, catching many opponents by surprise. This year, however, he is ready for teams to key on him and match up their best DB on him.
"I've just been working hard in the weight room and studying the playbook to get better and prepare," Woods said. "Plus I'll have KP [Kyle Prater] and the running backs out there with me for defenses to worry about."
Woods is also ready to play defense if the coaches need him to. As we've noted this spring, Woods has done sporadic work at DB and said Thursday it's something he enjoys and welcomes if it's what the team needs.
FEELING SPECIAL: Practice featured an added emphasis on special teams. The extra focus is often used as a review and is to be expected prior to a scrimmage. What isn't expected, however, is the number of key starters used on the Trojans' special teams units, the most notable of which was Robert Woods, who lined up as a gunner on the punt team.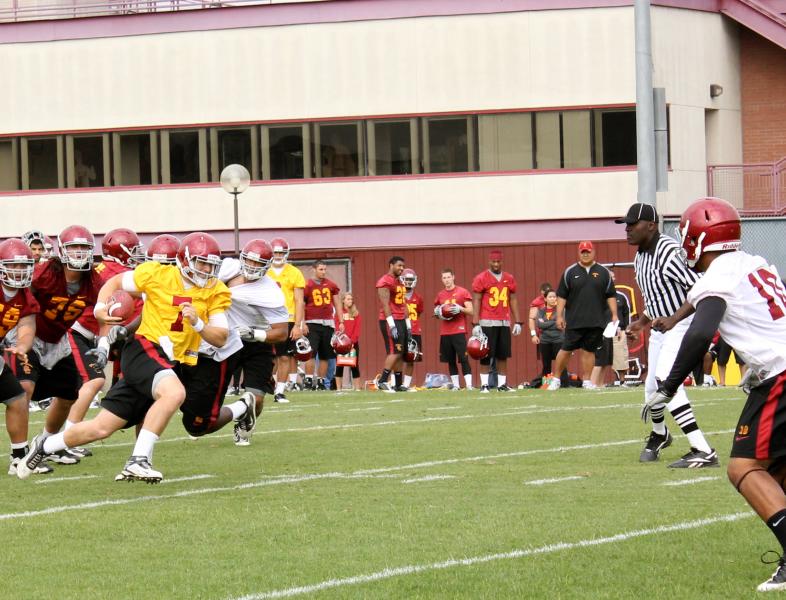 MAKING A RUN FOR IT: Quarterback Matt Barkley has shown growth this spring in his execution of the offense and as a leader. Another area Barkley's showing improvement in is as a runner. His mobility and speed are evident this spring. He's broken off long runs on bootlegs and QB draws and is easily playing faster than in previous seasons.
One quarterback sneak attempt on a third-and-short sparked defensive line coach Ed Orgeron to yell, "Ok, Tebow!" at Barkley, in reference to former Florida quarterback Tim Tebow.
ANTICIPATION: Though the Trojans end spring practice with questions still to be answered along the offense and defensive lines and at linebacker, Lane Kiffin says he's learned a lot this spring.
"I think we've gotten better on defense. We're playing more sound. I think we have tackled way more than we did a year ago and I think that's gonna pay off for us," Kiffin said. He also recognized Hayes Pullard, Dion Bailey and Demetrius Wright as players who made an impression this spring.
VIDEO:
WHAT'S AHEAD: The Spring Game is at 1 p.m. Saturday, April 23, at the Los Angeles Memorial Coliseum. Tickets are $10 for adults and free for USC students. Children 12 and under are also free. Kiffin said Thursday to anticipate "a lot of plays, a lot of contact and for it to be very physical."
Be sure to check out all of Neon Tommy's coverage of 2011 Spring Practice.
____________________
Reach Scott Enyeart by email or follow him on Twitter @scottenyeart.