USC Sports
USC Football Spring Notebook - Practice 13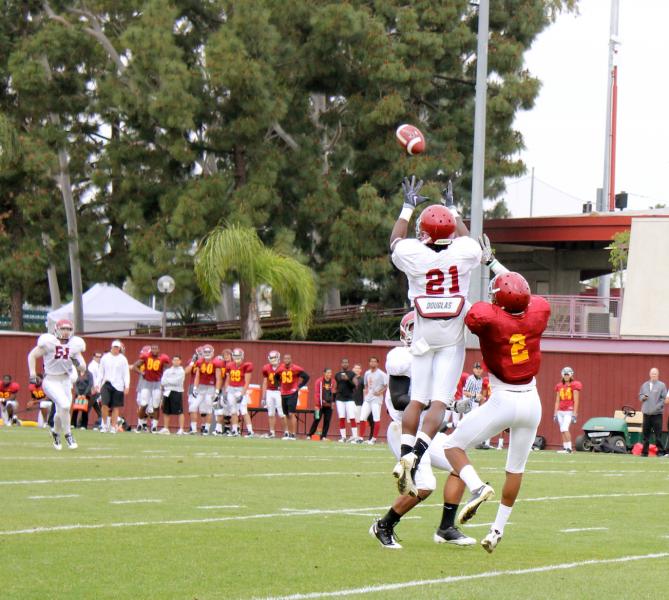 USC held it's 13th practice of the spring on Tuesday morning at Howard Jones Field. It was the final practice in full pads before Saturday's spring game.
BURNETT IN A BOOT: Tony Burnett, who earned a starting cornerback spot this spring, sat out of practice due to a sprained left ankle he sustained in Saturday's scrimmage. Burnett roamed the sidelines in a walking boot, but said it was only precautionary and that he expects to be back for the spring game on Saturday.
SEARCHING FOR CONSISTENCY: Quarterback Matt Barkley was visibly and vocally frustrated with the progress of the offense of Tuesday.
"Sometimes when things aren't going right and people don't know what they're doing, I feel like they should because they have been [doing things right all spring]," Barkley said of his struggling teammates. "But it's important to just keep your cool and realize that these are young guys and you have to kind of coach them at the same time."
GOING DEEP: With Tony Burnett sidelined, the offense was able to attack downfield more often than they have throughout the spring. The highlight of the day came on a long bomb from Max Wittek down the sideline that Robert Woods dove and hauled in after cornerback Brian Baucham tipped the ball, sending it ricocheting up in the air. Watch the progression of the play:
EXTRA PRACTICE OR EXTRA POSITION?: After practice, Woods worked on his defensive back footwork against fellow freshman receivers Markeith Ambles and Kyle Prater. Coach Lane Kiffin said earlier this spring that there were no plans for Woods to play defense this year, however, this is the second time this spring Woods has gotten some form of DB work.
COLBERT ADDS DEPTH: Once again, Markeith Ambles was not in pads. The receiver was forced to condition and sit out most of practice because he was late to meetings this morning. Helping fill his place was former USC receiver and last season's tight ends coach Keary Colbert. Colbert, who is attempting a return to the NFL, took reps during team and 7-on-7 periods and had several nice catches.
SHOWING RANGE: Last season, USC lost three close games, including a pair by less than a field goal, partly because kicker Joe Houston lacked a big and accurate leg. It appears that won't be an issue this season as the Trojans have two capable kickers on the roster. Today both Andre Heidari and Craig McMahon both made field goals of 50 yards or greater.
VIDEO:
Lane Kiffin -
Matt Barkley (courtesy of Ryan Nunez) -
WHAT'S AHEAD: USC will hold it's annual spring game Saturday at the Los Angeles Memorial Coliseum at 1:00pm. Tickets are $10, but USC students and children 12 and under are free.
Be sure to check out all of Neon Tommy's coverage of 2011 Spring Practice.
____________________
Reach Scott Enyeart by email or follow him on Twitter @scottenyeart.