USC Sports
USC Football Spring Notebook - Practice 11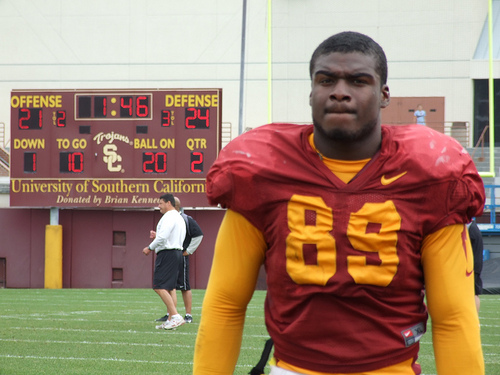 The USC Trojans held their 11th of 15 allotted spring practices Thursday morning at Howard Jones Field.
PLAYING HARDBALL: A number of members of the Trojan football team, including Matt Barkley and T.J. McDonald, headed over to Dedeaux Field after practice to take batting practice. McDonald and fellow safety Jawanza Starling each hit home runs.
GET USED TO IT: The chemistry developing between Matt Barkley and Robert Woods is becoming more evident every day. Both players are routinely mentioned by Lane Kiffin as players who stood out at practice and today was no different. The duo ended practice with a touchdown pass that Woods brought in with one hand.
FINDING A FULLBACK: Fullback was a position that was never in question heading into previous seasons. Stanley Havili was a mainstay at the position for four seasons. He has graduated, though, leaving some big shoes to fill.
Soma Vainuku has been getting reps at the position this spring, but tight end Rhett Ellison has also been taking snaps to add depth.
"It's something we'll probably do a lot of in the fall," coach Lane Kiffin said. "Especially if these younger tight ends continue to develop."
SCROGGINS SEIZING CONTROL: Kiffin announced Tuesday that redshirt freshman Jesse Scroggins has emerged as the leader in the backup quarterback race. Scroggins continued to seize control of the job Thursday. Kiffin has described him as the most improved member of the team this spring, highlighting an increased understanding of the offense as Scroggins' biggest advancment.
STEPPING UP: The position groups with the least amount of depth this spring are the offensive line and the linebacking corps. With multiple starters missing from both units, other players are stepping up and proving they can contribute.
Hayes Pullard at linebacker and Jeremy Galten on the offensive line are two players Kiffin singled out Thursday.
"Hayes is doing really well. He didn't really flash that much to us last year but has had a great offseason and looks really good out there," Kiffin said.
Kiffin praised Galten's toughness, emphasizing that he was playing with a grade two MCL strain.
VIDEO (courtesy of Ryan Nunez):
Kyle Prater
Lane Kiffin
T.J. McDonald
WHAT'S AHEAD: The Trojans will resume practice Saturday morning. The Spring Game is scheduled for April 23 at the Los Angeles Memorial Coliseum as 1:00 p.m. and is open to the public.
Be sure to check out all of Neon Tommy's coverage of 2011 Spring Practice.
____________________
Reach Scott Enyeart by email or follow him on Twitter @scottenyeart.