USC Sports
USC Football Spring Game: White Defeats Cardinal 42-29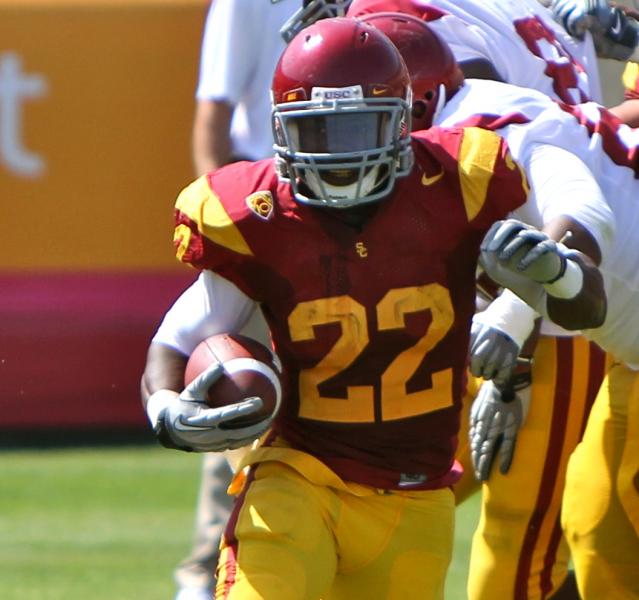 A crowd of 16,850 was on hand for USC's Spring Game as the White team (defense) defeated Cardinal (offense) 42-29 Saturday at the Los Angeles Memorial Coliseum.
Points were awarded traditionally to the offense for touchdowns and field goals. The defense earned scores for forcing punts and turnovers.
The defense dominated the 121-play scrimmage but several offensive stars put up impressive numbers. Running backs Curtis McNeal and Dillon Baxter each went over 100 yards.
McNeal gained 107 yards on 13 carries while scoring two touchdowns. Baxter put up 104 yards on 14 carries and added a TD of his own. Redshirt freshman D.J. Morgan carried the ball 14 times for 89 yards.
Marc Tyler missed the game with lingering symptoms from a concussion sustained earlier this spring.
The passing game didn't fare as well as well as the ground attack.
Quarterback Matt Barkley was a pedestrian 22-of-42 for 212 yards with two interceptions.
Barkley's numbers don't give the entire tale of the tape, though. Starting wideout Robert Woods was unable to participate in the game after injuring his ankle playing basketball Friday.
Woods' absence was a major blow to the offense, although it did allow for some unexpected players to shine in the passing game. Redshirt freshman tight end Xavier Grimble led all receivers with 8 catches for 73 yards. Markeith Ambles (6 catches for 76 yards) and Robbie Boyer (6 catches for 51 yards) also had impressive performances.
The defensive unit showed great improvement throughout the spring, and Saturday was no different. Safety Jawanza Starling led all tacklers with nine. Junior college transfer Dallas Kelley also had an impressive day, recording eight tackles and an interception.
Brian Baucham and Anthony Brown also had interceptions.
"I thought the storyline of the day, if this were a real game, would be the play of the first team defense," Lane Kiffin said following the scrimmage.
Defensive lineman Nick Perry had a strong showing, totaling 6 tackles (including two sacks). Perry is bouncing back from an injury-plagued season during which he was essentially playing on one leg.
"I want to be the leading sack getter," Perry said. "I want to be able control the run. I want to have the best of both worlds."
MAKING THE GRADE: Curtis McNeal had an outstanding Spring Game performance (107 yards, 2 TDs) as he continues to display his ability to contribute.
This fall looks like it is McNeal's best chance to be eligible -- he said he needs a 2.3 grade point average to get off probation. McNeal has struggled with academics since his arrival to USC, but his recent success on the field has given him newfound motivation to work harder in the classroom.
"The feedback from my teammates, coaches, fans just drives me to work even harder in class," McNeal said. "I just have to step my game up in the classroom and that's pretty much what I did this spring."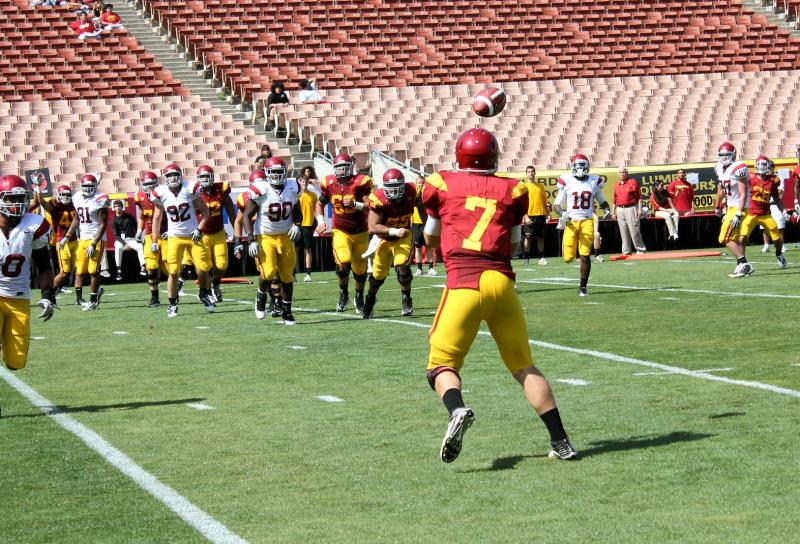 BAXTER TO BARKLEY: One of the highlights of the day came on the game's final play: a halfback pass from Dillon Baxter to Matt Barkley for a three-yard TD.
Baxter, who played some quarterback in high school, also threw a touchdown against UCLA during the fall. It's not clear how much the team plans on using Baxter's arm, but it adds a a weapon to Lane Kiffin's offensive arsenal.
MCDONALD'S PLAYGROUND: Safety T.J. McDonald and his teammates in the secondary were criticized regularly last season for having one of the worst pass defenses in the nation. It appears those days are long gone. The consistency of Nickell Robey, the emergence of Tony Burnett and solid play at the safety position opposite McDonald has allowed T.J. to thrive this spring and take his game to the next level.
"I know that I can trust everybody back there in the secondary and everybody on the field," McDonald said. "Being able to have that trust in each other, it sets you free. It allows you to take some chances and be able to make plays."
KICKING WOES CONTINUE: USC's kickers struggled Saturday. The kicking game was a major area of concern last season and the Spring Game left many Trojan fans still feeling uneasy about the ability to score points on field goals.
Kicker Andre Heidari, a member of the 2011 recruiting class who enrolled early, went 1-for-3, making only a 27 yarder. Fellow kicker Craig McMahon, who showed good range this spring, missed both a field and an extra point attempt. However, Kiffin downplayed the significance of missed kicks, pointing out that one of Heidari's attempts was from 52 yards and that technically the kicker is a senior in high school.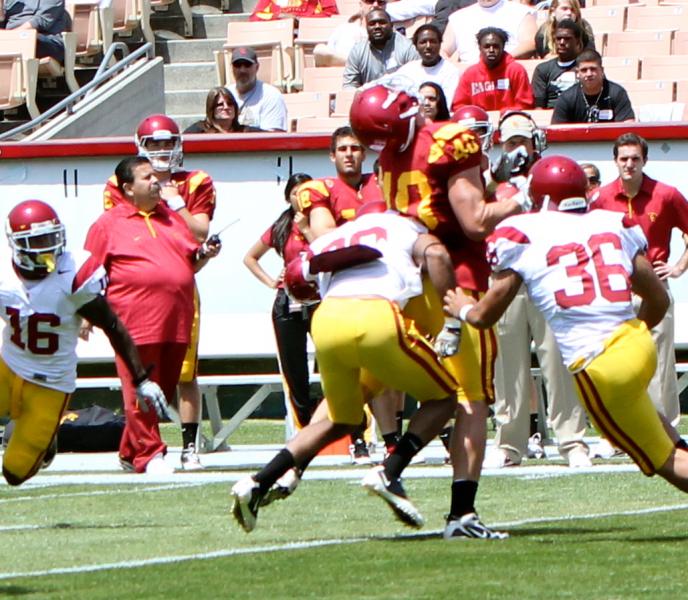 INJURY NEWS: Other than Robert Woods' ankle injury, the only injury of note was sustained by tight end Rhett Ellison. Ellison's back was injured on a Jawanza Starling hit in the first half but x-rays were negative. Kiffin said he doesn't expect the injury to be anything serious.
Also, leaving the game were a number of nicked up players, including Tony Burnett (ankle), Marquis Simmons (ankle), D.J. Morgan (shoulder) and Curtis McNeal (shin), all injuries that were classified as minor by Kiffin.
Receiver Brandon Carswell also missed the game with concussion-like symptoms.
BUTTERFINGERS: The unavailability of Woods and Carswell resulted in a number of inexperienced players filling in. The number of dropped passes was higher as a result. In a rare light-hearted moment, Kiffin put his backup quarterbacks in at wide receiver for a play.
VIDEO:
Lane Kiffin:
Matt Barkley:
Curtis McNeal:
T.J. McDonald & Nick Perry:
WHAT'S AHEAD: The team now turns its focus from football to finals with the school year ending in a few short weeks. The Trojans will continue conditioning workouts throughout the summer until fall camp commences in August.
The Trojans' first game will be at home against Minnesota on Sept. 3.
Be sure to check out all of Neon Tommy's coverage of 2011 Spring Practice.
____________________
Reach Scott Enyeart by email or follow him on Twitter @scottenyeart.