Sports
Top 3 Contenders at the 2011 Masters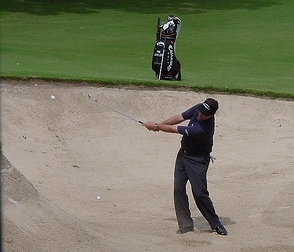 The dogwoods and azaleas are in full bloom at Augusta National and the 75th version of The Masters is about to begin.
With the struggles of Tiger Woods and the emergence of several young players, never before has the game seen such parity. Though there are a number of legitimate contenders for the green jacket, the tournament favorite was established with a dominant performance last weekend. Two others join him as the cream of the Masters crop.
Here they are:
1. Phil Mickelson - Mickelson's aforementioned performance changed the whole outlook of this tournament. Ever since he captured his third green jacket last year, he had experienced lackluster play. Though he won last year without any significant momentum, the dazzling 63-65 he shot to win in Houston gives him extra confidence to repeat at the place his caddie has referred to as Mickelson's "playground." His sterling record includes three wins in the last seven Masters, seven career top 3 finishes, and eight top 10s in his last 10 appearances.
Mickelson's playing style suits Augusta so well that he doesn't have to be at his best to be in contention. His prodigious drives, unmatched short game and knowledge of the course are essential elements to success at The Masters. Though he can occasionally become wayward off the tee, the fairways at Augusta National are wide and the rough short.
Some may be concerned about emotional burnout after winning last week, but it should be noted that Mickelson won the week before his 2006 Masters triumph as well.
Finally, Mickelson must be feeling extra motivation with the knowledge of what's at stake. A win would be his 40th PGA Tour victory and his fifth major. He would join Jack Nicklaus, Woods and Arnold Palmer as the only players with four or more green jackets.
After falling short numerous times last year, he would ascend to No. 1 in the world for the first time in his career. At 40 years old and with the unpredictability of psoriatic arthritis, this may be his last best chance.
Mickelson has established himself as the clear favorite. It would be a surprise if he's not in contention come the back nine on Sunday.
2. Lee Westwood - Westwood is the pre-2004 Mickelson, a golfer who is seemingly always in contention in major championships but can never quite break through. He has finished in the top 3 in four of his last five majors, including a runner-up finish to Mickelson at the Masters last year.
Despite all of Westwood's close calls, his major breakthrough could come at any time. He is an outstanding ballstriker and is perhaps the best iron player in golf.
The only remaining question about Westwood is if he has the requisite short game to win a Masters. He occasionally struggles with his chipping and has missed some key putts down the stretch in recent majors.
Though one might not think Augusta National would be the most likely venue for a ballstriker like Westwood to have his fortunes change, he has proven to be a threat wherever he plays.
3. Tiger Woods - Though so many aspects of Woods' golf game and life are unpredictable at the moment, one thing that is predictable is his success at The Masters. He has won four green jackets and though the last one came in 2005, he has finished in the top 6 at the last six Masters.
Perhaps no year was his Masters wizardry more apparent than last year. Making his comeback from a five-month layoff following his infamous sex scandal, he shook off the rust, nerves and circus atmosphere to somehow finish in a tie for fourth.
One would think that since his life is slightly more settled and he's more prepared this year, he should do even better this year.
That assumption is ignoring the reality that Woods' golf game is undergoing massive changes, though. He is in the process of a major swing overhaul and has been unable to sustain good play for a full round, let alone an entire tournament.
If this were any other major, Woods would not be a top contender. However, he plays Augusta National so well it's impossible to discount him. He keeps saying he's "close" to contending and getting back to the "Old Tiger." Though it's been difficult to see progressive improvement, many think he will have one breakout week where everything clicks and he regains his dominance.
In order for this to be the week, Woods will need to putt better. He has ruined chances to win at recent Masters by having uncharacteristically poor putting performances in the final round.
Though these are the three players most likely to have the green jacket draped around their shoulders in Butler Cabin Sunday night, recent unexpected winners like Zach Johnson and Trevor Immelman have shown that anything is possible at Augusta.
The only certainty is that the season's first major is sure to deliver the thrills, roars and drama that has come to define "the tradition unlike any other."
____________________
Reach Johnie Freatman by email or follow him on Twitter, @scfreats.