Film and TV
Ten Things "The Office" Should Not Do In Carell's Farewell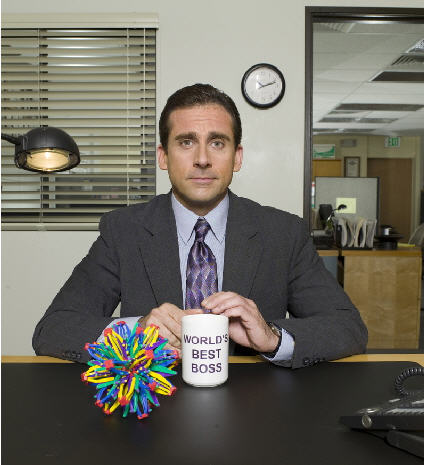 When Steve Carell announced last summer that he was making the upcoming seventh season of "The Office" his last, the clock was officially wound.
Since then it's been a season-long fanfare for his Michael Scott. This year the show tried to close the book on old girlfriends, abandoned projects, and other loose ends, thereby giving a satisfying send-off to the country's most famous middle manager.
Of course, the season was also supposed to solve the conundrum of how "The Office's" future would look with the show's central character exiting. Frankly, they haven't even come close, and the questions about a Scott-less workplace are gaping holes.
But this isn't an article about whether "The Office" is foolish to move forward. All of that remains epilogue to tonight, and though this season has been troublingly weak, there's a forgiving, and perhaps rejuvenating, warm glow that comes from a well-executed bye-bye.
And for a poorly made one…well you can take that up with Jesus and Damon Lindelof. The following is my top-ten wishlist of what "The Office" hopefully WON'T do tonight:
10: Clip Show
Even a minute of this episode lost to canned nostalgia is a waste. That technique, which was so prevalent in sitcoms during the 80s and 90s, has aged poorly, especially with Community's evisceration of the device just last week. Sadly, I think it is a sure bet.
9: Music Montage
It would be unfortunate for a show that took pride in being so form-bending to cop-out with this creaky, flabby (and what Christopher Hitchens would likely call "moist") convention. Here's a rule: if a twelve-year-old girl can do it in an afternoon and post it on Youtube, then it shouldn't be on Primetime. Even NBC.
8: Hour Long Episode
Must feel necessary to go that route given how much there is to say and so little time to say it. But abstain. Please abstain. "The Office" has stretched it out before for "big" episodes (company picnic, Pam and Jim's marriage, the baby's birth) as well as that weird time in the beginning of season 4 and it never works. The timing is thrown off, the energy sags, and plot lines are pulled too thin.
7: Parade of Memories
A distant cousin to the clip show and equally unforgivable. This is the Seinfeldian, bring back all the short-term characters who crossed paths with the show to see what meeting the players did to their lives. Lazy, unrealistic, and ultimately self-defeating. If we're about to lose Michael Scott forever, we don't need to see how Charles Miner, David Wallace, or whatever Ann Perkins used to be called is holding up. Amy Adams' purse salesman from season 1 would be a worthy exception to that.
6: Old Tricks
Seven seasons of finales and special episodes has given a impressive scrapbook of great on-screen moments: Pam hugging Michael when he buys her drawing, Pam walking across the coals to prove herself, the fireworks at Toby's goodbye party, the Dunder-Mifflin commercial (which remains my favorite episode). These are all singular encapsulations of the character's richness and emotional connections with one another. Don't replicate them. Leave them as the fleeting moments of nostalgia that they are.
5: Video Yearbook
Envision this disaster scenario: Each of the characters, from Dwight down to Meredith, during their talking head gets a chance to reminisce about life with Michael by giving a favorite memory, secret confession, or hope for the future. They play it in succession, maybe just the audio as we watch Michael, holding his briefcase and coat, turn off the lights one last time. Awful. Glad I didn't pitch that.
4: Relapse
Michael has evolved over the years, and while he's still prone to childish fits and racist impressions, he feels so far from the guy who kissed Oscar or got slapped by Kelly (actually she feels far from that too). While it might be tempting to get in one last awkward conference for old times' sake, the episode should also reflect his journey. This point in particular will be tricky for the writers and Carell to negotiate.
3: Put a Button Dwight and Michael
While Michael has come to terms with almost everyone in "The Office" (or really vice versa), his constant disregard for Dwight remains strong. Because they're both played for buffoons on the show, there's never been a need for them to reconcile or even speak frankly about each other. Good. It would be a cheap tear for an ersatz pat on the head.
2: Finale 2.0
Do not mine the internet for sentimentality. It's not that Youtube inspired segments like the lip sync in season seven premiere or the wedding procession for Pam and Jim done to "Forever" were bad (though for the latter it really was). They just felt like writers, burdened with being part of a once-creative show, getting lazy. What makes internet videos great is their homespun charm and as much reality as this show's cinema verité style likes to aim for, we all know there is full production behind it. The writers have had almost a year to plan for this moment--don't ape something that was probably put together in an hour.
1: The Elephants in the Room
The logline for The Office is something like: a documentary film crew follows the lives of people working at a paper company. With the British version, this seemed plausible; almost all events stayed within the building and the show lasted for two twelve-episode seasons plus a Christmas special. For the American version, it's preposterous. No film crew would follow these dopes, all over the world at times, for over seven years. But the audience has willfully suspended disbelief for the sake of a clever device and the less done to affect that the better. In reaching for a profound moment, the temptation will be strong to address something we might have pondered in season one. This would be a disaster. Seeing something like the cameramen or the producer of this "documentary" raises so many impossible questions that the entire building could disintegrate before our eyes like it's in level five Inception. Michael Scott is not a real person and we understand these talking heads to be internal monologues. While the show may have begun as a parody of reality shows, we have moved so far beyond that by now and the more progress The Office makes in sending off Michael the more likely he'll be memorialized properly. Do 'em right, writers. After that the show can begin the unenviable task of figuring out just what the hell to it's going to do for an encore.