National
Policy Riders Complicate Government Shutdown Talks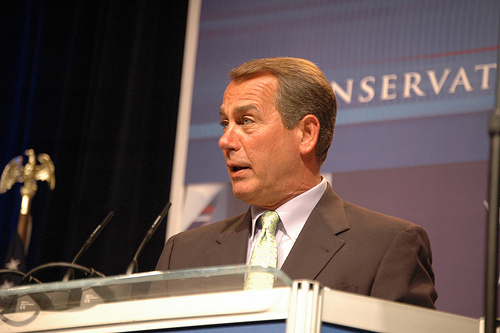 With the United States government slated to run out of money Friday, Republican leaders have thrown up more roadblocks on the path to bipartisan compromise in the form of policy restrictions tacked on to more spending cuts.
Historically, these restrictions, also called policy riders, have been popular among Democrats in Congress. But now Democratic Party leaders are calling for Republicans to stop the tactics in light of the country's dire fiscal situation.
"We're happy to debate these, but on a legislative vehicle, not a spending vehicle," Senate Majority Leader Harry Reid said Thursday.
Republican leaders, however, have countered Democratic criticism, saying that discussions on policy are just as important as budget items, because they go hand in hand.
"Americans are concerned not just about how much we're spending, but how we're spending it," Michael Steel, spokesperson for Speaker of the House John Boehner said Thursday. "That's why the policy provisions are an important part of this discussion."
Republicans have introduced several stipulations into this week's negotiations over how to stop the government from running out of money, which only heightened tensions between both sides of the aisle.
Though neither party is speaking publicly about the contents of the riders, two issues have been widely discussed at length: abortion and environmental issues.
The Republican-controlled house tacked on several additions before passing their spending bill earlier this week, including limitations on the authority of the Environmental Protection Agency.
Eliminating federal funding for Planned Parenthood has also become a hot-button issue around the talks, as Republicans now see a chance to push their agenda through the Senate floor.
Talking Points Memo reported:
The abortion rider that's received the most attention would prohibit the government from giving any money to Planned Parenthood.
That passed as an amendment on the House floor. However, written into the base bill is a provision that would eliminate Title X -- a program that provides funding for family planning clinics across the country -- altogether.
But there's one in there, too, which would prohibit the city of Washington, D.C., from using its own, non-federal funds to pay for abortions, beyond the accepted limits for the use of federal funds -- rape, incest, or life of the mother.
It also blocks funding for the U.S. Ambassador's Fund for Cultural Preservation, the UN Population Fund, and any foreign NGOs that use non-U.S. funds to provide abortions.