National
Online Poker Players To Get Their Money Back
After shutting down and seizing the domain names of the three largest internet poker websites last week and leaving players hanging, the U.S. government decided Wednesday to allow two of the sites to reopen to let players withdraw their cash. This likely comes as a relief to gamblers whose money has been in limbo since the beginning of the crackdown.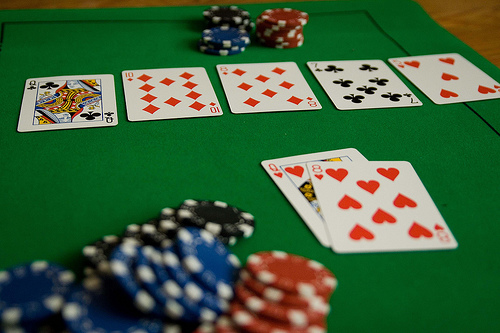 From Reuters:
Under the agreements announced on Wednesday, PokerStars and Full Tilt Poker can reopen their websites so players can withdraw funds from their accounts and to allow people outside the United States to play poker for money. The companies specifically agreed not to allow poker play in the United States for money or anything of value.

The agreements also require the appointment of an independent monitor to ensure that the companies are complying with the agreement.
U.S. Attorney in Manhattan Preet Bharara moved last Friday to indict Isai Scheinberg and Raymond Bitar, the founder of the internet poker giants PakerStars and Full Tilt Poker, respectively. Internet gambling has been illegal in the U.S. since 2006. The websites are based overseas. Eleven people have been charged with fraud in the case. Three of them have been arrested and released on bail.
Bill Saporito, in Time, writes that the anti-poker crusade knocks down a profitable business that could be good for the U.S. economy:
The outlawing of Internet gaming has excluded a potentially large business from the U.S. that could be mined for tax revenues that could help pay off some of the debt S&P is so worried about. The American gambling industry is chomping at the bit to get a piece of this action, which is now consigned to outposts like the Isle of Mann and Antigua.
Gamblers outside the U.S. can still play. For American poker fans, however, the best thing to do is cash out while they can.
Poker players are "still in pain," said John Pappas of the Poker Players Alliance said in a statement to the L.A. Times. Watch Pappas' April 18 interview with Bloomberg here:
Reach Ryan Faughnder here.