California
Obama Hits Jackpot In California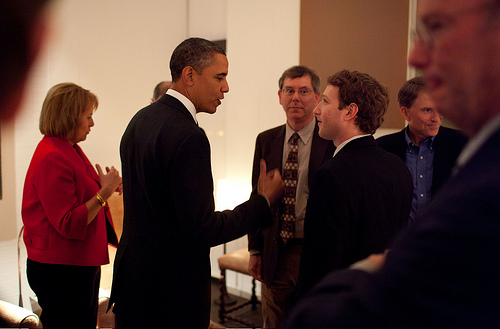 In California, President Obama speaks the language of Silicon Valley techie and Hollywood socialite — a combo that could mean a big payday as his "fundraising kickoff" comes to the West Coast.
During his 2008 win, Obama tapped both industry coffers en route to an overall record $745 million fundraising effort. Put into perspective, that figure nearly equaled 10 percent of the $787 billion stimulus package injected into the economy one year later.
But this time around, things could prove to be a little more difficult.
Obama wants $1 billion this go-round, but natural tensions between the two California industries could make it hard to please both sides. In addition, the president's handling of certain issues, like same-sex marriage and the War in Afghanistan, has rattled some of the movers and shakers in Hollywood.
"There is concern that money might not flow as readily as in the 'Hope and Change Campaign' because people are upset at policies continued since the Bush Administration," said James Hirsen, author of the weekly column "The Left Coast Report," which covers the politics of Hollywood.
In late 2010, Obama extended the Bush tax cuts, angering many within his own party. Their disagreement came with the extension of cuts to two percent of the highest-earning Americans.
Obama's West Coast swing will include six fundraisers and two town-hall meetings, while he traverses Reno, Nev., San Francisco and Los Angeles.
California, as a Democratic-leaning state, is generally considered an electoral lock for Obama — so it's fundraising he has his sights set on.
And Hollywood is a jackpot.
According to the Center for Responsive Politics, 72 percent of the money donated by entertainment industry sources went to the Democratic Party during the 2010 election cycle.
"He wants to tap into the sure payoffs right away," Hirsen said.
However, things might not be so sure this time. A growing number of celebrities have expressed displeasure with his policies, most prominent being Matt Damon, who was a key cog in his 2008 campaign.
DreamWorks founder David Geffen recently took part in the release of a letter calling on Obama to support same-sex marriage. Those prospects are highly unlikely.
Among his L.A. stops will also be a fundraiser at Culver City's Sony Pictures Studio, where ticket prices range between $100 to $2,500. A more private dinner will demand $35,800 per plate, with $30,800 going to the Democratic National Committee. Geffen is expected to attend, along with Michael Lynton of Sony and DreamWorks CEO Jeffrey Katzenberg.
What has pleased Hollywood has been the administration's tough stance on intellectual property.
"The Justice Department has had an aggressive approach to piracy, and has shut down scores of websites," Hirsen said. "… It all ends up shaking the money tree in Hollywood."
Vice President Joe Biden recently granted an interview to Variety, and promoted the administration's anti-piracy efforts, and hard stance on protecting intellectual property. Former Sen. Christopher Dodd, a Democratic Party politician, is also the new chairman of the Motion Picture Association of America.
But while these hard-stances help Obama in Hollywood, they could hurt him in Silicon Valley.
In Palo Alto, the president will hold an online town-hall meeting at Facebook's headquarters Wednesday.
His 2008 campaign set the standard for utilizing social-media, and proved lucrative in connecting grassroot movements.
At Palo Alto, home to many Silicon Valley high-tech companies, Obama has looked to shore up support with his appointment of the nation's first chief technology officer. He's also called on increasing wireless Internet access to the general population.
Yet, "Silicon Valley is more popular to people with a softer view of piracy and lawsuits, and the policies of the Motion Picture Association of America, so there could be conflict there," Hirsen said. "The Obama Administration clearly seems to favor Southern California and Hollywood on that note."
According to another report from the Center for Responsive Politics, 70 percent of the money given by employees of high-tech companies went to the Democratic Party. Last fall, that number dropped to 55 percent.
Still, the youth vote, driven much by social media, will again be a focus of the Obama campaign.
Obama's town-hall meeting at Facebook comes as the social media giant increases its political clout.
"Five-hundred million people use Facebook, so definitely a lot of people can relate to his talk," said Dave Levinthal, communications director at the Center for Responsive Politics. "More importantly, it shows that Facebook has really arrived as a political player. Facebook didn't spend a dollar on lobbying efforts in 2008. In 2010, it spent more than $350,000 for federal lobbying efforts.
"So they went from a standing start to a pretty significant amount of money," Levinthal said.
Whether it equals 2008 numbers, a big payday still awaits in the Golden State.
In Obama's 2008 run to the White House, California contributed more money to his campaign than any other state.
Best way to find more great content from Neon Tommy?
---
Or join our email list below to enjoy the weekly Neon Tommy News Highlights.