NATO: Gaddafi Forces Try To Mine Misrata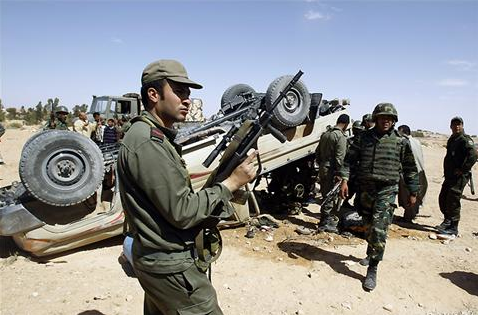 NATO officials said Friday that Gaddafi-backed forces attempted to mine Misrata's harbor in an effort to block any aid ships from helping rebel forces in the city.
This is the Libyan government's latest attack on the port city after tanks rolled in earlier this morning for another assault. The city has been under siege for weeks after rebel forces were cornered inside during an attempted uprising. NATO peacekeepers have kept Gaddafi's forces at bay for the last week, but government pressure on Misrata has steadily gown.
NATO said the mining effort today shows no respect for international peacekeeping efforts.
From BBC News:
Nato's director of operations in Libya, Brig Rob Weighill, said warships stationed in the Mediterranean stopped the mine-laying attempt on Friday morning.
"Our ships intercepted the small boats that were laying them and we are disposing of the mines that we found," he told reporters via video-link from his headquarters in Naples, Italy.
"It again shows [Libyan leader Col Muammar Gaddafi's] complete disregard for international law and his willingness to attack humanitarian delivery efforts," he added.
Nato is enforcing a UN resolution to protect civilians in Libya amid a two-month revolt inspired by other uprisings in the Arab world.
NATO officials also said Gaddafi was making other attempts to sabotage any rebel efforts that were putting the people of Misrata in danger.
From the Washington Post:
In the same vein, [Weighill] accused Gaddafi's government of violating international law by crippling Misurata's sewage system and a desalinization plant during weeks of shelling and rocket fire by loyalist troops. The damage caused a shortage of drinking water and unsanitary conditions in civilian homes.
Weighill said he had no details on the NATO strike that halted Friday's mine-laying operation, which he said happened in the late morning. The incident was the first known attempt by Libyan loyalist forces to mine the area, which is heavily patrolled by NATO vessels enforcing a U.N. arms embargo and watching over delivery of humanitarian supplies by foreign nongovernmental organizations.
Many residents of Misrata have already fled to city and are reported to be trying to escape Libya through Tunisia.