Los Angeles and Region
L.A.'s Commercial Fishing Industry Struggles For Survival
This vibrant seaport was first carved out of the California coastline more than a century ago to serve fishermen like Michael Harris. Today, Harris and the few remaining commercial fishermen have been relegated to a couple tiny corners of what has become North America's largest container port.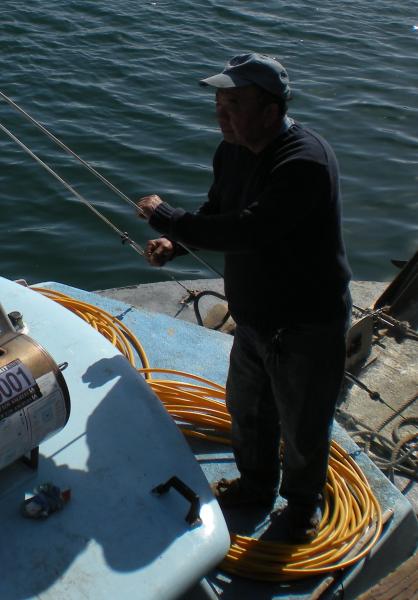 Port officials are now considering relocating them from one of their current homes on a strip of land called Terminal Island to a new base. Clearing out the fishermen would allow the port to make way for more berths, cranes and storage facilities that serve the massive container ships that call on the port. Some fishermen worry the move could further marginalize them at a moment when many are barely scraping by. Some are concerned that commercial fishing could disappear altogether, severing the last tie with an industry that once defined the port.
At age 21, Michael Harris is a rarity among fishermen, one of the few young people to take up the trade. Harris took over the family business after his father retired. His co-worker Chris Bullock got into it about five years ago when he was still in high school.
"It beats working in grocery stores," Harris said. The median yearly earnings for a fisherman are less than $28,000, according to the Bureau of Labor Statistics.
In the few years since Harris started fishing, the port has already forced him to move his operation three times.
"They're making things kind of hard on us," he says. The next move would be more difficult than the previous ones, he notes, because of the long haul across the bridge to San Pedro.
Harris points to the part of the island where a pet food cannery used to be. "They're gone," he says, adding, "Gonna clear that area for containers. And it's just a matter of time. Hopefully that doesn't happen to us, 'cause we'd be screwed."
Consolidating the fishing operations at the port will allow container traffic to flow more efficiently, says Port spokesman Phillip Sanfield. "We're not kicking them out," he says. "We're trying to move the pieces around."
The Port plans to hold public meetings about the plan so environmental groups, businesses and fishermen can have their say.
Fishing boats based on Terminal Island landed $12.9 million worth of fish in 2009. The port handles almost twice that amount in cargo in an hour.
In the 1930s, Terminal Island was home to 900 commercial fishermen and 16 canneries. It hosted a thriving Japanese fishing community until World War II. A memorial and bronze statue recall the Japanese residents who were sent to internment camps.
The collapse of the fishing industry over the last four decades forced most fisherman to leave the area, and now only a few dozen commercial vessels moor at Terminal Island's Fish Harbor.
Few young people become fishermen, and the rare exceptions are following in the family business. But even families who have been in the business for generations don't want their children to follow in their footsteps. Increasingly stringent regulations and the cost of doing business in California factor in as well.
"I have a son that's 14 years old, but I personally won't bring him into it," says Mike Kucura, 47, who has been fishing out of San Pedro since he was 15. His grandparents began fishing here nearly 80 years ago after emigrating from Yugoslavia. But Kucura, who captains a 40-foot vessel called the Tom & Gerry, considers himself to be the end of the line. "You don't see new blood getting involved because it's getting harder and harder."
Tighter environmental regulations have also made it tougher on fishermen who remain. But as the industry contracts, a lot of the infrastructure that supports it has vanished, said Rod Moore, executive director of the West Coast Seafood Processors Association in Oregon. The two last canneries, run by Chicken of the Sea and Heinz Pet Food, closed in 2001.
"It's a tough business, and the investment required to get into it is getting bigger and bigger," says Moore. Gone are the days when someone might get into the business as at a young age by taking a row boat out to catch crabs, investing in slightly larger vessels every year and ended up retiring as one of the top fisherman in the area.
"It's really expensive these days," says Moore. "You can't do it."
NO NEW BLOOD
Wayne Heikkila of the Western Fishboat Owners Association, which represents albacore tuna fishermen, notes that shifts in the fishing business come with the territory.
"We've always been kind of at the mercy of the world," he said.
Ten years ago, canners in the U.S. bought most of the fish. Now much of the tuna market is overseas. Spain started buying more and more of the west coast albacore because they preferred the higher oil content, Heikkila said.
Many fisheries left California for other states such as Oregon and Washington partly because of the high oil prices and vehicle licensing fees. Heikkila suggested there's a possibility of albacore coming back to California. But because the canneries have already left, it would be difficult for local fishermen to take advantage of such a change in the cycle.
"We're just afraid if it shifted back we wouldn't have the infrastructure," he says.
Chong Sup Chang – known to customers as "Bruce" – is a former Korean air force officer who started Harbor Light Restaurant, the last remaining eating establishment on Terminal Island, in 1988. Chang, 58, said there used to be other restaurants in the area, but they shut down. Business was fueled by the many canneries along the shore. "But it's all gone," he said.
Esbie Mesa, a worker at Harbor Light, said the combination of the bad business climate and the encroachment by food trucks has put pressure on them. Southwest Marine, a now-defunct shipyard, employed thousands. "Now that's gone," she says, adding, "So we're relying on the longshoremen and the fisherman, who are not doing good right now."
Joe Wu, 58, is one of the few sea urchin divers left on Terminal Island. He never sees anyone new try to enter the urchin business, he says. That means less competition, he concedes. But as he nears retirement it might also mean there is no one to replace him.
He shares the dock with larger vessels that fish for squid and sardines. He points to the squid boats about ten yards away, saying that tighter regulations over the years have made things harder. "This year, a lot of squid. Then they put a limitation on it. Fishing is always like that. The second you are doing well, they put a lot of rules on you to control the resource."
Reach Ryan Faughnder here.