NBA
Lakers Should Use Game 1 Loss As a Wakeup Call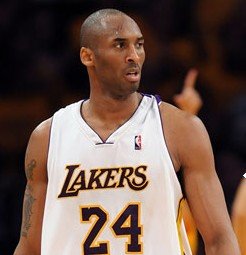 The Lakers aren't trying. Once they flip the switch, they'll be fine. They'll win when it counts.
That was the popular sentiment among Lakers fans at the end of the season. To which I say: No, no, no. That's not how the game of basketball works.
When has it ever worked like that? An NBA team coasting to a championship? That's unheard of.
The Boston Celtics tried it last season and look how that turned out.
No again. Even that playoff run had an asterisk next to it.
The Celtics faltered with a 27-27 stretch to end the regular season. The Celtics weren't really "coasting." They were swamped with injuries and were forced to forego competing for a top seed in order to rest their players.
Therefore last year's Celtics team wasn't coasting.
Did the Celtics of the 60s coast? Did the Lakers and Celtics of the 80s not try in their games? How about Michael Jordan and the Bulls? No, I didn't think so either.
So please, Lakers fans, stop making excuses.
I'm a Lakers fan. I've loved the Lakers since I became a basketball fan in 2000. But that doesn't mean I can justify their losses with "they didn't try." Sometimes L.A. is simply outplayed or out-executed, as was the case Sunday in Game 1 when they lost 109-100.
Before people start overreacting (see my Derrick Rose piece), I predicted the Lakers to win in a sweep. I still think they are going to win in five games. But Sunday's loss, as well as most of the losses this season, was not due to a lack of effort.
The Lakers try. They really do. Watch the second half of Game 1 and tell me they don't. It all comes down to execution, and in that department the Lakers have failed recently.
Coming into the series, we knew the Hornets had two major advantages: point guard play and the pick-and-roll.
The Hornets have Chris Paul, one of the top point guards in the NBA. The Lakers, on the other hand, have Derek Fisher and Steve Blake (actually, Trey Johnson because Blake is out with the chicken pox), the worst statistical point guard duo in the NBA.
The fact that Paul destroyed the Lakers to a tune of 33 points on 11-for-18 shooting, 14 assists, 7 rebounds and 4 steals wasn't surprising.
Throw in L.A.'s second major disadvantage, defending the pick-and-roll, and you have a recipe for disaster. Although I expect L.A. to easily advance in five, possibly six games, they will definitely have to find a way to contain Paul in order to do so.
To say Paul was the only reason for the Hornets' victory doesn't do the team justice, though. Willie Green, Jarrett Jack and Aaron Gray combined for 35 points on 14-for-18 shooting off the bench. The Hornets also had eight steals and shot over 50 percent from the field (51.9 percent).
Moving forward, the Lakers need to step up their defensive game plan to contain Chris Paul, feed the ball to the big men and hopefully not play Fisher 39 minutes per game.
If they take care of those aspects, the rest of the series will be easy. (Then again, when do the Lakers ever make things easy for themselves?)
The Lakers' problems don't stem from a lack of effort. They come from disregarding the game plan. They stem from a place of confidence and arrogance.
They're the two-time defending champs who have been to the last three NBA championships. At this point, they expect to make the Finals. Like I said, though, basketball doesn't work that way.
The Lakers coast through the motions, don't execute their offense or defense and then try and play catch up basketball. They can't afford to do that anymore.
As talented as they are, that style of basketball won't work against Dallas, San Antonio or Oklahoma City. If they luckily advance through those juggernauts, I don't expect Chicago, Miami or Boston will let them do so either.
Hopefully this is a wakeup call for the Lakers. They now know they can't solely rely on their depth, talent and experience.
They have to actually show up and play.
Otherwise they'll be fishing in June.
_____________
Reach Jovan by email. Follow him on Twitter @jovanbuha.