National
Jon Stewart Mocks Donald Trump Over Birther Claims, Praises Bill O'Reilly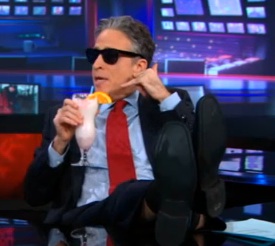 The Daily Show host Jon Stewart
took on
reality TV star and potential 2012 GOP presidential candidate Donald Trump Wednesday night over his recent birther comments while also offering up praise to his longtime nemesis, Bill O'Reilly, for refuting Trump's birther claims. "The Donald" announced last week that he had sent a team of investigators to Hawaii to look into Obama's birth.
Stewart mocked Trump's investigation into Obama's birth with an impersonation of what the investgators were up to, donning sunglasses, kicking his feet up on his desk, sipping on a frozen drink and talking in an exaggerated New York accent. "Yeah Donald, you won't believe the shit I'm finding, yeah" Stewart said. "I'm knee deep in paperwork -- holy, look at that ass, that is unbelievable.
"It's gonna take another two months, he added. "And I'm gonna need more money and maybe, I dunno, quaaludes."
After showing clips of Sarah Palin and Michele Bachmann supporting Trump's quest to some extent, Stewart wanted to know, "can anyone throw us a rope" to get out of the crazy hole?
It appears--much to Stewart's surprise--that the sane one in all this is O'Reilly, who recently took on and debunked the claims that Trump and others have set forth.
After playing clips of O'Reilly's show, the comedian then offered up rare praise for O'Reilly for "refuting not just the birther B.S." as Stewart put it, "but all the Obama-based Internet B.S." about the president's college days, his wife and more.
Watch the entire segment here.