International
Hosni Mubarak Hospitalized Ahead Of Interrogation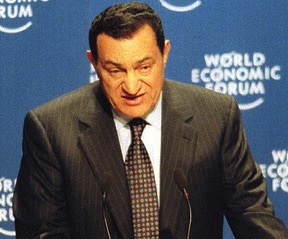 Former Egyptian President Hosni Mubarak was hospitalized Tuesday before the country's prosecutor general was scheduled to interrogate the ousted leader about crimes he may have committed while in power.
The 82-year-old has dealt with health problems for several years. His assets were frozen in February, and he has been confined to an Egyptian resort town since resigning. Protestors gathered outside of the hospital to show they still weren't fans of Mubarak.
In a recorded address televised last weekend, Mubarak denied ever engaging in corruption or wrongdoing. Mubarak was officially replaced recently by the nephew of Anwar al-Sadat as head of the National Democratic Party.
Over at Tahrir Square, ground zero for protests in Egypt, the last remaining demonstrators were escorted away this week.