International
Hosni Mubarak Detained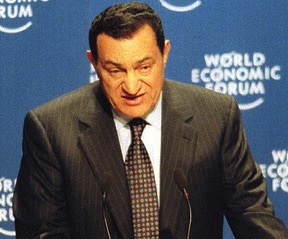 Former Egyptian President Hosni Mubarak will be detained for 15 days, Egyptian authorities announced a day after the ousted leader was hospitalized due to an apparent heart attack.
"The prosecutor general orders the detention of former President Hosni Mubarak and his sons Gamal and Alaa for 15 days pending investigation after the prosecutor general presented them with the current state of its ongoing investigations," the Egyptian attorney general's office said on its Facebook page.
Mubarak's sons Gamal and Alaa were detained and questioned several hours earlier for their possible involvement in corruption and using violence to thwart corruption. Mubarak may stay in the hospital for the length of his detention, according to the Associated Press.
The country's prosecutor general issued summons on Sunday for Mubarak to face an interrogation about crimes he may have committed while in power.
The 82-year-old has dealt with health problems for several years. His assets were frozen in February, and he has been confined to an Egyptian resort town since resigning. A couple thousand protestors gathered outside of the hospital to show they still weren't fans of Mubarak.
In a recorded address televised this past weekend, Mubarak denied ever engaging in corruption or wrongdoing.