National
Gov. Perry Issues Proclamation Praying For Rain As Deadly Wildfires Rage In Texas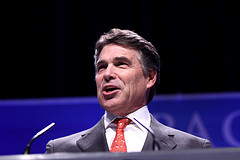 As deadly wildfires continue to burn across parts of Texas on Thursday, Gov. Rick Perry proclaimed the three-day period between Friday, April 22 and Sunday, April 24 as "days of Prayer for Rain," in his state.
The Proclamation read in part:
NOW, THEREFORE, I, RICK PERRY, Governor of Texas, under the authority vested in me by the Constitution and Statutes of the State of Texas, do hereby proclaim the three-day period from Friday, April 22, 2011, to Sunday, April 24, 2011, as Days of Prayer for Rain in the State of Texas. I urge Texans of all faiths and traditions to offer prayers on that day for the healing of our land, the rebuilding of our communities and the restoration of our normal and robust way of life.
In the Proclamation, Perry noted that "Texans have been strengthened, assured and lifted up through prayer; it seems right and fitting that the people of Texas should join together in prayer to humbly seek an end to this devastating drought and these dangerous wildfires."
According to the Texas Forest Service, more than 800 fires have burned at least 1.4 million acres across the states since the start of the year.
Two firefighters have been killed battling the blazes, while numerous others have been injured. 5,000 structures have been damaged and 370 homes have been destroyed.
Texas is going through one of its worst droughts on record. Some parts of Texas have received no rain in the past three months as the state matched rainfall deficit records, which go back to the 1930s. Since December 21, 2010, fires have burned in all but two of the state's 254 counties. Ninety percent of those fires have been human-caused.
This week, firefighters got some help fighting the flames from the weather, as temperatures dropped and humidity increased.
Reuters reported: "A wave of moisture and cooler weather had already helped the roughly 1,800 firefighters and support crews contain nine fires and make headway against many more by Thursday morning."
However, officials have warned that the conditions that have helped fuel the fires have not eased for good.
Last weekend, Perry sought help from the federal government to help fight the wildfires burning in his state.
Read Gov. Perry's full Proclamation here.