Food
Good Eats At Pomodoro Trattoria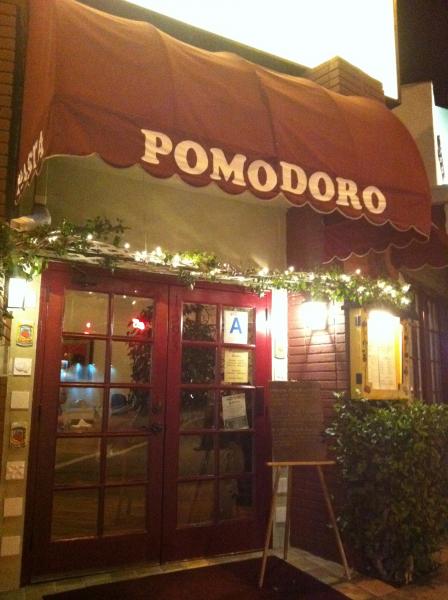 When you're at an Italian restaurant and open the menu to find the names of the courses are listed in Italian, it screams authenticity. At Pomodoro Trattoria, on the corner of Westwood and Wilkinson, the food was more generic than authentic but nonetheless satisfying.
Pomodoro Trattoria is a rather small and intimate space with only 12 tables.
After sitting there for a short time you may realize something is missing—music. Surprisingly, there was no background music, if only, they had some kind of Italian Opera playing, it would go perfectly with the décor and the intimacy of the space. Not to mention, it would enhance the experience of eating gourmet Italian food.
The menu at Pomodoro Trattoria offers a variety of appetizers, salad, pasta, gnocchi, veal, and chicken courses, all listed in their proper Italian name, of course.
Like most Italian restaurants, one of the servers will bring bread out to the table, minutes after you sit down. At Pomodoro Trattoria, the texture of the bread was light and airy resembling a foccia bread minus the herbs and olive oil taste. The bread comes out warm and is served with rosemary infused olive oil and balsamic vinegar.
Although, the bread always seems to be the biggest hit at the table, the Linguine alle Vongole (linguine with clams) was too. A large bowl of pasta comes out with eight opened clams and is lightly garnished with minced parsley. It is finished off in a white wine sauce with lots of delicious garlic flavor.
In contrast to the white wine sauce the Penne con Turkey Sausage (the only menu item not in Italian) comes with a spicy tomato sauce. Penne pasta is tossed together with pieces of grilled turkey, mushrooms and a spicy sauce. The sauce has a kick to it without setting your mouth on fire, which enhances the flavor of the overall dish. The combination of flavors were good, however, the turkey sausage could have been a bit juicier.
Feel like having a pizza? The margherita pizza is always a good choice-- cheese pizza with strips of basil scattered on top.
If you're feeling like a more balanced meal, all of the chicken dishes come with fresh sautéed vegetables and pasta. The pollo al porcini (chicken with porcini mushrooms) comes with two pieces of chicken breast topped with a thick and creamy mushroom sauce. The sauce had good flavor but a touch of sea salt would have made this dish stand out among the rest.
The overall experience at Pomodoro Trattoria is good, as it provides friendly service, tasty food and a good time.
Pomodoro Trattoria is located at 1393 Westwood Blvd., Westwood; (310) 445-9998.
Most entrees range from $9.50 to $13.50.
Reach reporter GinaLisa here.