National
Florida Emerges As Newest Battleground For Public Employee Unions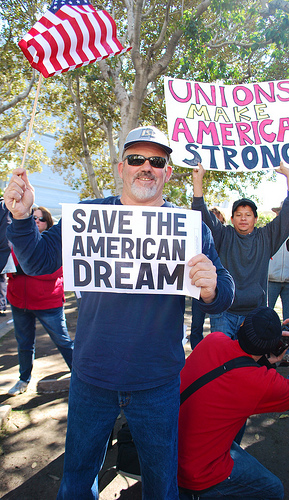 State lawmakers in Florida are moving forward with legislation to weaken public employee unions while working around a constitutional provision that protects collective bargaining rights.
Budget and pension crises across the nation have given states controlled by Republicans lawmakers and governors an opportunity to force unions to pay more for their benefits and to lose some methods of holding onto power such as mandatory union dues for all employees.
Wisconsin's newest labor law, which restricts collective bargaining to only salaries, has been stayed from being put in place until it trickles through the court system during the next few weeks if not months. Ohio and Indiana have approved similar laws.
Florida is now a few steps away from requiring unions to seek approval of its members before making political campaign donations or collecting dues from them. The legislation can't take away collective bargaining rights across the board but it does put in a floor for minimum membership needed.
There are 744 pieces of anti-union legislation that have been introduced in state houses this year, spanning across half of the states in the union.
From New Hampshire to Kansas, legislators are showing dwindling support for unions. Public support leans toward unions and their rights.
After years of receiving generous benefits to compensate for low salaries comapred to the private sector, the benefits have grown unsustainable for many states. Elsewhere, Republicans simply want to restrict Democratic power through the unions that often provide strong support for their campaigns.