Commentaries
Donald Trump's Crazy Las Vegas Speech: The Best Quotes
Seemingly believing himself to be on a victory lap after President Barack Obama released the long-form version of his birth certificate, providing more proof that he was born in the United States, reality TV star Donald Trump delivered an expletive-laden speech to Republicans in Las Vegas.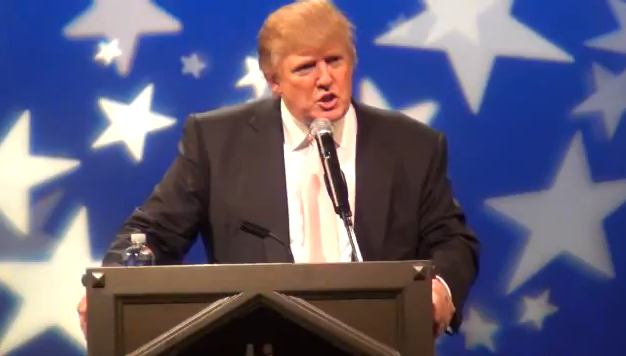 It was more of a 30-minute Ron White routine than a political speech. Those in attendance ate it up. After again taking credit for Obama's release of his birth certificate, Trump called U.S. leadership "weak," "incompetent," and "stupid," among other things.
On foreign policy, he said 99 percent of Egyptians want to break the peace treaty with Israel. The real figure is 54 percent, but who's counting?
Here are some other top quotes:
Citing the recent Rasmussen poll putting him ahead among likely Republican candidates: "And who's number one? Trump!"
On Saudi Arabia possibly cutting oil production: "Can you believe it? You're going to be paying 5 and 6 dollars a gallon pretty soon, and they wanna go in and raise the price of oil, because we have nobody in Washington that sits back and says, 'Listen, you're not going to raise that fucking price.'"
On Chinese President Hu Jintao's visit to the U.S.: "When people are screwing you, you don't give 'em state dinners."
On China, monetary policy and diplomacy: "What we do is we sit down in my office for a couple of hours, we either make a deal where you stop manipulating your currency or not. If you make a deal, you can have a state dinner if you want. If you don't make a deal, you take McDonald's and you go home."
On his chances in 2012: "And, you know, there's a good chance that no matter happens, I won't win because one of these bloodsucking politicians who's been bullshitting people for years will end up getting elected."
On giving military aid to foreign countries: "I'm interested in protecting none of them unless they pay us."
On giving up his television career to run for president: "It's a great show. I'm gonna give a lot of stuff up. But you know what, it's peanuts compared with the importance of this country."
He also suggested imposing a 25 percent tax on goods from China, though almost no economist thinks protectionism is a good idea. Here's how he said he would negotiate the deal: "You can have one man say [in a mouse-like voice], 'We're gonna tax you 25 percent,' and I can say [in his normal voice], 'Listen you motherfuckers, we're gonna tax you 25 percent.' You've said the same exact thing, but it's a different message."
No kidding.
See the three-part video here.
Part I