NFL
2011 NFL Draft: First Round Recap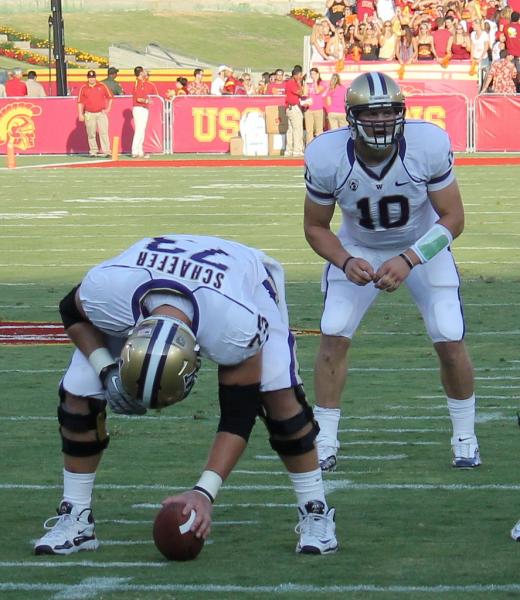 The first day of the 2011 NFL Draft was filled with teams reaching to fill needs, star players falling, and even some big trades among the 32 selections. Neon Tommy Sports takes a look at the storylines from Thursday's first round:
Best Value
Scott Enyeart: DE Cameron Jordan, Saints (No. 24)
New Orleans's selection of Jordan is without a doubt the best value pick in the draft. Jordan has top 10 talent, and there's no explanation as to why he fell so far in the first round. Regardless, New Orleans gets a versatile DE who will thrive in defensive coordinator Greg Williams' aggressive scheme.
Eric Watkins: CB Jimmy Smith, Ravens (No. 27)
In my eyes, Smith was the second-best cornerback prospect in the draft behind All-World Patrick Peterson. A few off-the-field issues resulted in the talented cornerback from Colorado sliding down draft boards, but on the field he fits perfectly in the Ravens' 3-4 man-to-man, blitzing scheme.
The first-team All-Big 12 corner only gave up one touchdown pass in the pass-happy Big 12 conference. And if Smith's attitude off the field is still of issue, I'm sure fellow defenders Ray Lewis and Terrell Suggs will put the talented, athletic corner in line.
James Santelli: CB Prince Amukamara, Giants (No. 19)
Amukamara is a great all-around cornerback who proved his athleticism and durability as a four-year starter with the Huskers. Though he had a solid Combine, teams might have been scared away by some poor workouts and the fact that Amukamara didn't tally any interceptions in his last year at Nebraska. But their loss is the Giants' gain, as Big Blue gets a top 10 talent that should play immediately at corner opposite Terrell Thomas.
Biggest Reach
Enyeart: DE Aldon Smith, 49ers (No. 7)
While many will call the Vikings' pick of QB Christian Ponder the biggest reach in the draft, the fact remains multiple analysts had Ponder as the highest-rated quarterback on the board at number 12.
The San Francisco 49ers made the draft's biggest reach taking Missouri DE Aldon Smith with the seventh overall pick. Smith was worthy of being a first round pick, but not ahead of defensive ends like Cal's Cameron Jordan or Clemson's Da'Quan Bowers. Smith should be a good player in the NFL, but not worthy of being a top 10 pick.
The Cleveland Browns trading up to the 21st pick to draft DT Phil Taylor out of Baylor is the runner-up in this category. It seems unlikely that the trade was needed in order to draft Taylor, as he likely would have still been available at pick No. 27.
Watkins: QB Jake Locker, Titans (No. 8)
Yes, Locker's wide receivers at Washington dropped a lot of passes (40-plus by my count). Yes, Locker's nine completions in 36 attempts in two matchups against the Nebraska Cornhuskers were full of throwaways and the talented Cornhusker defense jammed the hell out of a less than stellar Washington receiving corps at the line. But eighth overall?
Let's face it, the Titans reached, and when you reach for quarterbacks, you put your organization in danger for a very long time (just ask Al Davis). Locker, a late first-round talent at best, will hope to learn behind an aging Kerry Collins next season.
I really feel bad for Titans RB Chris Johnson. He'll be seeing his fair share of eight-man boxes in the upcoming season.
Santelli: QB Christian Ponder, Vikings (No. 12)
Wow. The Vikings could not be patient in their efforts to replace Brett Favre and paid a premium for a second-round talent at quarterback. Ponder rose on draft boards throughout March and April, but not enough so to prove he was worth a top 12 pick.
What makes this selection worse in hindsight is that Ryan Mallett, Andy Dalton and Colin Kaepernick are all similarly rated and still available heading into the second day. But the Vikes just couldn't wait out the run of quarterbacks right before their pick.
Biggest Surprise
Enyeart: Titans selecting QB Jake Locker at No. 8
The Locker pick shocked me. Tennessee already tried the mobile QB experiment with Vince Young and should have gone with a more polished passer if they were committed to taking a quarterback.
Locker brings leadership and work ethic to the table, though, and that's something the Titans lacked under less-mature Vince Young.
Seattle drafting Alabama OL James Carpenter at No. 25 was also surprising. They needed linemen and the guy they wanted, Colorado's Nate Solder, was taken earlier by New England. Seattle felt they could trade down and still get Carpenter. However, they were unable to find a trade partner and were forced to pull the trigger too early.
Watkins: Clemson DE Da'Quan Bowers is still on the board
Bowers was, at one point, the No. 1 prospect in this year's draft. His meteoric fall out of the first round was due to concerns about his injured knee. The knee, which might need micro-fracture surgery in the future, forced teams to pass up the former No. 1 recruit coming out of high school.
It's a sad story for the talented Bowers, as many writers now have the former Clemson Tiger dropping to the third round or further due to his injury concerns.
Santelli: Da'Quan Bowers
It's very surprising that no team took Bowers in the first round. Concerns about his knee are justified, but Bowers is an outstanding and versatile defensive end, who is strong against both the run and the pass. There are many players with injury concerns, but few are dropped from a top-five grade to out of the first round because of it.
It appears the risk was not worth the huge reward for teams, as a draft-record 12 defensive linemen were selected in the first round, while Bowers will wait and hope his name to be called on Friday.
Best Draft Day Move
Enyeart: Cleveland trading pick No. 6 to Atlanta
The Cleveland Browns gave up the No. 6 pick to Atlanta so the Falcons could draft Alabama WR Julio Jones, In return the Browns got the Falcons' 2011 first, second and fourth round picks, 2012's first and fourth round picks.
The Browns could have used Jones on their own roster, but the amount of picks Atlanta was willing to give up in order to swap draft position was too great to turn down.
Watkins: Atlanta moving up to No. 6 for WR Julio Jones
The NFL Combine made Julio Jones a lot of money come draft night. The talented Alabama wide receiver ran a 4.39 40-yard dash in Indianapolis, while broad jumping an astounding 11 feet, 3 inches.
The Falcons' trading up 21 spots one of the best moves, as Jones fills a need opposite the talented Roddy White. With Jones's big-play ability, the dual-threat combo of White and Jones will have defenses all over the league scrambling for any method to stop the talented pair. With teams no longer able to devote a bracket, double coverage to White, Falcons QB Matt Ryan might be the happiest man on draft night not invited to the Green Room.
Santelli: New England trading pick No. 28 to New Orleans
The Patriots already drafted a solid offensive lineman in Nate Solder at pick no. 17 when the Saints came calling. Though New England to acquire a pass rusher, they'll have a chance starting day two with the top pick.
In the meantime, the Patriots essentially swapped a first-round slot this year for the Saints' first round pick in 2011, and they picked up pick number 56 in this year's draft in the process. That's great value.
Rookie of the Year Prediction
Enyeart: WR Julio Jones, Atlanta
Jones is dynamic, will play opposite a Pro Bowl receiver in Roddy White, and will have Pro Bowl QB Matt Ryan throwing to him. Not to mention the fact that the Falcons were a playoff team last year, and being in a successful organization certainly won't hurt Jones's cause.
Watkins: RB Mark Ingram, New Orleans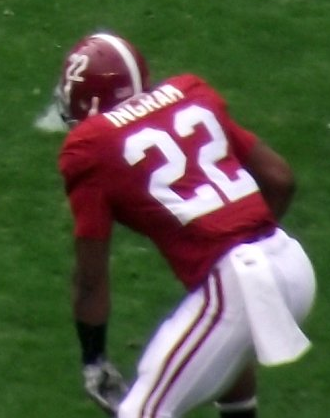 I think between now and a year ago, we forgot that Mark Ingram won the Heisman Trophy while leading his Alabama team to the National Championship. I'll make a bold statement: he's the next Emmitt Smith. Like Smith, Ingram is built like a tree trunk, takes care of the ball, and has decent enough hands to be effective in the pass game.
With the Saints' backfield in flux--contract woes and injuries have taken their toll--look for Ingram to have an immediate impact. My prediction is for him to gain 1,300-plus yards on the ground as Sean Payton and company look to return to the balanced offensive system that won them a Super Bowl two years ago.
Santelli: OLB Von Miller, Denver
While WR Julio Jones should perform well with Matt Ryan in Atlanta, Miller will make an impact on Denver's defense right away. Though many scouts think Miller would perform best as a 3-4 outside linebacker, as he did at Texas A&M, he should fit in just fine for the Broncos' 4-3.
Miller's athleticism and pass rush skills will draw attention from opposing offensive lines, but he has the potential to rack up the sacks and tackles needed to win Defensive Rookie of the Year in 2011.
____________________
Keep checking back to Neon Tommy Sports throughout the weekend for continuing coverage of the 2011 NFL Draft.
To reach Scott Enyeart, click here. Follow him on Twitter @scottenyeart.
To reach Eric Watkins, click here. Follow him on Twitter @ericswatkins.
To reach James Santelli, click here. Follow him on Twitter @JamesSantelli.