NFL
2011 NFL Draft: Biggest Surprises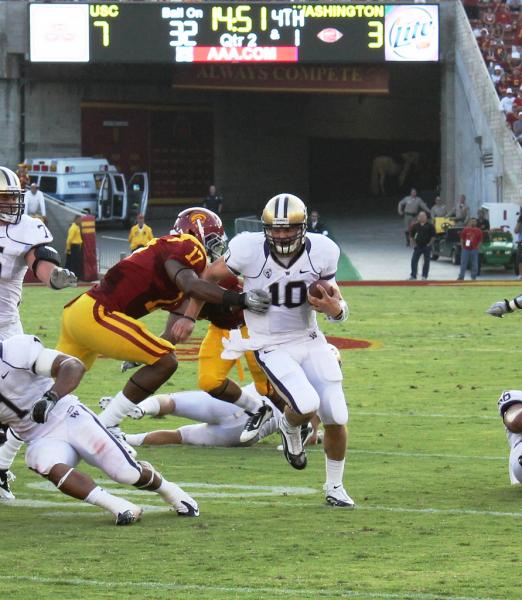 The NFL Draft is over and as usual there were some major surprises. Let's take a look at some of the most shocking and unexpected developments of the weekend.
The Free Fall of Da'Quan Bowers
In the weeks leading up to the draft, the stock of Clemson defensive end Da'Quan Bowers took a serious hit due to concerns about the long-term health of his knee. Once projected to be a top 5 pick, and possibly No. 1 overall, many of the most recent draft boards saw Bowers fall to the fringes of the top 20.
Draft day proved to be an entirely different story.
Bowers was not taken in the top 20. He wasn't taken in the first round at all. Instead, he fell all the way to the second round (51st overall) and was drafted by the Tampa Bay Buccaneers. While concerns about his knee post-surgery were surely legitimate, there is no explanation for a player of Bowers' talent and production falling so far in the draft. Getting Bowers this late was a huge steal for the Buccaneers. Assuming he stays healthy, the Bucs could have the youngest, most feared defensive line in the NFC South due to their acquisition of Gerald McCoy and Brian Price in last year's draft.
Ridiculous First Round Quarterbacks
While there was nothing surprising about Cam Newton going with the first pick, the next few quarterbacks taken likely shocked NFL fans. At No. 8, the Tennessee Titans took Washington QB Jake Locker, and at No. 12, the Minnesota Vikings took Florida State QB Christian Ponder. Between those two, Jacksonville took Missouri QB Blaine Gabbert at No. 10.
Both Locker and Ponder are huge reaches.
Locker is incredibly athletic and has many of the physical tools required to be a great NFL quarterback, but he was nothing more than mediocre in college. His career completion percentage of 53.7% leaves much to be desired. While Locker wasn't surrounded by elite talent while at Washington, he rarely made the players around him better as great quarterbacks do. Depending on how he pans out, the Titans could set back their playoff contention by a number of years.
Ponder, on the other hand, was not a pick made out of desire. The Vikings were backed into taking him when they decided to give the franchise to Brett Favre. Now, they find themselves in the unenviable position of having drafted a quarterback who many thought would go in the second round.
While Ponder was a great leader for Florida State, he lost much of his arm strength following surgery for a separated shoulder in 2009. He may turn out to be a great starter for the Vikings, as he was highly regarded prior to his shoulder injury. However, his potential is lessened due to his diminished arm strength.
Atlanta Trades Up For Julio Jones
The Atlanta Falcons took a huge risk by drafting Julio Jones sixth.
While Jones is a tremendous talent at receiver, the move to get him cost the Falcons their first, second and fourth round picks in this draft, as well as their first and fourth round picks in the 2012 draft. Giving up all of these picks signifies boldness on the part of the Atlanta brass.
Instead of strengthening the team through multiple picks, Atlanta is betting the farm on Jones.
With him, Atlanta goes from being a perennial playoff contender to a potential Super Bowl contender in a suddenly interesting NFC South. However, if Jones doesn't produce like he's expected to opposite Roddy White, this move could be seen as the first in a series of justifications for a change in the Falcons' leadership.
_______________
Reach Daniel by email.