International
Yemen's President Saleh Challenges Obama's Authority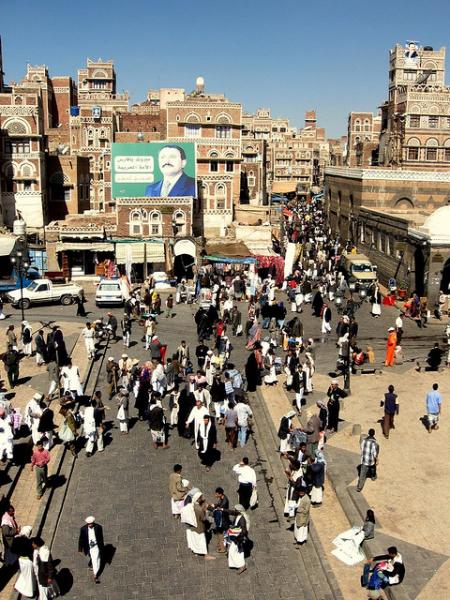 Yemeni President Ali Abdullah Saleh challenged President Barack Obama's authority over the recent wave of unrest in the Middle East, questioning whether Obama was president of the U.S or of the world.
Saleh went onto to blame America for starting the protests--conspiracy theories that were quickly dispelled by the U.S. State Department. Saleh's comments during a speech at a university in Yemen's capital came as 10,000 people rallied in the nation's capitol to celebrate their accomplishments so far, but demand even greater freedoms.
Reports the L.A. Times:
Saleh's accusations mark a departure for the president, a longtime ally of the United States in the war against Al Qaeda of the Arabian Peninsula and the recipient of hundreds of millions of dollars in U.S. military aid in recent years.
Amid the calls for greater democracy was a push to turn Yemen into an Islamic state. A Muslim cleric on a U.S. terrorist watchlist spoke to the rallying crowd, saying the force of the people must sweep Saleh out of power and inject Islamic rule in his place. There worries the Islamist party might hijack a revolution that has been thus far led by young adults.
Saleh also dismissed five provincial governors elected in 2008. All of them are members of Saleh's ruling party.
He's already promised to not run for re-election, though he hasn't kept such promises in the past. Protestors have rejected a compromise measure to be part of Saleh's government. Instead, like opposition groups in other Middle East countries, they simply want their country's present leader to leave immediately.
Al-Jazeera's analysis:
This is a familiar script for Saleh, who has deployed the same tactics consistently throughout his 33-year reign. He portrays himself as the only person capable of holding together a united Yemen, and blames shadowy foreign powers for the problems afflicting his country...Expect more [of the same speeches] in the comings days.