Technology
X-37B: 'America's Miniature Military Space Shuttle' Blasts Off Second Time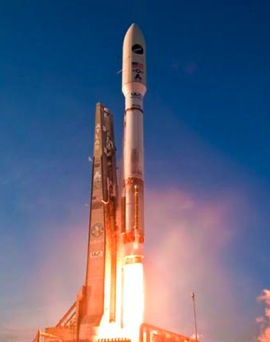 The second of the Air Force's X-37B secret, experimental space planes climbed into orbit aboard an Atlas 5 rocket on Saturday after launch was delayed a day due to poor weather.
Atlas 5 and the Boeing-built space plane, known as Orbital Test Vehicle 2 (OTV-2), blasted off at 2:46 p.m. PST from Cape Canaveral Air Force Station in Florida.
"There it goes! Looks good!...America's miniature military space shuttle," the Air Force Space Command tweeted.
Like the space shuttle, the roughly 29-foot-long and 15-foot-wingspan X-37B is reusable. However, based on the design of NASA's X-37 orbital vehicle that was never built, X-37B is unmanned and can remain in orbit much longer.
The first X-37B (OTV-1) launched last April and returned in December, making it the United States' first unmanned vehicle that de-orbited and landed on its own.
Air Force officials said post-flight analysis of OTV-1 revealed OTV-2 needed no significant changes, but detailed evaluations of the first mission continue.
The second X-37B flight will conduct further testing and is expected to last approximately 270 days. But it may be extended "especially since the performance data from the first flight suggest that the vehicle could have gone beyond the 270-day requirement," said Lt. Col. Troy Giese, X-37B program manager for the Air Force Rapid Capabilities Office, which leads the Department of Defense OTV program, in a statement.
More missions are likely required but the third has not yet been scheduled, officials said.
Live launch footage was delivered online by United Launch Alliance, maker of Atlas 5.