National
Wisconsin Judge Blocks Gov. Walker's Anti-Union Bill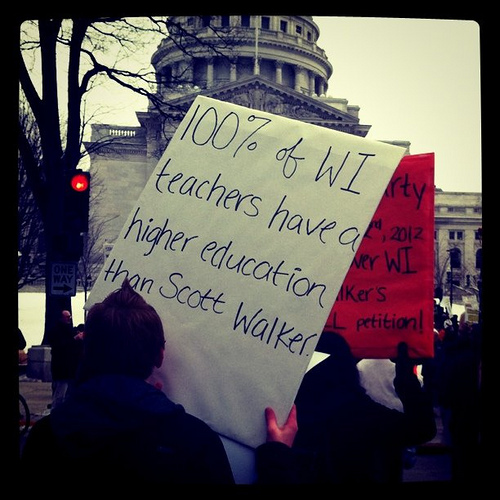 Wisconsin Gov. Scott Walker's controversial anti-union legislation was held up yet again on Friday, following a ruling by a Wisconsin judge blocking publication of the new law designed to curtail collective bargaining rights for public employees.
Maryann Sumi, a Dane County Court Judge, annouced the ruling Friday morning, which prevents Wisconsin Secretary of State Doug LaFollette from officially enacting Walker's collective bargaining law.
"It seems to me the public policy behind effective enforcement of the open meeting law is so strong that it does outweigh the interest, at least at this time, which may exist in favor of sustaining the validity of the (law)," Sumi said to the Milwaukee Journal Sentinel.
Although Walker's bill was signed into law March 11, the measure must be published by LaFollette to give the legislation its full effect.
Politico reports:
Sumi's ruling Friday is at least a temporary setback for Walker, who to date has overcome weeks-long protests and an intense media spotlight to push through a budget repair plan that many Democrats and union leaders believe puts a disproportionate burden on many of the state's public workers, including teachers.
If Sumi eventually rules in favor of the public officials challenging the manner in which the bill was passed, lawmakers might be forced to reconsider the legislation, leaving Republicans vulnerable to further protests in Madison like the ones that raged there for weeks.
Asst. Atty. Gen Steven Means told the Milwaukee Journal Sentinal that his team disagreed with the ruling.
"And the reason they have appellate courts is because circuit court judges make errors and they have in this case," he said.
He said the state would "entertain an appeal."
--
To reach Benjamin Gottlieb, click here.
Follow him on Twitter @benjamin_max.