California
Which Republicans Will Support Jerry Brown's Tax Vote Plan?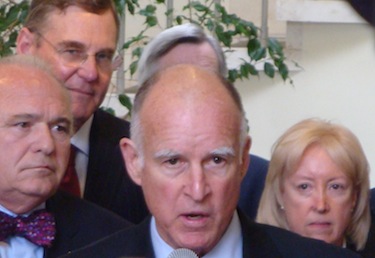 California Gov. Jerry Brown has made many vows, and though he says he's willing to turn his back on them, he seems steadfast in his commitment to earn Republican support for his budget plan.
Assuming he can hold Democrats in the Legislature in line, Brown needs four Republican votes--two from each chamber of the Legislature--to place a measure before voters in June that would extend income, sales and vehicles tax increases for five more years. The revenue-sustaining tax plan is matched by about $12 million in cuts to everything from colleges to health care facilities to close a $25 billion budget deficit.
Under some circumstances, the measure could go to voters without Republican support. However, Brown has repeatedly said he has no interest in veering down that path. His draft ballot proposal would require a two-thirds vote.
Last week, 10 Republicans refused to join a legislative Taxpayers Caucus. A caucus is group of lawmakers banding together for a specific purpose. The Taxpayers Caucus pledged to not vote for any tax increases or place a measure on the ballot that would include taxes. The group was designed to be bipartisan, but not a single Democrat opted to join.
Several of the Republicans who didn't join said they had already signed a no-tax pledge and didn't see any reason to sign another one. All but three Republicans in the Legislature as of December had signed through Americans for Tax Reform, a national conservative organization led by Grover Norquist.
So who are the three Republicans who haven't signed either pledge? Senators Anthony Cannella and Sam Blakeslee and Assemblyman Bill Berryhill.
A spokesman for Berryhill—who's not to be confused with his brother State Sen. Tom Berryhill—said he has policy against signing any pledges. Berryhill has been opposed to tax increases in the past.
Last Friday, Brown acknowledged to Neon Tommy that Cannella and Blakeslee are key Republicans for getting the tax measure on the ballot.
"But there are other ones," he said.
Cannella is the only Republican to hold a committee chairmanship in the Democratically-controlled Senate. The freshman senator was outspent by his competitor in an election last year during a $7.6 million "slugfest." He has expressed concerns about the elimination of redevelopment agencies and enterprise zones.
"He continues to believe we must close our state's massive budget deficit in a way that not only addresses our entire $25 billion shortfall through permanent spending cuts, but also makes reforms that help get people back to work and grow our economy," a spokeswoman for Canella said in an e-mail.
In a newspaper editorial directed mainly at local leaders in his district, Cannella made clear he would be their advocate in ensuring they would be able to meet the burdens of Brown's realignment plan. Cannella was a small-city mayor before winning state office last year. His senate district leans Democrat, 50 percent to 30 percent.
Blakeslee received the lowest score of any Republican legislator for his votes in 2010 from the California Republican Assembly. He's signaled on repeated on occasions that he's willing to work with Democrats "to do the right thing." And though he's attempted to cast himself as pro-environment moderate, at least one observer begs to differ. Blakeslee's district leans Democrat in voter registration, 40 percent to 34 percent.
He edged Democrat John Laird in a special election last year for his seat. Special elections tend to favor Republicans because of the low voter turnout. But in 2012, when President Barack Obama is on the ballot, Democrats are expected to benefit as they did in 2008.
"I don't believe we should raise taxes," he told CalWatchdog about his decision not to sign Norquist's Taxpayer Protection Pledge. "But I do believe we should have tax reform. Some conservatives believe everything that exists now was handed down by Moses on stone tablets. I don't."
Blakeslee was also talking about realignment long before Brown was elected.
Another non-signer, Sen. Bob Huff did vote to place a similar tax measure before voters in May 2009.
Sen. Bill Emmerson, who's been advocate for a biennial budget cycle and boosting tax credits for small businesses, is in a district that has seen an influx of minority residents, according to Democratic campaign consultant Steven Maviglio. The demographics change could push the 37th Senate District, spanning across Riverside County, from a Republican majority to Democratic majority.
The same goes for Sen. Tom Berryhill's district, which right now edges Democrat by about 2.5 percent of total registered voters.
Several of the senators said through their spokespersons that representing their present constituents is their only priority. But thinking about the next state election cycle in 2012, after district lines are redrawn by an independent commission, has to be on the back of some their minds.
"We are going to see significantly more swing districts after redistricting," said Doug Johnson, an expert on redistricting at Claremont McKenna's Rose Institute. "Six to eight Assembly districts could become more competitive." (Edited for clarity on March 7 to reflect that as many as six State Senate districts and six to eight Assembly districts could become more competitive.)
Detailed census figures for California won't be released until mid-March. Analysis of the results could take another month.
Of the legislators who didn't join the Taxpayers Caucus, Sen. Tom Harman and Assemblyman Paul Cook are the only ones being termed out of office. Cook's spokesman said the taxpayers caucus was a waste because it consumed the time of legislative staff and divided the Republican Caucus.
In the meantime, Maviglio said it's unlikely Brown would make any major concessions to attract Republican support. Brown already scaled back his realignment plan this week, and has shown a willingness to compromise on the proposal to eliminate redevelopment agencies.
"It's already a very delicate balance to keep Democrats on board, so he can't be putting more weight on the Republican end of the see-saw," Maviglio said. "There might be nibbling around the edges, but there won't be wholesale changes."
Here's a look at what each of the 10 legislators who didn't sign had to say. All of the offices were contacted on Thursday and Friday. Several have yet to respond or declined to respond.
To reach reporter Paresh Dave, click here.
Find him on Twitter: @peard33.