Film and TV
WGA Highlights New Paths In Gay Portrayals On TV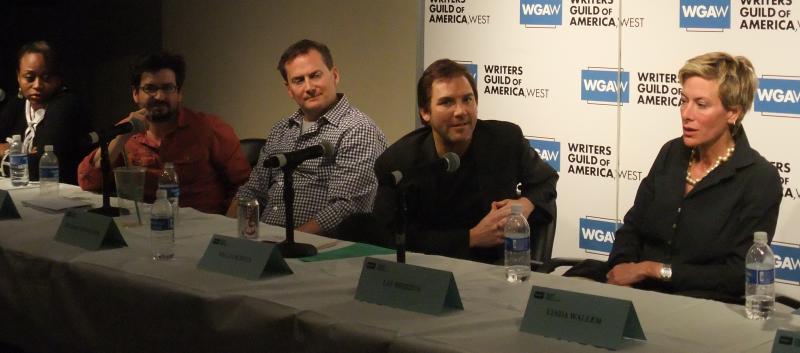 Last night's panel discussion at the Writers Guild of America, West highlighted current and future paths concerning the portrayal of homosexual characters on US television.
Focusing mostly on the Showtime shows "United States of Tara," "Nurse Jackie," and "Shameless," writers, producers, and actors discussed a variety of issues surrounding homosexuality on television, such as censorship, storylines, narrative styles, and depictions of gay and lesbian characters, including the different types of lives they lead.
The key considerations of both producers and writers quickly became apparent. Whereas censorship is no longer a main factor influencing show scripts, the fact that gay and lesbian characters are currently surpassing the quota-stage (in which homosexual characters are merely shown as a show's diversity sidekick) has become increasingly important.
Dramas such as "Nurse Jackie" and "Shameless" now feature multiple gay characters with very different personalities and lives, a situation that Pearlena Igbokwe, Senior Vice-President of Original Programming at Showtime Networks, sees as crucial:
"The benefit of having more than just one gay character on your show… is that there is no one character that has to carry the mantle of every one. It's the same argument that so many other ethnic groups make if there's one black person on the show, if there's one Asian person on the show; they have to represent so many things."
Having several recurring gay characters within one series instead allows depictions of homosexuals to move away from stereotypes, and to highlight the gay characters' individuality, respective backgrounds, and their stories.
At the same time, several writers including David Iserson ("United States of Tara") and Nancy Pimental ("Shameless") stressed the importance of going beyond mere shock value in the plots they create. Rather than making a spectacle out of homosexuality and dramatic situations in themselves, their narratives aim to provide background stories for a character's actions and behavior.
As a result, scenes involving sex, name-calling, and illegal relationships are more often than not storytelling tools rather than the plot action itself so as to tell "realistic" stories of "realistic" people. And as Cameron Monaghan who plays gay teen Ian in "Shameless" points out, there is in fact a lot of truth behind the stories in his show:
"I have received many, many, many messages from gay teens saying "I really feel that this is my story."
Lastly, for future representation, the panel and particularly Liz Brixius, Co-Creator and Executive Producer of "Nurse Jackie," saw the most potential in moving on from current coming-out stories and the focus on the characters' homosexuality.
Leaving the dominant "gay" categorization behind, future shows could emphasize character history and personality over being gay, so as to highlight that an individual's sexuality is not the only way to group and define them within society.
"Nurse Jackie" and "United States of Tara" air Mondays at 10pm and 10.30pm (ET/PT), respectively, on Showtime.
"Shameless" finished its first season run on March 27 and has been renewed for a second season, also on Showtime.
You can reach Christine here.
To subscribe to our weekly e-mail newsletter, click here.