Sports
Weekly Wonderings - Tiki Barber Comeback Edition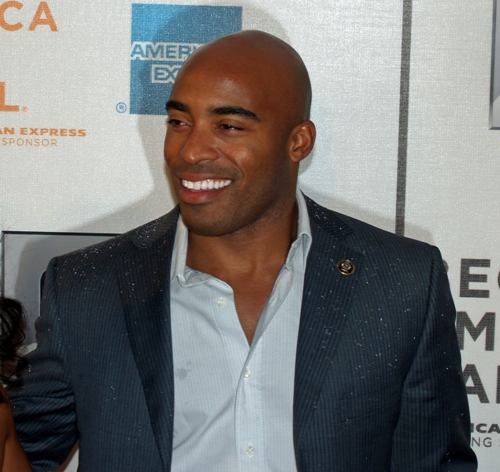 • Former New York Giants' running back Tiki Barber is
eyeing an NFL comeback
after four years of retirement. The 35-year-old running back says the biggest obstacle between him and a return to the NFL is Monday Night Football being past his bedtime.
• Orlando Magic head coach Stan Van Gundy has said he can no longer comment on the escalating conflict between himself and NBA commissioner David Stern. Tension between Stern and Van Gundy goes all the way back to 1971, when Stern beat out Van Gundy for the role of lead oompa loompa in the original Willy Wonka & the Chocolate Factory.
• Ohio State football coach Jim Tressel has been suspended for withholding critical information from the university. School officials say that Tressel is still unwilling to disclose the whereabouts of his sweater sleeves.
• The Miami Heat finally ended a five-game losing skid with a win over the Los Angeles Lakers. Although he was pleased with the win, Miami coach Erik Spoelstra refuses to relax, largely because he has severe burns from being on the hot seat for so long.
• Arkansas signal caller Ryan Mallet has been put under the spotlight amidst rumors of past drug use. And yet again USC's Mitch Mustain plays second fiddle to a more talented quarterback.
• Tom Brady sported a ponytail while visiting Rio de Janeiro to celebrate Carnival as part of his ongoing quest to out-effeminate Justin Bieber.
• In a war of tweets, Baltimore Ravens free safety Tom Zbikowski challenged Cincinnati Bengals' receiver Chad Ochocinco to a boxing match. While Zbikowski already has one professional bout on his resume, Ochocinco believes that a career full of putting his foot in his mouth has adequately trained him for the potential challenge.
• Former New York Giants receiver Plaxico Burress is scheduled to be released from jail on June 6. Burress is being released three months early on the condition that he wears a holster to future nightclub outings.
• Starting pitcher Zack Greinke will likely start the season on the disabled list after fracturing a rib during an off season pickup basketball game. In doing so, Greinke has already experienced the emotion most commonly associated with being a member of the Milwaukee Brewers – disappointment.
• An Atlanta bar is suing LeBron James after he broke a commitment to appear at a scheduled party. LeBron broke his promise after deciding to bring his talents to a sexier party that will in all likelihood perform below expectations.
• Montreal police have begun a criminal investigation into a hit by Boston defenseman Zdeno Chara that left Canadiens' left wing Max Pacioretty with a severe concussion and cracked vertebrae. Preliminary results from the investigation have revealed the Canadian police need more to do with their time.
• The NFL owners and players have broken off labor negotiations after failing to come to terms on how to divide $9 billion. However, both sides did share a good laugh when an outside observer of the proceedings suggested they set aside their differences for the love of the game.
• Big round of hand claps going out to Valley Christian High junior Kari Korver for winning the CIF-Southern Section Skills Challenge!
More next week…
_______________________
To reach Michael Green, click here.
Sign up for Neon Tommy's weekly e-mail newsletter.