National
Walker Warns Of Layoffs If Wisconsin 14 Don't Return To State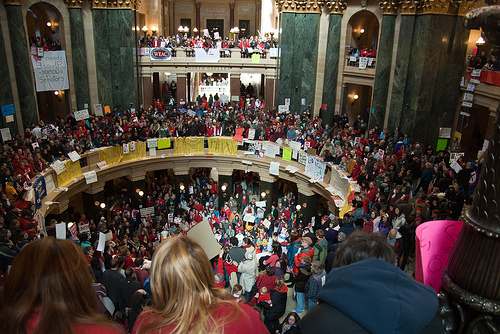 Wisconsin Gov. Scott Walker says he will
begin issuing layoff warnings
to unions representing 1,500 state workers if his proposed anti-union bill is not passed on Friday. The bill remains at an impasse because, with all 14 Democratic state Senators still AWOL, the Wisconsin Senate does not have enough members to bring the bill to the floor for a vote.
The layoff notices would go out this weekend and would take effect next month.
Walker's threat is the latest in a series of moves designed with the hopes of bringing the state Senate Democrats back to Madison. The 14 Democrats have been hiding in Illinois for more than two weeks now.
"Unfortunately, if we don't have action by tomorrow we have a legal and moral obligation to start forewarning people," Walker said at a press conference Thursday night.
The Wisconsin Senate approved a resolution on Thursday to hold the 14 lawmakers in contempt if they didn't return to Madison by late afternoon. The order allows law enforcement to detain the state Senate Democrats in Wisconsin and take them back to the Capitol.
The Democratic lawmakers say they are holding strong despite the threat of arrest. "No one is going to come back today," said state. Sen Fred Risser, one of the 14 missing lawmakers.
The state Senators fled Wisconsin on Feb. 17 to prevent a quorum on the state's budget repair bill. The proposed bill would limit the collective-bargaining rights of public employees unions, while also requiring state workers--with the exception of law enforcement and firefighters--to pay more into their pension and health benefits.
The strains of the budget stalemate were evident in Madison on Thursday, as Walker limited public access to the Capitol building. As a result, Wisconsin Assembly Democrats removed their desks from the building, bringing their office outside in order to meet with constituents.
Demonstrators were also barred from the Capitol building after business hours by a county judge on Thursday. The order was issued because some protesters were sleeping inside the building. According to reports, most of the protestors abided by the judge's order Thursday evening.
The largely pro-labor demonstrations have been going on for more than three weeks.