USC Sports
USC Football Spring Notebook - Practice 2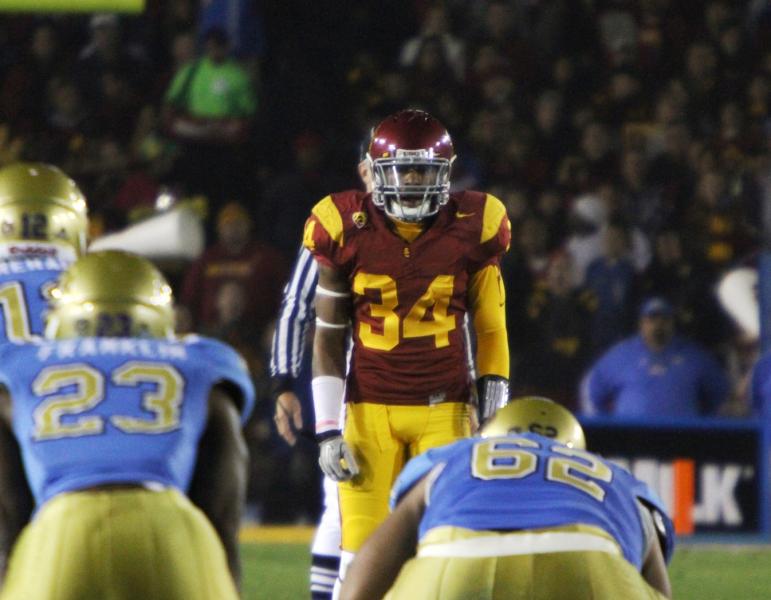 The USC football team held its second practice of the spring Thursday morning. Practice remained at Cromwell Field rather than Howard Jones Field due to the recent rainfall.
BURNETT ISLAND: Former walk-on safety Tony Burnett is thriving in his new role as cornerback. Burnett, who is also on the USC track team, had another solid showing, taking reps with the first team defense.
"They want me to learn both safety and corner, but as of right now corner is permanent," Burnett said of the position change.
It's a move that should help solidify a Trojan defense that Lane Kiffin said "led the world in explosive plays [allowed] last year, at any level."
MARC TYLER RECOVERING: Running back Marc Tyler, who injured his hamstring at Tuesday's practice, sat out today. Neither the coaches nor Tyler are sure when the team's returning starter at running back would return.
When asked if he'd be back before the end of spring practice, Tyler replied, "I'm going to try to, but I don't want to rush back and hurt it worse."
DJ MORGAN CONTINUES TO IMPRESS: Redshirt freshman running back D.J. Morgan is one of the players benefiting from Tyler's absence. Morgan, who said he's currently last on the depth chart, is trying to take advantage of the increased number of reps. And the coaches are taking notice.
"D.J. Morgan is showing flashes, which he's gonna be because of his speed," Kiffin said. "When we tested in the offseason, he was the second fastest guy on the team behind Nickell [Robey]."
THE BATTLE CONTINUES: Freshmen Jesse Scroggins, Max Wittek and Cody Kessler all continued to take second team reps at quarterback. After throwing a pair of interceptions on Tuesday, Kessler also threw the only interception of the group on Thursday. Incumbent starter Matt Barkley threw two picks.
MORNINGS IT IS: Kiffin said he has all but decided to stick with the early practice format for the fall, though there are a few minor things to work out.
"It looks like we are, we just have to make sure that we can get everybody's schedule blocked out in the fall to be able to do it," Kiffin said. "I think it's very beneficial to our kids. They have great energy."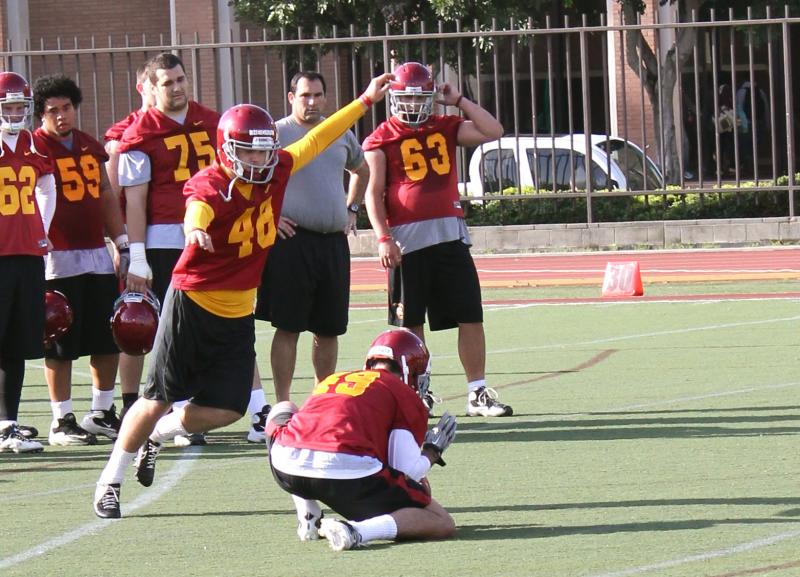 THE LONELY KICKER: Freshman kicker Andre Heidari continued to show promise for a team plagued by field goal woes last season. He's shown the ability to knock home kicks from 50+ yards.
"He's got a strong leg," Kiffin said. "It's great to have him here already."
Walk-on Craig McMahon is also taking reps at kicker.
VISITING TROY: Former USC linebacker and current Jacksonville Jaguars head coach Jack Del Rio attended this morning's practice with his son Luke, who is a prospective USC recruit. Also in attendance was David Sills, the 14-year-old quarterback from Delaware who committed to the Trojans last year.
WHAT'S AHEAD: USC will hold it's next practice Saturday at 10:30 a.m.
Be sure to check out all of Neon Tommy's coverage of 2011 Spring Practice.
____________
To reach Scott Enyeart, click here. Follow him on Twitter @scottenyeart.