USC Sports
USC Football Spring Notebook - Practice 5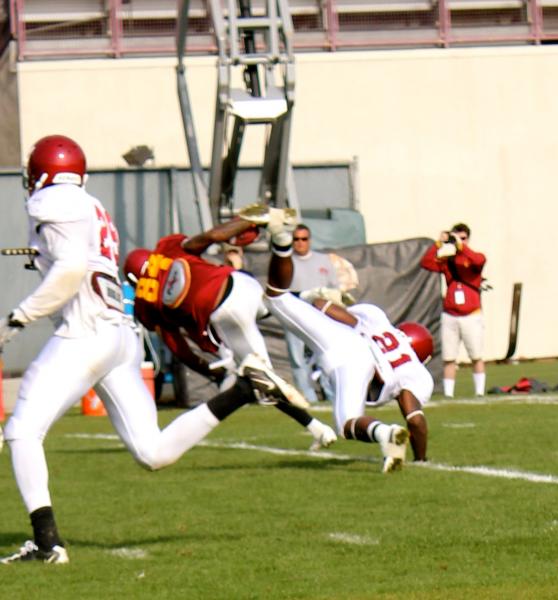 The USC football team held its fifth practice of the spring Thursday morning at Howard Jones Field. The Trojans were once again sporting full pads -- the third practice in a row they've done so.
FATIGUE FACTOR: Temperatures were in the high 70s for the majority of practice, and the team appeared to be feeling the heat.
"I thought that probably for the first time guys gave in a little bit to fatigue early on," Kiffin said. "It got a little hotter today and so that's a lot of time where pretenders fall out and contenders rise to the top."
FOLLOW THE LEADER: Quarterback Matt Barkley is not only a returning starter, but he is also the team's only returning captain. Barkley, now in his third spring with the team, is thriving in his leadership role.
Staying after practice to work with members of the offensive line is a regular occurrence for him as well as mentoring the young quarterbacks competing to be his backup. Thursday he also was one of the first guys to break up a skirmish between the offense and defense during team drills.
"I was right there on the side. I probably should have put my helmet on before I jumped in there," Barkley said. "It's good that we still have that fire, but we just gotta know when to calm it down sometimes."
BACK IN ACTION: Freshman wide receiver Robert Woods returned to practice after being sidelined with a hamstring injury. Though he said he was only 75-80 percent, Woods practiced without limitation. He even had one of the plays of the day, a long catch and run for a TD.
Also returning from injury was fellow receiver De'Von Flournoy, who had been out with a hip injury. However, receiver Brandon Carswell had to leave practice early with an apparent hamstring injury.
SHOULD HE STAY OR SHOULD HE GO?: This offseason receiver Brice Butler made the decision to transfer from USC. However, he still remains enrolled at the university. Recently, rumors have swirled that Butler may end up staying with the team after all.
According to Kiffin, there is little truth to the rumors. He isn't too concerned with Butler's intentions.
"I'm worried about that the players wanna be here, the guys that are out here on the field," he said. "If he wants to be here then we'll talk to him at that time."
LET'S GET PHYSICAL: There's little debate that USC had major issues last year tackling. This spring the team has noticeably increased the amount of contact and tackling in practice and that will hopefully pay off during the season. One position group that is clearly benefitting and improving is the defensive backs, particularly Tony Burnett and Nickell Robey.
"It's good to see two corners that are tackling extremely well," Kiffin said of the two potential starters. "We obviously are focusing on tackling after last season," Kiffin added. "You may risk some injuries at times, but it's too critical to get this fixed."
A GLIMPSE INTO THE FUTURE: USC signed a highly touted recruiting class this February and one of the marquee signees was Serra receiver George Farmer, a former teammate of current Trojan wideout Robert Woods.
It's widely anticipated that Farmer will be able to compete for playing time right away and Woods seems to agree. "He's bigger than me, he's faster than me, he's stronger than me; he definitely has the skills to come out here and compete and do what he has to do."
WHAT'S AHEAD: USC will resume practice Saturday morning with a 10:30 start. The Spring Game is scheduled for April 23 at the Los Angeles Memorial Coliseum and will be open to the public.
Be sure to check out all of Neon Tommy's coverage of 2011 Spring Practice.
____________
To reach Scott Enyeart, click here. Follow him on Twitter @scottenyeart.