USC Sports
Arrogant Preview: 2011 USC Football, Co-starring Lost Angeles
Football is here, finally!
No, USC doesn't play its first game until September, but the 2011 Trojans have begun laying the foundation for a historic season.
They've been holding player-only throwing sessions throughout the winter and, even more impressively, have been holding 6:00 a.m. conditioning workouts in preparation for Spring Practice, which begins March 22.
Spring is also when the football preview magazines start hitting shelves, but save your money because we've got the only season preview you'll need right here. Be warned, though, it's a preview unlike any you'll find.
Zack Jerome, author of the popular Lost Angeles Blog, was kind enough to join me as we break down all things USC football.
Now, real quick, if you aren't familiar with Lost Angeles you should know that the Dos Equis "Most Interesting Man in the World" character is loosely based on Zack's life. Zack made being called arrogant a compliment. He made NCAA sanctions cool (Auburn, Ohio State and Oregon seem to agree) and he's changing the culture of the USC fan base one blog post at a time.
Without further ado, we bring you the Neon Tommy USC Football 2011 Season Preview:
Scott: Alright Zack, let's get this party started. So many things have transpired at USC this offseason. We had coaching changes, a marquee recruiting class and an NCAA appeal just to name a few. So before we take a look at the future, let's recap the past. What offseason event do you think will have the most impact on the 2011 season?
Zack: I think the amount of bears I killed in the offseason was a big win, but that is speaking personally. On the subject of our football team, I have to say it's the alignment of the new Pac-12. I know that happened last season, but essentially the changes are happening between seasons. It looks like it was set up for us to reach the Pac-12 Championship every season. The South looks perennially weak in football. I almost felt like it was an apology from the conference for not having USC's back the way the SEC did during the Cam Newton ordeal.
Asking honestly, how many Pac-12 Championships out of 10 do you see USC making in this division? I'm going 8 of 10.
Scott: You make a great point about the formation of the PAC 12. Even in USC's best decades the most conference championships they ever won [in a decade] were seven (2000's) and six (1970's). To predict division and conference titles won in the next 10 years you have to account for at least one rebuilding period, plus missing out on the title game this year due to our good friends over at the NCAA (pending appeal of course). That being said, I'll go conservative based on history and say the Trojans win the South seven times and claim six of the first 10 Pac-12 crowns.
Speaking of this year's title game, what do you see happening? Will USC make history by being banned from playing in a conference championship game they qualified for? Or do they win the appeal and become the inaugural Pac-12 champs?
Zack: I feel like we're not going to win the appeal. Most of the time, the NCAA seems to struggle with transparency. In some messed up universe, they might be right some of the time, but we'd never know because they don't explain it.
I think we absolutely win the South (I mean, I arrogantly predicted we'll win the South eight of the next 10 years), and make an enormous splash by having to decline it. It's interesting to note that this is the Pac-12's choice as far as I know. The Pac-12 Championship is not a "bowl" game, so technically they could let us play. I wonder how they will feel when a USC vs Oregon matchup turns into Utah vs Oregon. I think you'd be able to count the East Coast viewership for that game on one hand.
Looking at the South, it's hard to see us not winning that division. Not just now, ever. Historically. I think John Cusack would need to be flying a plane between crumbling buildings in 2012 before we finish worse than second place in the South.
I've said I plan to raise awareness with Arrogant Nation for 2011 Heisman Trophy winner Matt Barkley. Do you think it's a fair goal given the emergence of Robert Woods and our new wealth of skill players?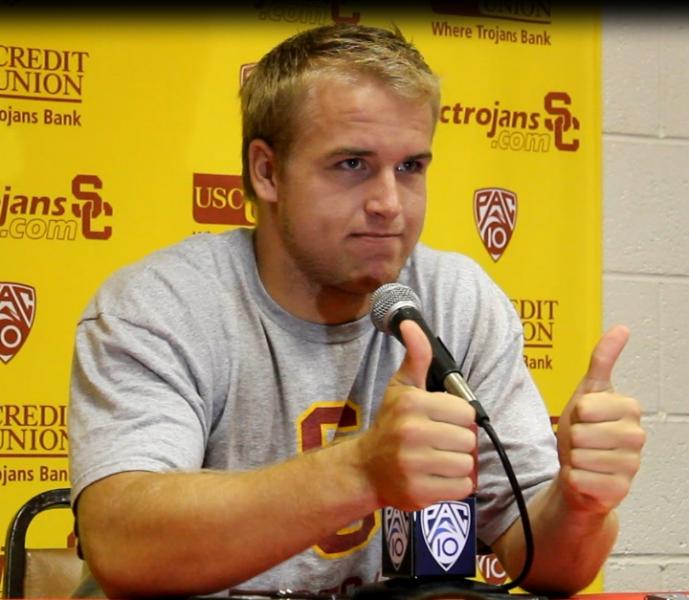 Scott: I love what your doing with Matt Barkley's 2011 Heisman campaign. Already naming him the winner steals all the thunder from ESPN, and I can get down with that.
I think the plethora of weapons on offense helps his Heisman cause tremendously. When you look at USC's past Heisman winning QBs you notice they all had their go-to-guy. Carson Palmer had Mike Williams, Matt Leinart had Dwayne Jarrett. And Matt Barkley will have Robert Woods. Throw in Brandon Carswell, Kyle Prater and George Farmer, too. USC has the talent, and Barkley definitely has the ability, for him to be holding that stiff-arming statue in New York come December.
So we agree the Heisman is a lock. But the team still has its share of uncertainties. Before we look at the defensive side of the ball tell me what's up with the o-line? Only two starters are returning. Are they good to go or do they need to enroll in the Lost Angeles Bear Killing Academy before the season gets going?
Zack: I am happy to take them to my bear killing grounds for training, but I feel like we've heard our line might be an issue many, many times in the past decade and we seem to just overcome and make it a strength. Also, Kevin Graf went to my high school [Agoura High] and even as a young kid, I knew he was going to excel at planting Bruins in the turf like flowers. An awesome Trojan family in general.
I think having the ability to spread the ball around will make their lives easier. Barkley coming in as a junior, with weapons, will have the defenses forced to really respect the pass. I think we'll get surprisingly great line play.
I was really impressed with our offense last year. It was clear Kiff brought back some swagger. Jeremy Bates wasn't working out for me. I mean, he killed rabbits. We want to kill bears and look good doing so. I think Kiff will really continue opening it up. Considering how close three of our "losses" were (I put losses in quotations because we won in arrogance all three games), recruiting a kicking game this year has me thinking we're going to love Andre Heidari by the end of the year. You know I love going for two, but what do you think a new kicking game will do for us?
Scott: You know, I actually was a huge fan of going for two after every score. I think it gave opponents one more thing to worry about when playing USC. Plus, it was like Lane's personal endorsement of the Arrogant Nation movement you started. On a side note, I loved that Kiffin stopped the two-point conversions once Chip Kelly started trying to bite his style up at Oregon.
The addition of Andre Heidari will do wonders for the kicking game. The kid should be an automatic three points every time he lines up to kick. Not to be overlooked is the way that's going to benefit the offense and defense. Offensively, knowing you have a kicker who's as clutch as you with a bear in the crosshairs will allow Kiffin to not have to limit the playbook based on a kicker's field goal range. Plus, defensively you aren't putting your guys out there with their backs against the wall to defend a short field after a missed field goal attempt.
There's no question that for USC to reclaim it's spot among the nation's elite the Trojans are gonna need to play better on D. The talent on that side of the ball was upgraded via recruiting, and another year's familiarity with the scheme should help. Is the defense going to be a dominant unit or a liability in 2011?
Zack: I want to believe another year with the system will improve our defense, but I honestly felt the kicking game was a bigger liability last year, just looking at our margin of defeat in our three narrow defeats. We always have great athletes. I think we just need to realize that getting an extra stop a game might be enough for the kind of offense we're shaping up to have.
Total side note: Did you realize the name of Oregon's mascot is "Puddles"? I know this is a USC season preview, but arrogantly I just had to bring that up. They dress ridiculous and have a mascot named Puddles. That was just like an ugly flashback I just had. I apologize. No, I don't. It took courage to do that.

Anyway, I think our defense can do plenty to keep us in games. The new kicking game should help them a lot by giving them field position with the addition of "punts" and "field goals".

Your thoughts on the D?

Scott: Puddles? Seriously? That's about as intimidating as Joe and Josephine Bruin over at UCLA. You're gonna try and scare people with a bear mascot and then come up with names like that? Typical Bruins. Oh, and don't forget Puddles dresses like a Donald Duck rip off, you'd think Nike could throw some sequins on it or something and doll that thing up a bit.

Ok, on to the defense.

I'm predicting major improvement from this unit for a number of reasons. First, another year in the system should equate to fewer mental errors and fewer missed assignments. Secondly, the talent and depth was upgraded significantly in recruiting. Guys like LB Lamar Dawson, DB Isiah Wiley and DTs Antwaun Woods and Christian Heyward should make an immediate impact. The final reason? Coach O's foot. No joke. He was on crutches all season last year. Coach Orgeron is the emotional leader of the team, and having him limited by injury in 2010 shouldn't be underestimated. He coached in pain, on one leg, and was a fraction of the Coach O we've seen in the past. This year Orgeron will be fully recovered, running around and barking at people in with a Cajun drawl that nobody can understand. Kind of like the coach in The Waterboy.

Saving the best for last, we've nailed every aspect of the team except the for most important one: Arrogant Nation. What does the 2011 season hold for you and the most famous fan base in the history of the world?

Zack: I have a lot planned this year, but a lot will depend on the "ruling" of our appeal to the NCAA. There will be some awesome new shirt designs, we're hoping to roll out sweatshirts, other things like that. Mainly, it's going to be twice as arrogant and at least three times as epic. I think we've seen how Arrogant Nation has inspired many people, namely Charlie Sheen, but this year it's going to be about the community. There's going to be a lot more interaction between the blog and the Arrogant Nationals. Basically, I'm using a lot of words to say very little. Rest assured, I will be challenging the Nation to really show how arrogant they can be.

And Barkley gets a Heisman.

____________

To reach Scott Enyeart, click here. Follow him on twitter @scottenyeart.

Follow Zack Jerome on twitter @lost_angeles.