Theater and Dance
Theater Review: "Trio" At Lounge 2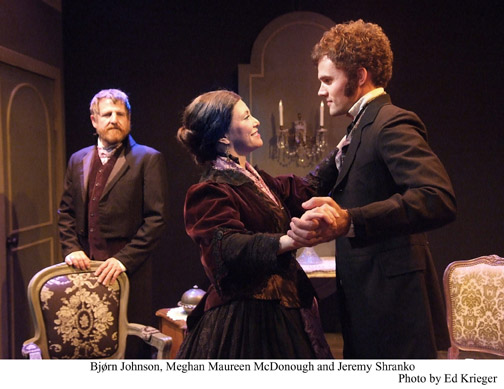 All love triangles are turbulent, compelling and tragic, but not all as historically significant, as the one at the center of "Trio," the latest play by Israela Margalit showing at the Lounge 2 Theater in Hollywood.
This work, which has already had several years of rousing success in Russia, portrays the complicated relationship among composer Robert Schumann, his wife Clara (a world-renowned pianist in her own right) and the young Johannes Brahms. This production is the American debut, directed by Rick Sparks.
The play depicts the decline of Schumann, both in inspiration and in health, and the deterioration of his relationship with wife Clara, who longs to play concerts and go on tours as she did before domestic life took over. Enter the young, talented and inspiring Johannes Brahms, who becomes for Schumann both protégée and romantic rival.
Margalit is herself a concert pianist who has performed all over the world. Inspired by these musicians and their story, she conducted extensive historical research, but admits to taking artistic license to portray them according to her own vision. This delicate balance between history and creative risk-taking is wholly successful.
Most striking about this production is the use of music, which weaves itself throughout the lives of the characters, and the sensory experience of the play. Recordings played by Margalit (and a duet between her and her son, Ilann Margalit Maazel) provide a rich emotional texture to the story.
Meghan Maureen McDonough as Clara Schumann outshines her costars in her dignified restraint, but the entire ensemble is excellent. Frau Schumann's struggle to reconcile her talent and desire to perform with the traditional roles of wife and mother is as relevant as it is poignant.
The staging and design make deft use of a small black–box performance space, sometimes placing the actors in heated dialogue mere inches from the knees of the front row.
This is a play that could perhaps only be written by a real musician — a woman who understands what it means to live the life of an artist. However, it doesn't take an aficionado to appreciate the finished product.
"Trio" will run through April 10.
Contact Sarah Goodrum here.