Food
Sweet And Delectable St. Patrick's Day Desserts
With St. Patrick's Day coming up this Thursday, the time has come for McDonald's to bust out their famous Shamrock Shakes. While their cool and minty milkshake certainly makes St. Patty's day taste extra creamy and delicious, a 416-calorie fast-food milkshake doesn't a wholesome Irish dessert make—and that's just in the 11.3 fl oz. small.
So, in an effort to indulge in a St. Patty's day favorite like the Shamrock Shake while also eliminating the fast-food factor, I found a recipe that combines the best of both worlds: Homemade Shamrock Milkshake Cupcakes. These scrumptious cupcakes are not only minty and festive, but they are also much healthier than a Shamrock Shake from McDonald's. I recognize that these cupcakes aren't super low in calories, but I'm labeling them as healthier because they aren't loaded with processed ingredients like the Shamrock Shakes. These cupcakes contain half the sugar of a Shamrock Shake, and they have an added bonus—pillows of fluffy white chocolate frosting on top of each moist and decadent cupcake:
Shamrock Milkshake Cupcakes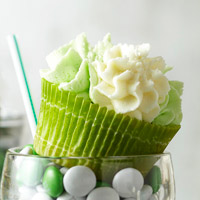 (Recipe from allrecipes.com)
Ingredients:
• 4 egg whites
• 2 cups all-purpose flour
• 1 teaspoon baking powder
• ½ teaspoon baking soda
• ½ teaspoon salt
• 1 cup buttermilk
• 1/4 cup green crème de menthe*
• ½ cup shortening
• 1¾ cups sugar
• 1 teaspoon vanilla
• 1 recipe White Chocolate Frosting (see below)
• Green food coloring
Directions:
1. Allow egg whites to stand at room temperature for 30 minutes. Meanwhile, line twenty to twenty-two 2-1/2-inch muffin cups with paper bake cups. In a medium bowl stir together flour, baking powder, baking soda, and salt. In a 2-cup glass measuring cup combine the buttermilk and the crème de menthe. Set aside.
2. Preheat oven to 350 degrees F. In a large mixing bowl beat shortening with an electric mixer on medium to high speed for 30 seconds. Gradually add sugar, about 1/4 cup at a time, beating on medium speed until light and fluffy. Beat in vanilla. Add egg whites, one at a time, beating well after each addition. Alternately add flour mixture and buttermilk mixture to shortening mixture, beating on low speed after each addition just until mixture is combined.
3. Spoon batter into prepared muffin cups, filling each about two-thirds full. Use the back of a spoon to smooth out batter in cups.
4. Bake for 15 to 18 minutes or until tops spring back when lightly touched. Cool cupcakes in muffin cups on wire racks for 5 minutes. Remove cupcakes from muffin cups. Cool completely on wire racks.
5. Divide White Chocolate Frosting between two bowls. Tint one portion with green food coloring. Spoon each frosting into a pastry bag fitted with a large star tip. Pipe white and green frostings onto tops of cupcakes to resemble four-leaf clovers.
White Chocolate Frosting: Allow 1 cup butter, cut up, to stand at room temperature for 30 minutes. In a large mixing bowl place 6 ounces white baking chocolate with cocoa butter, chopped; set aside. In a small saucepan heat 1/3 cup whipping cream just until simmering. Pour over white baking chocolate; let stand, without stirring, for 5 minutes. Stir until smooth; let stand for 15 minutes. Gradually beat butter into melted white chocolate mixture with an electric mixer on medium to high speed, beating until combined. Gradually beat in 1-1/2 to 2 cups powdered sugar until frosting reaches piping or spreading consistency. Makes 3-1/2 cups.
*If you prefer not to use crème de menthe, substitute a mixture of 1/4 cup milk, 1 teaspoon mint extract, and several drops green food coloring.
Makes 20 to 22 (2½ inch) cupcakes.
Nutrition Facts: Calories358, Total Fat 18(g), Saturated Fat 10(g), Monounsaturated Fat 5(g), Polyunsaturated Fat 2(g), Cholesterol 32(mg), Sodium 208(mg), Carbohydrate 43(g), Total Sugar 33(g), Protein 3(g), Calcium 5(%), Iron 3(%),
************************
As much as I love making these cupcakes on St. Patty's day, I have to confess they are not a traditional Irish dessert. I would not feel justified only providing a recipe to replace the American-born Shamrock Shake, thus I also have here a traditional Irish dessert called Cranachan. The main components of this dessert (cream, honey, fruit, oatmeal, whiskey, and sometimes nuts) differ between each of the Celtic countries, but this version I found seems to be a winner:
Cranachan (Toasted Almond, Honey and Whiskey Cream)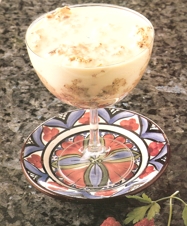 (Recipe from European Cuisines)
Ingredients:
• 1/3 cup flaked almonds
• 2/3 cup oatmeal
• 1 1/4 cup heavy whipping cream
• 4 tablespoons honey, to taste
• 4 tablespoons Irish whiskey
• 1 tablespoon lemon juice
• Raspberries
Directions:
1. Toast the almonds and oatmeal in a dry frying pan until golden.
2. Whip the cream in a bowl: stir in the honey and whiskey. Fold in the almonds and oatmeal, and finally the lemon juice. Serve in tall glasses, garnished with raspberries.
Whether you drive through a McDonald's and grab a creamy Shamrock Shake, or try out one of these sweet treats, I wish you a delicious dessert experience this St. Patrick's Day!
Send your food questions/suggestions (recipe ideas, restaurant recommendations, food questions, cooking tips, anything food related) to Veronica. Your questions and comments might be featured in next week's column!