Stop Staring! On The Runway At Style Fashion Week LA
LA's fashion scene has been abuzz this week as multiple organizations put on a bevy of shows across town. Style Fashion Week's first runway show of the season,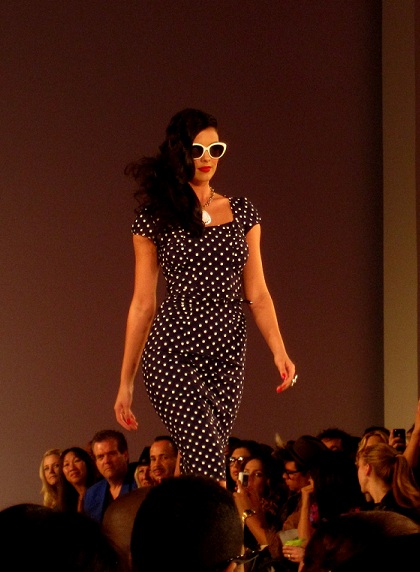 featuring retro inspired designers Stop Staring!, was held at the historic Vibiana Cathedral in Downtown, Los Angeles.
The night began with a cocktail party at dusk in an adjacent palm-tree-filled courtyard. Guests sipped Caipirinhas while lounging on the trendy all white furniture; a standout piece being the circular couch surrounding a gold fish and candle filled fountain in the center of the action.
Many friends of the designers were in attendance and wearing Stop Staring! creations, which tend to be curve hugging satin dresses similar to the classic Dolce and Gabbana silhouette favored by voluptuous actresses like Scarlett Johansson. Stop Staring! has already picked up quite a few followers of their own including Zooey Deschanel, Ashley Greene, Audrina Patridge, and none other than Paris Hilton--who loves their nautical looks and anything pink.
Having been featured in publications along the likes of Allure, People, and Life & Style, the brand is self-described as "sexy new vintage-style clothing" that draws inspiration from "1930's silver screen glamour, elegant 1940's film noir, sexy 1950's swing, and everything in between".
Models walked a long runway through the center of the restored cathedral which provided an ideal setting with its lofty ceilings and classic archways. Many of the looks featured on the runway could take a woman straight from office chic out to a fine dinner. Standouts included a red party dress with a full skirt hitting at mid-calf-- reminiscent of the dresses of girls in the 1950's, there were a handful of form fitting va va voom satin dresses, as well a light blue floral structured romper that translated perfectly to modern day. The pieces tend to be very wearable provided they are accessorized in a way to not make them come off looking too much like a costume, but ditching the pearls and sailor hats should solve that problem.
Stop Staring! can be found in vintage stores around the world and also on their website or at their showroom in Paramount, CA.
Style Fashion Week LA continues with shows by Gypsy 05, Future Heretics, Ina Soltani, and a Go Red for Women Celebrity Red Dress Fashion Show along with a live auction benefitting the American Heart Association.
Reach Christina Rath here and follow her on Twitter.
Join our mailing list.