Los Angeles
Snapshots Of Boyle Heights' Arts District
The area around Mariachi Plaza on 1st Street is the closest thing in Boyle Heights to an arts district. Amid the body shops, dive bars and burger joints are huge, colorful murals, art studios such as the famous CASA 0101 and Brooklyn and Boyle Gallery, independent theaters and Mexican restaurants. A mural by Homeboy Industries on a brick wall in a vacant lot (Homegirl Café used to have a location in the area) shows many images of the community, including a couple of men in backwards caps working on pipes, showing the district's signature mix of the art community and the working class.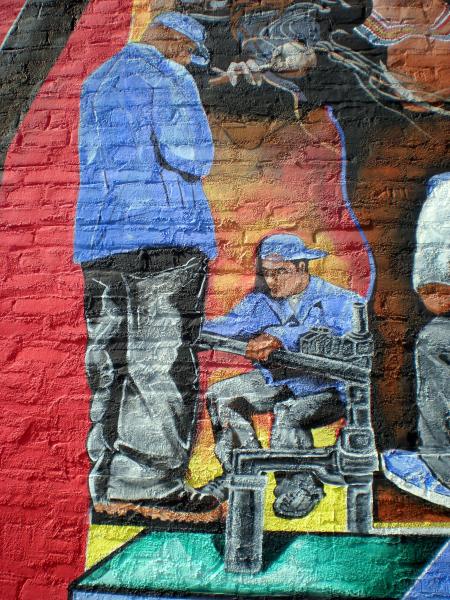 L.A.'s 14th District City Councilman Jose Huizar, who represents Boyle Heights, Eagle Rock and Highland Park, has been engaged in a fierce battle for his seat against challenger Rudy Martinez. Huizar, whose Boyle Heights field office sits on a corner near the trendy Primera Taza coffee house, touts the area as a place with a rich history and potential for a thriving community. He has said that the opening of the Metro Gold Line station at Mariachi Plaza would help bring the area into the 21st century.
Not everyone in the arts district sees it the same way. Some residents and business owners worry that the new Metro Gold Line station will never bring economic development. Others expressed concerns over gang activity in the area, though some note that things have improved in recent years. These are among the issues that nag voters as the March 8 City Council elections approach.
Carlos Ortez and his wife run El Solo Sol Kitchen, a Mexican café that sells $2 tamales, among other things. He and his wife have been trying to make it in that spot since 2004, but the construction of the Metro Gold Line station forced them to try other business strategies.
"Due to the Metro disruption, we were in difficulties," Ortez said. His wife decided to join Homegirl Café, which was still there.
The Metro station was supposed to invigorate the community economically by connecting Boyle Heights with more business-rich areas, or at least that's how local politicians argued for it.
"It was justified on the development of poor people, providing jobs and connections with areas more affluent than this one. But, for some strange reason, it didn't happen," said Ortez.
That was despite the complaints of Supervisor Gloria Molina and then 14th District Councilman Antonio Villaraigosa, who argued that the Gold Line could and should be a means of bringing greater economic strength to Boyle Heights, Ortez said.
"It didn't go downtown, the way we thought it was going to. It goes to Little Tokyo, and it goes north."
This stretch of 1st Street used to be "very commercial," Ortez said, but the building of the Metro station and the bad economy slowed business. "I left in 2005 from here and I came back in 2008, but I never opened the front door [to his business] because I knew it wasn't going to work. And even now, we're struggling."
In the meantime, he catered to elementary schools and high schools, many of them charter schools, but even that proved unmanageable. "It was too difficult to run," he said. So, little by little, he and his wife began to reopen the café. They officially opened in October.
The construction of the station eliminated a significant amount of parking in the area. Parking, said Ortez, is one of the biggest hurdles for business in the area. "During business time, on Tuesdays and Wednesdays, it's street-cleaning hours. 11 to 2."
Parking is disrupted from 10 a.m. to 4 p.m., he said "The day is gone," he said with a laugh. "It's disrupted two days out of five business days. It's ridiculous."
Ortez has proposed ideas of how to fix the parking problems on 1st Street, but none of them have been heeded by City Council. The representation in the 14th District is there, he said, "but it should be better."
The 14th District is, like every other one is Los Angeles, a heavily gerrymandered slice of economic and cultural diversity. It includes not only Boyle Heights but also Highland Park and more affluent communities like Eagle Rock. That, said Ortez, is what makes political representation in City Council so difficult. "You cannot compare $65,000 household incomes with $25,000 or less."
The arts community and the rich immigrant history of the area are part of what make the district special, Ortez suggested. "This is a community of liberal arts, if you want to use university terms," adding "The spirit of community has always been here, and I think that's beautiful."
--
At a dark, noisy billiards bar on First Street, a group of about 20 middle-aged Latino men were playing pool. At the bar sat a man named Ernest, who wore a yellow baseball cap. Like so many others who come to L.A., Ernest had a dream. He's been in L.A. for "not quite one year." He recently moved from Wisconsin to Minneapolis, Minnesota before coming to California. He was born in Guanajuato, a city in between Mexico City and Guadalajara. He said he came to L.A. "to search for a better place, better life, better job."
Not just any job, though. Ernest, 52 and homeless, dreams of opening a business as a tailor, he said, drinking what must have been his third Budweiser in the past hour. It was 1 p.m.
"I got the talent, but I don't have the money and the place to start my business. I have money for beer, but it's not enough," he said.
He said he used to work at a clothing shop on Cesar Chavez catering to Mariachi musicians. "I used to work for them. Not for long. But I used to make the uniforms, you know? But it was not enough work for everybody. That's why I quit."
The TVs at the bar began playing a Spanish language soap opera. He watched the conversation unfold on the screen between the shirtless man and his female co-star.
"I prefer to watch, you know, Discovery, Blue Planet, Animal Planet, you know, something that can teach me, so I can learn better English, if that makes sense," Ernest said
The TV began to show a soccer game, and Ernest became interested again. The sportscasters began showing the highlight reel. In one clip, a player made a particularly difficult goal, faking out the goalie. "You see?" Ernest said with pride. "He is Mexican."
On this typical day, mothers pushed strollers on the sidewalk of First Street as a musician played a flute across the street. The sound of music broke up the steady hum of cars driving by. An older man walked by with a cane and a young boy rode his bicycle down a narrow alley, covered by a mural of faceless sports figures. The White Memorial Medical Center loomed above the many small shops lining the street.
Christina Ramos sat behind the counter and waited for customers to trickle in. Like Carlos Ortez, she hasn't seen the benefits of the Gold Line. She has lived in Boyle Heights for 23 years and opened her shop, Printing Services, 10 years ago.
"Our business was waiting when the Gold Line opened its doors," Ramos said, looking around her deserted shop. "We were expecting more business to happen, I don't know if it's the economy, but our business is dead. We expect more from the government."
Things have improved for many residents, though, and some have observed a decrease in gang activity. Some even credit the Gold Line with much of the improvement. A common thread among some residents has been continuing the positive improvements to the city.
Juan Moran, a resident for 10 years, says there was significant gang activity in the 1990s, but now the area is much more peaceful.
Pedro Parragan, 26, thinks outsiders misjudge the area and assume it's dangerous.
"They always say there is a lot of crime here but personally, I haven't seen it," said Parragan, who was in a hurry to get to work. "They've just built a Metro here so they are doing a lot of renovating."
Joel Laguna, 25, and Carmin Mendoza, 27, said the city has changed a lot and businesses like Primera Taza help make the community better.
"I think bringing in more business, even though it's going to take away from the mom and pop shops, will bring in more tax money in the community," Mendoza, a lifelong resident of Boyle Heights, said.
Laguna wants politicians to focus more on youth programs and enrichment of the community.
Not everyone thinks things have improved much. Alex Flores, 25, comes to Boyle
Heights weekly to visit his family and work out at a local gym. Standing near the curb, he says all of his siblings were born at the White Memorial Medical Center. Flores, who lives in Highland Park, said gangs are still a problem.
"I just think it's a big circle. Good thing you have places like this [gym] and that kind of thing. It keeps kids out of trouble for a little bit, but it's that age in limbo—when they hit junior high, that's when they get pills or drugs, gangs, or different types of things," Flores said.
A graffiti removal truck passed by.
"They grow out of their innocence," Flores said.
This story is part of our March 8 election preview series Irked and Inspired: Los Angeles Residents Speak On The Issues.
Reach Ryan Faughnder and Sarah Sotoodeh here.