Opinion
Slate's Jack Schafer Defends NPR Exec Schiller After O'Keefe Hidden-Camera Sting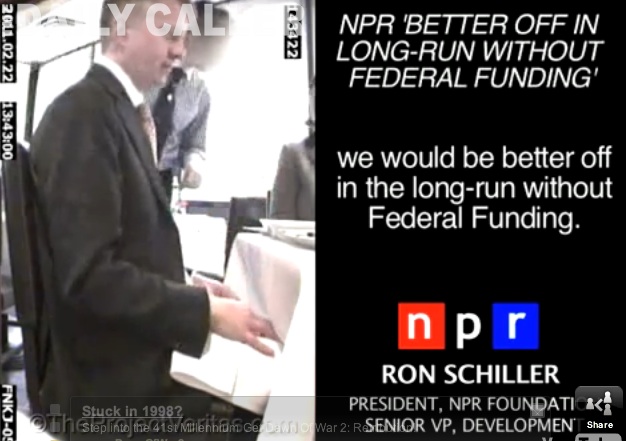 Slate's Editor-at-Large Jack Shafer is coming to the defense of NPR executive Ron Schiller after
a hidden-camera video surfaced Tuesday
showing Schiller making a slew of controversial comments.
In case you haven't heard the story yet, conservative activist and provocateur James O'Keefe (who is perhaps best known for posing as a pimp in an undercover sting video of ACORN) filmed a couple of operatives pretending to be wealthy Muslim donors offering NPR $5 million to be used partly in case Republicans are able to defund the public media outlet. The video was shot while the operatives were having lunch in Washington, D.C. with Schiller, NPR's senior VP of development, and Betsy Liley, NPR's senior director of institutional of giving.
In the video, Schiller is shown taking on the Tea Party, anti-intellectualism in the Republican Party, fired NPR analyst Juan Williams and the government's funding of NPR, among other topics.
However, Shafer argues the public shouldn't get "wigged out over the NPR executive's stupidity" and that the two would have said or done almost anything in order to get the $5 million.
The video establishes that Schiller and his associate, Betsy Liley, will say almost anything or ignore any provocation to put themselves into a position to nab the $5 million. I'm sure if O'Keefe had asked them to get on their hands and knees and bark like dogs they would have answered, "What breed?"

But pardon me if I'm not outraged that 1) a pair of NPR officials hosting potential donors would merrily slag conservatives, Republicans, Tea Party members, and other non-liberals or 2) display temporary deafness when deep-pocketed potential funders say ugly and demented things.

If you've ever hung out with rich people, you know they have a lot of crazy ideas and aren't afraid of expressing them. I don't know if being wealthy causes people to over-express themselves because it erases the fear that they'll draw sanctions from polite society, but I am willing to test the proposition if a social scientist wants to send me $100 million.

How should Schiller have fielded the incitements? Praised the Tea Party or remained neutral? Spat on them when they revealed their Muslim Brotherhood connection? Lectured them when they said stupid things about Jewish-Zionist media control?

I certainly would have, and I'll bet you would have, too. But we'd last about 15 seconds in the fundraising business if every time a potential donor said something crazy or offensive, we told them to shut their pie hole. When people donate money, they feel even more entitled than when they're sitting in their home bank-vaults running their fingers through their cash. Rich people love to give their money away, but they're always attaching strings, and one common string is "You agree with me, right?"
To read Shafer's full article, click here.
Watch the video here.