Sports
Recapping Friday Night's Madness: Washington Outruns Georgia, VCU Knocks Off Georgetown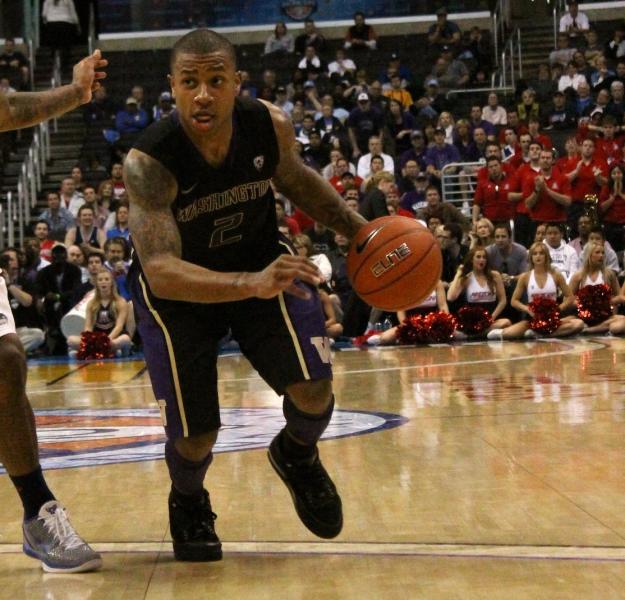 Round 2 of the
2011 NCAA Tournament
wrapped Friday with a few tight games and, let's face it, more than a few unbearable blowouts. Illinois-UNLV, anyone?
Here's our take on Friday night's games:
Washington's Up-Tempo Style Prevails Over Georgia
Charlotte hasn't exactly been kind to the Washington Huskies. Eight prior trips to "The Tar Heel State" sent the Purple and Gold home in defeat, most notably a memorable buzzer beater by UConn's Rip Hamilton in the opening round of the 1998 tournament.
Through 20 minutes of play Friday night, the No. 7 Huskies looked prime for another unsettling loss (this time at the hands of No. 10 Georgia Bulldogs).
But despite enduring an eight-minute scoring drought, shooting 35 percent from the field and playing at a methodical pace that heavily favored Mark Fox and Georgia, the Huskies found themselves deadlocked at 28 going into the half.
In the second half, the Pac-10 Tournament champions found their grove by pushing the tempo, creating fast break opportunities off seven turnovers and letting junior guard Isaiah Thomas run wild in the open court.
The result: A hard-fought 68-65 victory over the Bulldogs and a third straight trip to the Round of 32.
Despite the comfort of a 10-point led with just two minutes remaining, the Huskies nearly kept their Carolina Curse alive, as Georgia used a 12-5 run to cut the gap to three with just three seconds remaining.
After C.J. Wilcox missed the second of two free throws, Bulldogs junior guard Travis Leslie caught a full court heave and had one last desperation chance to tie the game from 3-point range. His attempt fell way of the mark, and UW became the third Pac-10 team to advance to the third round.
Trey Thompkins paced the Bulldogs in defeat, controlling the glass at both ends of the floor to the tune of 26 points and 11 rebounds.
Outside of Thomas' 19 points and 7 assists, only junior guard Scott Suggs was in double figures for the Huskies. Suggs scored 10 points for Washington in the win.
Player of the Game:
Isaiah Thomas (G, Washington)
After a slow first half (four points), Thomas did what he has done so effortlessly all year for the Huskies: Carry the team on his back when it needed him most.
Thomas scored 15 second half points and played tremendous defense on Georgia's junior guard Dustin Ware (four points and one assist on the night), and the Huskies carried a 21-11 second half run all the way to victory.
Memorable Moments:
Besides an uncomfortably close finish for Washington, the story of the night was Thomas.
Proving once again he has a knack for buzzer beaters, Thomas went right at Trey Thompkins to end the first half. Despite giving up 13 inches, Thomas used his low center of gravity and flair for creativity, laying up a scoop shot with his off-hand just before time expired to tie the score at 28.
What This Means:
If you like track meets, Washington's third round slugfest with the No. 2 seeded North Carolina Tar Heels will be must-see TV.
Sunday afternoon's East Regional matchup features the only one of its kind in the Round of 32, as it will pit two Top 25 offenses, with the Huskies coming in averaging 83.5 points per game (third) and the Tar Heels 76.7 points per game (24th).
UNC will have a decisive home crowd advantage, as the Time Warner Cable Arena is just 145 miles southwest of the Chapel Hill campus.
- Dave Dulberg
Illinois Runs Rebels Out of Tournament
No. 8 seed UNLV (24-8) fell to ninth-seeded Illinois (19-13) 73-32 Friday night in the second round of the NCAA Tournament.
Oddsmakers had UNLV as a two-point favorite going into the game, but ultimately Lon Kruger's Runnin' Rebels were no match for his former team in a game the Fighting Illini led by as many as 25.
Illinois had lost 10 of 16 games coming in, but strong shooting (59.6 percent) and a 32-12 run to close out the first half helped Bruce Weber's squad secure its first NCAA Tourney win since 2006.
Illinois was carried by senior forward Mike Davis, who led all scorers with 22 points.
The Rebels were led by Los Angeles native Oscar Bellfield, who managed 14 points against a tough Illinois defense.
Player of the Game:
Demetri McCarney (G, Illinois)
The senior went 3-for-5 from behind the arc and scored 17 points to go along with 7 assists for the Illini.
Richmond's strong game complimented the strong game by Davis and caused the Rebel defense issues all over the court.
Memorable Moment:
Tipoff. To the surprise of everyone, Illinois played without freshman sensation (and part-time starter) Jereme Richmond.
This no doubt surprised UNLV and altered its gameplan. Unfortunately for the Rebels they were never able to adjust to the lineup change.
What This Means:
Illinois will face another former coach, Bill Self, as the Illini square off against No. 1-seeded Kansas Sunday in Tulsa.
- Scott Enyeart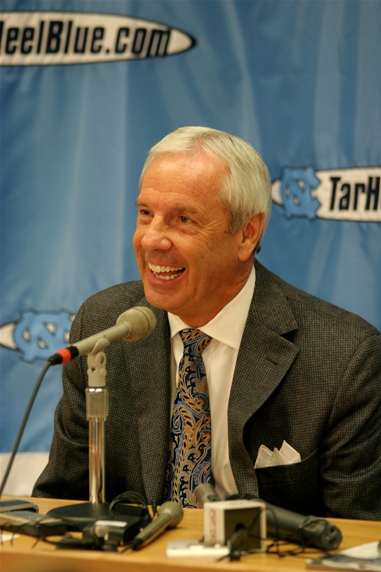 UNC Makes Quick Work of Long Island University

This game was a bona fide, end-to-end blowout. A 102-87 snooze-fest. Even Roy Williams fell asleep watching this one.
The Blackbirds made a few runs (okay, just one), but the game clearly belonged to North Carolina -- namely, John Henson, Harrison Barnes and Tyler Zeller, each of whom scored 20+ points.
I won't bore you with further illustrations other than to say I found it interesting that the Tar Heels' bench accounted for just six points in this game. That's less than 6 percent of UNC's total output if you're keeping score. Which is mind boggling to me. How do you beat a team as thoroughly as UNC beat Long Island and your reserves only score six points?
Was good ol' Roy actively trying to pad his starters' numbers?
If not, that figure doesn't bode well for UNC as it heads into the later stages of the Tournament.
Player of the Game:
John Henson (F, North Carolina)
The 6-foot-10 sophomore did his best Tristan Thompson impression, finishing with 28 points, 11 rebounds and 6 blocks. All in a day's work, right?
Given the size of Washington's front line (small as a Justin Bieber t-shirt), I won't be surprised if Henson pulls a repeat performance on Sunday.
Memorable Moments:
The moment LIU tied the game at 33 in the first half. Seriously. Check out the ESPN highlight package for this game. It consists of one play: A run-of-the-mill Tyler Zeller layup. Let's just say they won't be showing this one on ESPN Classic any time soon.
What This Means:
This means we get an awesome UNC-Washington game on Sunday (both offenses are ranked among the best in the country), and Long Island University can crawl back into its cold, dark cave of college hoops anonymity.
- Patrick Crawley
VCU Continues to Roll, Knocks Off Georgetown
They're going to have to repaint the rims in the United Center after Georgetown's miserable shooting performance Friday.
Eleventh-seeded Virginia Commonwealth (24-11) defeated sixth-seeded Georgetown (21-10), 74-56 behind superb 3-point shooting (VCU was 12-of-25 from behind the arc).
Conversely, Georgetown shot a miserable 5-of-26 from behind the 3-point line.
The Rams outhustled the Hoyas to loose balls and pressured them throughout the night after made baskets. Meanwhile, Georgetown shot 1-of-11 behind the arc in the first half and trailed 35-24 going into the break. At one point, VCU was up by as many as 22 points.
The turnover margin defined the first half as the Hoyas were forced into nine turnovers. Georgetown finished with 17 turnovers overall.
Hoyas point guard Chris Wright returned after missing three games with a broken left hand, but looked unconditioned and sluggish throughout the night. He finished 3-of-13 from the field for just six points.
VCU guards Bradford Burgess, Joey Rodriguez and Brandon Rozzell combined for 55 of VCU's 74 points. The trio combined to shoot 10-of-20 from behind the arc.
Georgetown's leading scorer, Austin Freeman (17.9 PPG), finished with just 10 points. Forward Hollis Thompson led all Georgetown scorers with 26 points off the bench.
Player of the Game:
Brandon Rozzell (G, VCU)
The threes rained loud and proud for the VCU sixth man. He ended his career night with 26 points, shooting 6-of-10 from behind the 3-point line.
Memorable Moments:
VCU guard Ed Nixon opened the second half with a three, pushing the lead to 14. From there, the Rams used their heralded pressure defense to take the shooting legs out of the Hoya guards.
Without much impact from Hoya stars Wright and Freeman, Georgetown was unable to mount any sort of rally in the waning moments.
What This Means:
VCU will play the third-seeded Purdue Boilermakers (26-7) Sunday in Chicago. The Boilermakers are coming off a blowout of MAAC champion St. Peter's.
Forward-center JuJuan Johnson and guard E'Twaun Moore lead the Boilermakers, averaging 20.5 points and 18.2 points, respectively.
- Eric Watkins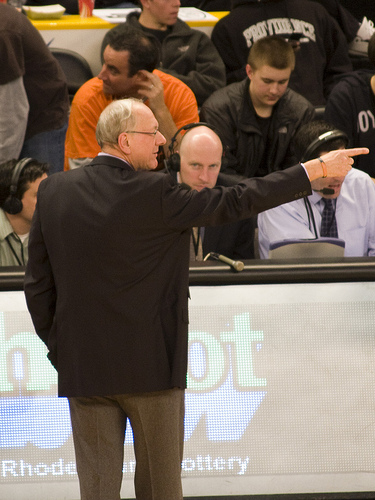 Syracuse Pulls Away From Indiana State With Strong Second Half
Indiana State looked to make the last game of the tournament's second round an exciting one, but Syracuse put the clamps down and cruised to a 77-60 win.
The Orange (27-7) used their height and athleticism to maintain a 33-21 rebounding advantage over the Sycamores. Led by Rick Jackson, who shot 7-of-12 and scored 23 points, the Orange went 52.3 percent from the field in the victory.
The 14th-seeded Sycamores (20-14) started the second half strong, cutting Syracuse's lead to four points with about 16 minutes left. But the Orange responded with a five minute, 9-0 run to take a 13-point lead. Syracuse led by double digits the rest of the way.
Syracuse point guard Scoop Jardine went 3-for-4 from beyond the arc and dished out 9 assists to jumpstart the Syracuse offense. C.J. Fair added 14 points and 9 rebounds off the bench. Forward Kris Joseph had a double-double, as well -- 12 points and 10 rebounds.
Jake Kelly also came of the bench to lead losing Indiana State with 12 points.
Player of the Game:
Rick Jackson (F, Syracuse)
Indiana State looked overmatched by Syracuse's front court and much of that had to do with Jackson.
The senior forward led all scorers with 23 points. At times, Indiana State could only stop Jackson by fouling him, sending him to the line, often, where he connected on 9 of 11 free throws. Jackson also collected 7 rebounds and 2 blocks.
Memorable Moment:
To pull off a 3-14 upset, the underdog needs consistent scoring. Indiana State didn't get that early in the second half. The Sycamores went on a slide that lasted over six minutes without a made field goal. The skid was punctuated at the end by a Rick Jackson dunk that gave Syracuse a 13-point lead.
What This Means:
The third-seeded Orange will face a Big East rival in 11th-seeded Marquette on Sunday. The Golden Eagles looked strong Friday in a 66-55 upset of Xavier.
Missouri Valley champions Indiana State will head home after their first Tournament appearance since 2001.
- James Santelli
Defense Propels Purdue to Easy Win Over St. Peter's
Say what you will about the slow, physical half-court style often put on display by the Big 10 Conference. On Friday night, the No. 3 Purdue Boilermakers proved once again that team defense is the pivotal difference between going home early (please stand up, Michigan State and Penn State) and advancing further into the NCAA Tournament.
Facing the No.14 St. Peter's Peacocks out of the Metro Atlantic Conference, the Boilermakers put on a show at the defensive end, holding the MAAC champions to a tournament-low 17 first half points on 26 percent shooting en route to a lopsided 65-43 win.
Despite being one of the more adversity-riddled teams in this year's field (Robbie Hummel's season-ending ACL injury coupled with Tuesday's suspension of Kelsey Barlow make Purdue a wounded target), the Boilermakers showcased their offensive depth for the better part of 40 minutes at the United Center.
Senior guard E'Twaun Moore led all scores with 19 points for Purdue.
As for the Peacocks, senior forward Jeron Belin had 12 points in his final collegiate game.
Player of the Game:
JaJaun Johnson (F, Purdue)
The Big 10 Player of the Year confirmed Friday night what fans of the conference already knew: He is simply a man among boys.
Johnson, the second leading scorer in the Big 10 (20.5 points per game), dominated on both sides of the glass, recording 16 points, 16 rebounds and 3 blocks.
Despite only hitting six of his 16 shots, Johnson limited senior forward Ryan Bacon and Darius Conley to a combined 8 points on 4-of-13 shooting.
Memorable Moments
In a game that was more fundamental than flashy, the Boilermakers and their 6-foot-10 All-Big 10 center made an early statement that brought the crowd to its feet.
Up 8-4 just minutes into the game, Purdue's freshman guard Terone Johnson inbounded the ball under his own basket, looking for one target and one target only: JaJaun Johnson. The ball, although thrown a little high, was right in Johnson's wheelhouse. The conference player of the year caught it high above his head, hung in the air and slammed it over a helpless Peacock defender.
Can you say instant top 10 nominee?
What This Means:
On Sunday afternoon, Purdue will face the No. 11-seeded VCU Rams, who will be playing their third game in five days.
At stake for the Boilermakers and Big 10 Coach of the Year Matt Painter is a chance to make it to the Sweet 16 for the third straight year.
- Dave Dulberg

Check back with us Saturday for more exciting NCAA Tournament coverage.
_________________
To reach Patrick Crawley, click here. Follow him on Twitter, @BasketballFiend.
Dave Dulberg can be reached here.
To send a message to Scott Enyeart, click here. Follow him on Twitter, @scottenyeart.
Email James Santelli. Follow him on Twitter, @JamesSantelli.
To reach Eric Watkins, click here. Follow him on Twitter @ericswatkins.