Sports
Recapping Day 2 of the 2011 Pac-10 Women's Basketball Tournament
We will be keeping you updated on all of the Day 2 proceedings of the women's basketball Pacific Life Pac-10 Tournament here. So check back as we update this page throughout the day.
Follow along with all of Neon Tommy's Pacific Life Pac-10 Tournament coverage.
(All Day 2 women's games are being played at the Galen Center in Los Angeles.)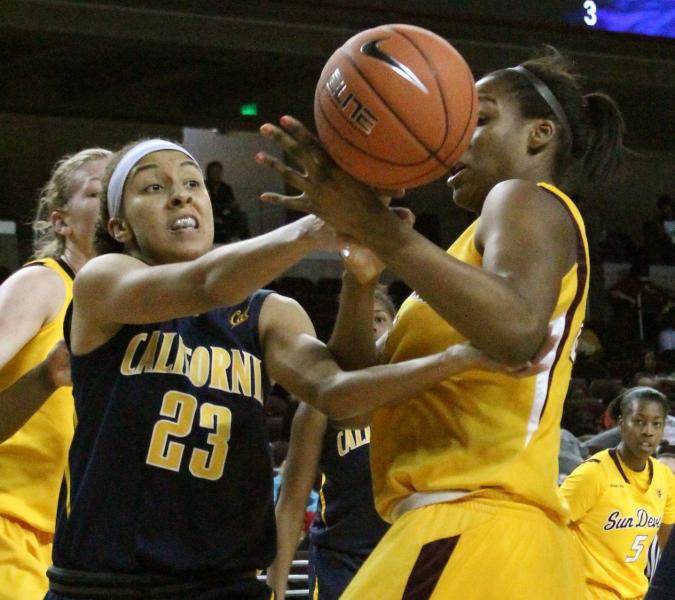 Game 5: Cal Gets First Upset of Tournament
California 48, Arizona State 43
Recap: In a contest that was tight throughout, with neither team gaining more than an eight-point advantage, Cal was able to upset No. 3 seed Arizona State thanks to Layshia Clarendon's 22 points and clutch free throws.
Midway through the first half, the Golden Bears (17-14) took a lead they would not surrender, but the Sun Devils held Cal without a field goal the final 7:38 and inched back from a 44-37 deficit. A 6-0 run got Arizona State within one point with 42 seconds remaining, but Clarendon knocked down both ends of a one-and-one free throw situation and then another pair of free throws to keep Cal out of reach.
Quote: "[Our turnovers] are unforced errors, but we do it to ourselves. When we don't do this, I think we can beat anyone in the country. When we do this, we are really bad and we did this today. Hopefully we will get to continue to play and figure it out." -- Arizona State head coach Charli Turner Thorne
Player of the Game: Layshia Clarendon (Cal)
Clarendon's 22 points led all scorers despite her shooting only 9-of-22. More importantly, she came through in the clutch, knocking down four consecutive free throws in the final minute to hold Arizona State at bay. Clarendon added five rebounds, a pair of assists and three steals while playing the entire 40 minutes.
What it Means:
The sixth-seeded Golden Bears will try to continue their Pac-10 Tournament run Friday against No. 2 seed UCLA, who is currently ranked seventh in the country. Clarendon will once again be key if Cal wants to make a Cinderella run through the conference tournament for an automatic NCAA berth -- the only way the Bears can make the national tournament.
For the Sun Devils (20-10), they now have to wait until Monday to see if their 20 wins is enough to get them an at-large bid to the NCAA Tournament. If they do not get in, they could still go to the women's NIT.
Game 6: Poor Shooting Dooms Trojans
Arizona 72, USC 61
Recap: Arizona expanded on a one-point halftime lead by getting the ball into Davellyn Whyte's hands to open the second half. Whyte scored 11 of her game-high 24 points in a five-minute span at the beginning of the second half as the Wildcats opened the final period on a 15-3 run.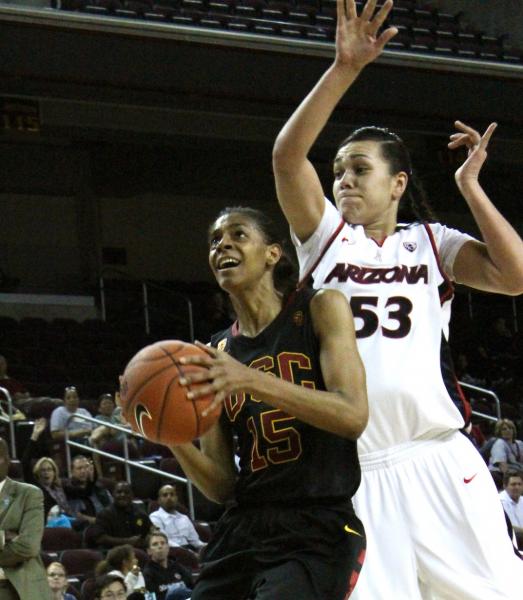 Despite not having a field goal in the final 7:25, Arizona (21-10) cruised to the victory because of USC's horrendous second half shooting. The Trojans shot 25.5 percent in the second half, including several missed layups. The Trojans missed more than 15 layups in the game.
Quote:"Our will was just greater than their will." -- Niya Butts, Arizona head coach
Player of the Game: Davellyn Whyte (Arizona)
Whyte was on fire in the second half. She knocked down four 3-pointers and scored 15 points as the Wildcats pulled away. Whyte also added six rebounds and three assists.
What it Means: Before Wednesday's game, ESPN's Charlie Creme didn't even have Arizona as one of the last eight teams out. Even though Arizona now has 21 wins, they still may be on the outside looking in. But on Friday Arizona gets the opportunity to take on the No. 2 team in the nation. The Wildcats will face the Stanford Cardinal at Staples Center with a chance to push their NCAA tournament resume into the conversation.
The Women of Troy faded down the stretch this season, losing four of their final eight games. With only 19 wins, coach Michael Cooper said he didn't think USC was an NCAA tournament team. USC is likely headed to the women's NIT -- a major disappointment for a team that started the season 12-4 against a tough schedule.
_______
To reach Shotgun Spratling, click here, or follow him on Twitter @BlueWorkhorse.
Sign up for Neon Tommy's weekly e-mail newsletter.