Sports
2011 Pac-10 Women's Basketball Tournament - Day 1
We will be keeping you updated on all of the Day 1 proceedings of the women's basketball Pacific Life Pac-10 Tournament here. So check back in as we update this page throughout the day.
Follow along with all of Neon Tommy's Pacific Life Pac-10 Tournament coverage.
(All Day 1 women's games are being played at the Galen Center in Los Angeles.)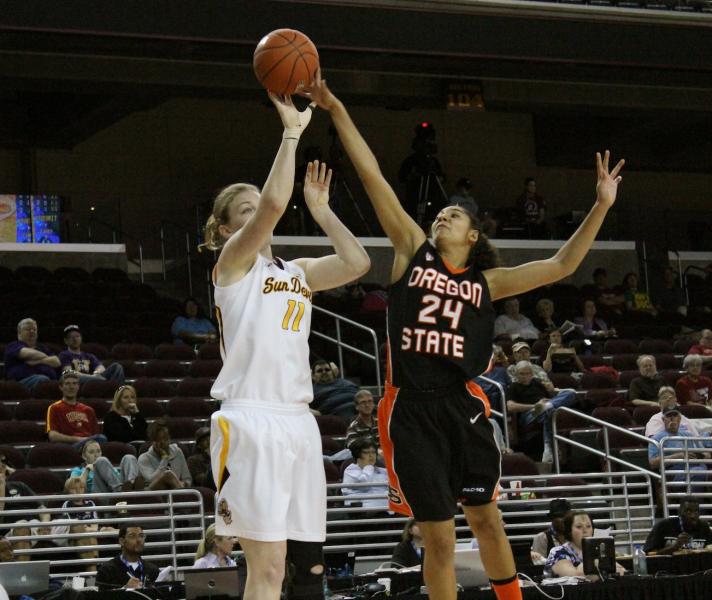 Game 1: Sun Devils Get Sloppy Victory
Arizona State 50, Oregon State 44
Recap: After falling behind by 15 points just after halftime, the No. 10 seeded Oregon State Beavers came storming back against the Sun Devils (20-9). The Beavers cut the lead to 43-40 with seven minutes remaining, but could never get closer.
Sun Devils' leading scorer Dymond Simon was held to 13 points on 4-of-15 shooting, including 2-of-9 from 3-point range.
Quote: "We are not really comfortable putting teams away. We make it interesting." -- Charli Turner Thorne, Arizona State head coach
Player of the Game: Tenaya Watson (Arizona State)
In a sloppy game that included 39 turnovers and neither team shooting above 41 percent, Watson played an efficient game making four of her five shots. She finished with nine points, second best on the team.
Watson also added five rebounds, two assists and two steals.
What it Means:
Oregon State (9-21) showed how tough of a team they are by going toe-to-toe with the conference's No. 3 seed. This is a team that could be dangerous in the future once first-year head coach Scott Rueck gets in some recruits. The Beavers played almost every team in the conference tough despite having the worst talent in the conference thanks to the mass exodus before coach LaVonda Wagner was fired in the offseason.
Arizona State did just enough to advance. They will play Cal Thursday at 3 p.m.
Game 2: Oregon Blows Several Chances at Upset
Arizona 90, Oregon 89
Recap: Arizona (20-10) scored a Pac-10 Tournament record 51 first half points, then blew a 18-point lead in the second half, only to be saved by Oregon's inability to shoot free throws in the last minute of the game. With a minute remaining, the Ducks led 89-86.
But a turnover led to a Soana Lucet layup for the Wildcats. After Oregon's Amanda Johnson missed the front end of a one-and-one free throw opportunity, another Lucet layp gave Arizona a 90-89 lead with 14 seconds remaining.
Ducks' freshman Deanna Weaver was fouled with six seconds remaining, but missed both free throws. An offensive rebound gave the Ducks one final chance to win the game, but Ariel Thomas' fell far short, allowing Arizona to escape the upset.
Quote:"Our glaring issue today was rebounding the basketball. It was something we have done will for the past seven games. I think our team will get that sense of urgency back and they understand how important that is." -- Niya Butts, Arizona head coach
Player of the Game: Davellyn Whyte (Arizona)
Whyte was tremendous throughout the game. She didn't have the 29 or 25 points Oregon's Thomas and Johnson had, but she was tied for a team-high with 23 points and was the difference maker for the Wildcats. To go with her 23 points on 9-of-16 shooting, she also had seven rebounds and seven steals.
What it Means: Arizona advances to play USC at 5:15 p.m Thursday. The two teams will be battling for more than just advancing in the Pac-10 Tournament. Both teams are sitting on the bubble and still could use an extra win or two.
The Ducks' season is done as they finish 13-17. While Paul Westhead's run-and-gun system is fun to watch, it hasn't been very successful at Oregon.
Game 3: Trojans Pull Away Late
USC 78, Washington State 66
Recap: USC (19-11) kept Washington State from its first ever win in the Pac-10 Tournament by dominating down low and on the boards. The Women of Troy won the rebounding battle 49-33 and remained undefeated this season (13-0) when outrebounding the opposition.
Finding holes in the Cougars' matchup zone, USC post players Cassie Harberts and Kari LaPlante both finished in double digits with Harberts having a career day.
Player of the Game: Cassie Harberts (USC)
In her first postseason game, Harberts produced her best game of her young career. She finished with 31 points and 14 rebounds. Harberts' 31 points were the most by a Trojan since Shay Murphy had 33 in 2006.
Quote: "I think we were really looking for post touches. We have been working hard on that for the last month, I swear. Going hard in the post, posting up hard that really made a difference." -- Kari LaPlante, USC center
What it Means: The Trojans will face fellow bubble team Arizona at 5:15 p.m. Thursday. The two teams split the season series, each winning on their home court. The Women of Troy need at least a win against the Wildcats to get into the NCAA Tournament, if not more.
Washington State's season is over. The Cougars finish with a 8-23 record.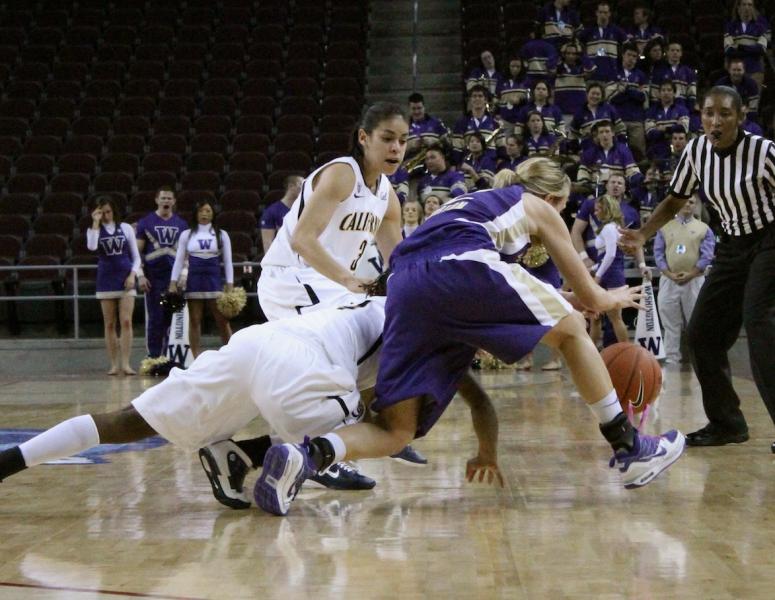 Game 4: California 58, Washington 48
Recap: Cal (16-14) was able to dominate the boards, especially down the stretch in the second half, allowing the Golden Bears to pull away for the 10-point victory.
After being tied at halftime, Cal continually had second, third and the occasional fourth chance looks because of its work on the offensive glass. The Golden Bears had 23 offensive rebounds, including eight by Talia Caldwell.
Quote: "We just knew this was going to take a little more from everybody. A little more rebounding, a little more defense, especially from the bench." -- Layshia Clarendon, Cal guard
Player of the Game: Layshia Clarendon (Cal)
In the second half, Clarendon propelled the Golden Bears to the victory. After shooting only 1-of-7 in the first half, she lit up the nets shooting 5-of-7 in the second half to finish with a game-high 16 points. The sophomore guard also added 10 rebounds to record her third career double-double.
What it Means: The Golden Bears advance to play No. 3 seed Arizona State at 3 p.m. on Thursday. Cal defeated the Sun Devils in the first matchup between the teams and lost by only one point at Arizona State in early February. If the Golden Bears can shut down Dymond Simon, they could advance to the semi-finals where they would face UCLA.
The Huskies finish the season 11-17.
_______
To reach Shotgun Spratling, click here, or follow him on Twitter @BlueWorkhorse.
Sign up for Neon Tommy's weekly e-mail newsletter.