International
Mubarak Accused Of Intentionally Killing Egyptian Protesters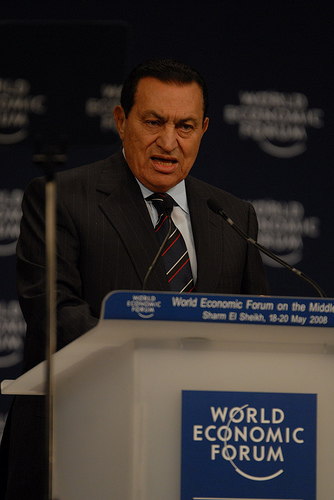 An Egyptian fact-finding committee investigating violence during protests that toppled Hosni Mubarak filed charges against Mubarak and his Minster of Interior, Habib al-Adli. The charges state that the two intentionally killed demonstrators.
More than 380 people died in the demonstrations and about 6,000 were wounded by tear gas, rubber bullets, live ammunition and water cannons, according to Al Arabiya.
The committee sent its charges to the public prosecutor. The charges list that as the head of government, Mubarak was responsible for the death of the protestors.
Security chiefs that were previously detained for allowing shootings were also indicted.
Al-Adli has denied that he ordered the shooting of protestors, but records of phone calls show the orders for violence originated in the ministry. Al-Adli is already on trial for fraud under Mubarak's rule on changes of wasting public funds and money laundering.
Al-Adli is also being held responsible for withdrawing police forces from the streets after protestors clashed with security forces resulting in the deployment of the army. The withdrawal of forces is credited with spreading chaos, says Reuters.
Others are saying that al-Adli left prisons unguarded resulting in prisons being broken into and criminals running free.
In addition to Mubarak and al-Adli, the committee is accusing the state media of inciting violence, spreading rumors and withholding information from the public, says the Examiner.
The arrest of high-ranking police officers who ordered the massacre of protesters has already been made. The committee has also asked for NDP members to be investigated for the formation of a secret militia.
Al Jazeera reports that the security chief of Giza and 11 other provinces are also being charged with killing and wounding protestors.
To reach Hannah Madans, click here.