Sports
March Madness Friday Afternoon Recap: No. 1 Seeds Roll, Arizona Escapes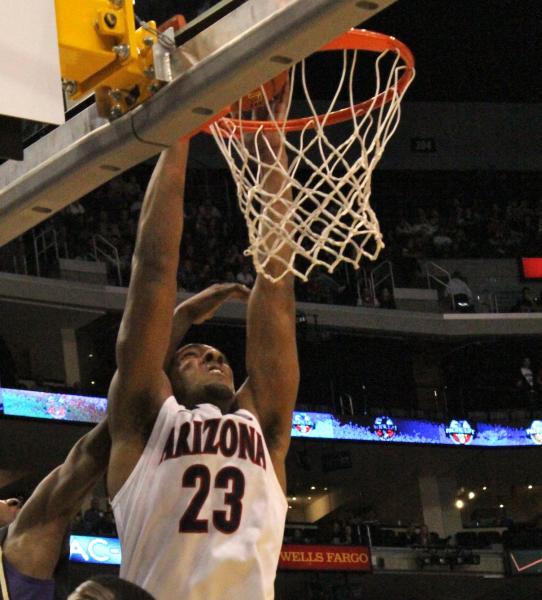 There's nothing like the opening days of March Madness, and Neon Tommy Sports has you covered every step of the way. We'll be updating you with scores and analysis three times a day, bringing you the best the
2011 NCAA Tournament
has to offer.
Here's our take on Friday morning's Round 2 games:
Arizona Blocks Memphis Rally
In a thrilling, back-and-forth matchup between the fifth-seeded Arizona Wildcats (27-7) and Memphis Tigers (25-9), the Wildcats came out on top, winning 77-75 Friday afternoon.
In a game of runs, the young and talented Memphis guards -- Antonio and Will Barton, Joe Jackson and Wesley Witherspoon -- gave Arizona's perimeter defenders fits.
But Arizona forward, and future NBA lottery pick, Derrick Williams carried his team to the win scoring 22 points, adding 10 rebounds and blocking a potential game-tying layup on Memphis' final offensive possession.
Antonio Barton ended up with 17 points while Witherspoon and Jackson added 10 points off the bench for the Tigers.
Fending off a fury of Memphis runs, including a last ditch effort in the final minute, Arizona went 26-of-31 from the free throw line as one of the best 3-point shooting teams in the nation struggled mightily from behind the arc going 5-of-19.
A young Memphis club that was 13-1 in games decided by five points or less during the season trailed at the half 41-38.
Arizona guard Lamont "Mo-Mo" Jones added 18 points and two clutch free throws in the final seconds of the game.
Player of the Game:
Derrick Williams (F, Arizona)
The game's leading scorer, Williams went 10-of-10 from the free throw line, putting the Wildcats on his back as Memphis rallied in the second half.
Williams finished with a double-double, 22 points and 11 rebounds, but struggled with his weak-side help and defensive post presence throughout the game before coming up with the huge block of Witherspoon in the waning moments.
Memorable Moments:
Williams' game-winning block sealed the deal for the Wildcats. After an intended missed free throw from Memphis guard Joe Jackson, the Tigers secured a rebound and put up a layup only to be denied by Williams's lunging right hand.
What This Means:
The Wildcats will try to make it to the Sweet 16 for just the second time in six seasons when they play fourth-seeded Texas in a third round matchup. The Longhorns defeated Oakland early Friday afternoon 85-81.
Texas is led by guard-forward Jordan Hamilton, who averaged 18.6 points during the season.
- Eric Watkins
Florida State D Sparks 57-50 Upset of Texas A&M
The second-best defensive team in the country won with an outstanding defensive performance.
Florida State held Texas A&M to 31.4 percent shooting from the field and recorded 10 blocks in a 57-50 second round victory.
The Seminoles (22-10) controlled the paint, outscoring A&M 26 to 12 inside. The effective play of Bernard James was a big reason for that. The Noles forward went 5-for-8 from the field, collecting six rebounds and three blocks.
FSU's leading scorer Chris Singleton returned from the foot injury that had sidelined him since Feb. 12, playing 16 minutes off the bench and adding five points.
An 11-2 run over five minutes late in the second half was the key for Florida State, which trailed by three at halftime.
Khris Middleton of Texas A&M led all scorers with 16 points and David Loubeau had eight rebounds for the losing Aggies.
Player of the Game:
Derwin Kitchen, (G, Florida State)
Kitchen had a strong game inside and outside to lead the Seminoles. The senior guard led his team with 15 points, including shooting 2-of-4 from 3-point range, and added seven rebounds.
Memorable Moments:
With 7:12 left in the game, Texas A&M cut the deficit to two points off a 3-pointer by Nathan Walkup. Chris Singleton responded right back with a 3-point basket of his own, then a block on the next Aggies possession. In his long-awaited return from a broken foot, Singleton made his presence felt in limited minutes, especially on that sequence, which kept the Seminoles in control.
What This Means:
Florida State will try to advance to their first Sweet 16 appearance since 1993. They'll have to do what only two No. 10 seeds have done in the last five NCAA Tournaments: take down a No. 2 seed. The Seminoles will face Notre Dame on Sunday, with the winner moving on to the regional semifinals in San Antonio.
- James Santelli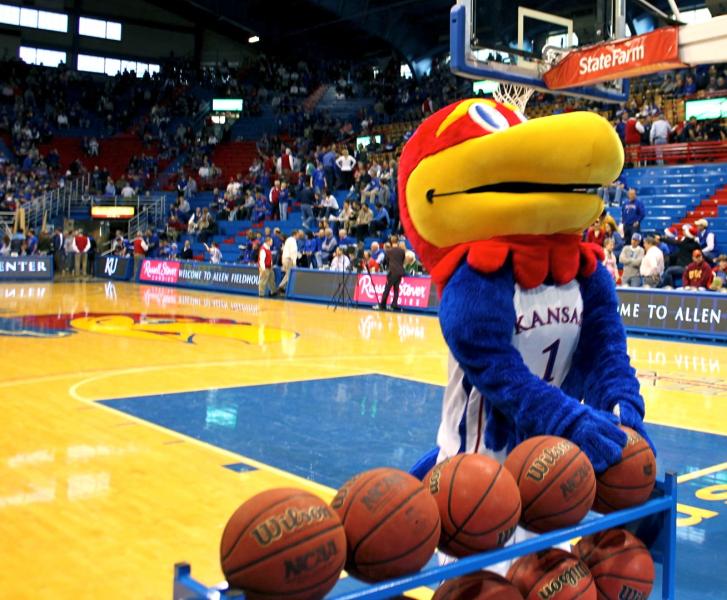 No. 1 Jayhawks Overpower No. 16 BU
Boston University gave Kansas all it could handle for a little over a half Friday, but the Jayhawks proved to be too big and too talented for the Terriers and went on to win 72-53.
Kansas' twin forwards, Markieff and Marcus Morris, led the way for the Jayhawks (33-2), combining for 31 points and 17 rebounds.
John Holland paced the Terriers (21-14) with 19 points, 15 of which came in the first half.
BU's mixture of zone and man-to-man defense, combined with Holland's output, sent Kansas into halftime with a 33-29 lead, but the Jayhawks came alive in the second, shooting 62 percent from the field while holding the Terriers to 27 percent.
Player of the Game:
Marcus Morris (F, Kansas)
With the Jayhawks shooting a relatively low percentage in the first 20 minutes (41 percent), they looked to the inside and Marcus Morris, who dominated in the paint in the second half.
Morris finished the game with 16 points, on 7-of-13 shooting from the field, and nine rebounds.
What This Means:
Kansas moves on to face No. 9 Illinois, who beat UNLV earlier Friday.
The Jayhawks played just one Big 10 team this season. They beat Michigan in overtime in Ann Arbor, 67-60.

- Chris Pisar

Irving's Return Helps Duke Roll Pirates

In Charlotte Friday afternoon, among a sea of Blue Devil faithful, No. 1-seeded Duke (30-4) defeated the 16th-seeded Hampton Pirates (24-8) 87-45.
The storyline, however, was focused on Duke point guard Kyrie Irving, who returned from a toe injury after playing just eight games in the beginning of the season.
In those eight games, Irving was Duke's second-leading scorer, averaging just over 17 points a game.
Irving finished with 14 points on 4-of-8 shooting, adding four rebounds and two steals in 20 minutes of action. He led all scorers.
However, in the first half, it was the Plumlee brothers who stole the show, combining for 13 points and 14 rebounds in the first half. Duke's defense was flawless in the opening 20 minutes, as the Pirates were held without an assist.
Duke led 39-22 at halftime and never looked back.
The tough Blue Devil defense continued throughout the second half as Duke's size and strength down low overpowered Hampton -- the Blue Devils outrebounded the Pirates 36-25.
Hampton's Darrion Pellum and Charles Funches led the Pirates with nine points apiece.
Player of the Game:
Miles Plumlee (F, Duke)
Plumlee led all players with 13 rebounds and added eight points. His presence inside forced the Pirates into bad shots as they made just 34.5 percent of their attempts from the field. His play inside could be the key to Duke's attempt at a national championship repeat.
Memorable Moments:
Duke guard Nolan Smith took over with less than five minutes remaining in the first half, pushing the Duke lead to 17. At times, Smith looked uncomfortable playing the two-guard alongside Irving, but his senior leadership could propel the Blue Devils to another a deep run in the tournament.
Smith finished with nine points and seven assists.
What This Means:
Duke will play the eighth-seeded Michigan Wolverines Sunday after the Wolverines demolished an unenthusiastic Tennessee team 75-45.
Michigan is led by head coach Jon Beilein and star Darius Morris, who averages 15 points and 6.7 assists per game.
- Eric Watkins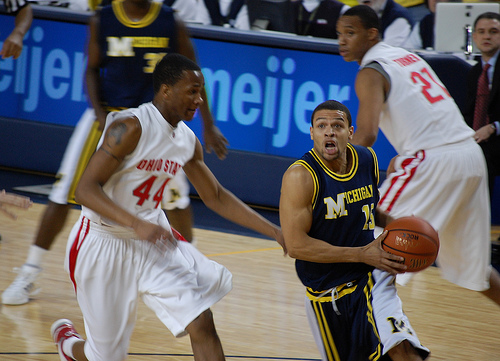 Ohio State Wins Easily
UT-San Antonio (20-14) led Ohio State 9-5 after four minutes. Then the Roadrunners' dreams of becoming the first 16 seed to ever upset a regional top seed ended. Ohio State went on an 18-4 run and never looked back.
Playing just a short drive away in Cleveland, the Buckeyes (33-2) pushed their lead to as many as 38 points before winning comfortably, 75-46 Friday afternoon.
The Buckeyes were led by William Buford's 18 points, including knocking down a trio of 3-pointers. Ohio State made 12 3-point baskets, shooting 50 percent from deep on the afternoon.
Jared Sullinger added 11 points and nine rebounds in 28 minutes before coach Thad Matta got him extended rest in preparation for Ohio State's third round matchup with George Mason on Sunday.
UT-San Antonio's Devin Gibson led all scorers with 24 points but turned the ball over six times.
Player of the Game:
William Buford (G, Ohio State)
Buford propelled Ohio State's first half run that helped them to a 16-point halftime lead. After UT-San Antonio's initial run gave them the early lead, Buford outscored the Roadrunners 10-6 over the next 9:30. To go with his 18 points, he collected six rebounds and five assists.
Memorable Moments:
Dallas Lauderdale had just two field goals in 17 minutes for the Buckeyes, but both of his baskets were emphatic dunks, including one on an alley-oop inbounds pass from Aaron Craft.
What This Means:
No. 1 seeds are still undefeated against No. 16 seeds and may never lose an opening game. Ohio State moves on to face former Cinderella George Mason.
- Shotgun Spratling

Check back tonight for more coverage of the NCAA Tournament.
_________________
To reach Shotgun Spratling, click here. Follow him on Twitter, @BlueWorkhorse.
Email James Santelli. Follow him on Twitter, @JamesSantelli.
To reach Eric Watkins, click here. Follow him on Twitter @ericswatkins.
Chris Pisar can be contacted by clicking here.