Sports
Jim Tressel Suspended, Again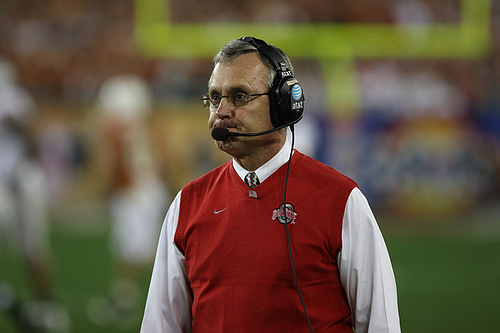 On Thursday,
The Columbus Dispatch
reported that the NCAA had upheld the five-game suspensions for five Ohio State Buckeye players – including Terrelle Pryor, Dan "Boom" Herron and Devier Posey – for selling awards and university apparel while receiving improper benefits.
What came as a surprise to most sports fans relishing in the madness that is the NCAA Tournament Thursday afternoon, was news from the head coach Jim Tressel and The Ohio State University: A previous punishment suspending Tressel for two games was increased to five games, matching the suspension of his players.
Tressel was previously suspended for lying to the NCAA and compliance members at OSU.
There is no timeline for additional actions by the NCAA, but those actions could be severe; vacating 12 wins in the 2010 season is a possibility, as is a longer suspension for Tressel. Scholarship reductions and probation are options as well.
The NCAA and OSU should be proud of their skilled PR maneuvering – hiding the upheld suspensions of the players and increased suspension of Tressel behind the pageantry and bravado that is March Madness.
It's undeniable the imagery Tressel is trying to draw with the matching suspensions for he and his players: Buckeye coaches and players linking arms as they stride to the field on Saturdays in the fall.
We are equally at fault, but we are in this together.
It is this bond that the NCAA will ultimately have the power to break.
Indeed, the Committee on Infractions has not been to kind to liars in the past. Most notably, former Oklahoma State receiver Dez Bryant was suspended for the final 10 games of his 2009 campaign for lying to NCAA investigators.
Come Saturdays in the fall, we will still see scarlet and grey plastered on our television screens. We'll see a new signal-caller and deep threat. We'll estimate the amount of losses Ohio State will have in its first five games.
Come Saturdays in the fall, the NCAA will still be unkind to liars.

________________
To reach Eric Watkins, click here. Follow him on Twitter @ericswatkins.