Arts+Culture
How L.A.'s Graffiti Art Became Its Essence
Man One's art almost killed him. One night, when he was 18, he and some friends put up a piece of their graffiti writing on a wall in Highland Park. Later, he went back to photograph the piece. As he snapped pictures of his work, two gang members approached him. One of them put a gun to his head. They asked if he was a graffiti writer.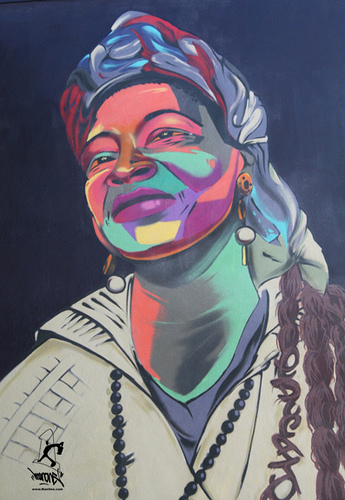 He was only there to snap pictures. Photography was important for graffiti writers, whose work could be painted over the next day. This way he could preserve his art. He didn't have any paint cans, luckily for him. He had to think quickly.
"No, I'm an art director," he told them. He said he was from MTV and he had come to the spot to do a video shoot.
"Really?" they asked.
"Yeah, you can bring all your homies, and we're gonna film it right here. Just bring all your homies and we'll put 'em in the video."
The one gangster put his gun down and the two ran across the street to a car wash where their friends were hanging out. That's when Man One got in his car and took off.
"If I had had a spray can at that moment he would've shot me," Man One said. "He didn't care."
"They Claim I'm A Criminal"
This was the early 90s, when graffiti writers and violent gangs became more closely identified with one another in the public eye.
Man One was not a gang member. Graffiti writers tended to roll in crews, but it was rare for them to carry guns and shoot at one another. Man One had experienced some interactions with gang members before, he said. They would ask him his affiliation, and he would tell them he was a writer, not a banger. They would let him be.
But in the early 90s, the line between graffiti crews and gangs began to blur, especially in the media.
Fox 11 did several pieces that profiled Los Angeles graffiti crews. The series made little distinction between graffiti writers and violent gangs. With hip-hop D.J. music pumping in the background, the videos showed so-called "tag-bangers" running around town throwing their names up on the walls, all under the threat of gunfire.
Subjects flashed small pistols and automatic handguns in front of the camera. The reporters asserted that more and more graffiti crews were taking up arms. They called them "the graffiti wars."
From the piece, it appeared as though all graffiti was gang related, which was not accurate. "To ordinary citizens, it's a growing sign of the urban decay slowly destroying our cities," said the reporter in a voice over.
L.A.-based female graffiti artist Sherm remembers the negative portrayal of graffiti when she was growing up and developing her skills as an artist. She had just started writing on walls.
At the time she started "bombing," she didn't think much of it, "other than feeling a rush by doing the act and feeling accomplished that I was 'up' in my city, as silly as it sounds now," she said.
She remembers seeing the Fox 11 coverage of tag-bangers. They dressed and acted like gangsters and even carried guns, she said. It was nothing that she associated with.
The work of many graffiti writers was bold and colorful. It could be decorative and artistic. The markings of the tag-bangers were hasty, crude and functional rather than aesthetic. They were mainly to mark territory – just black letters. Sherm's work, especially in her more recent pieces, is florid and feminine. The news media made little distinction.
"The media would use the term loosely, and basically anyone who used spray paint was labeled a 'tag-banger,'" Sherm said in an email. "They couldn't differentiate between those who painted full color graffiti pieces and those who tagged. It was all lumped into one."
Man One went as far as to say that the video pieces of Fox 11 actually contributed to the rise in violence between gangs and graffiti writers. In his view, the news media changed the relationship between gangs and graffiti.
"All of a sudden the Mexican Mafia put a green light on graffiti writers, which meant that any gang member that ran into a graffiti writer was given the green light to shoot at them," he said.
He saw the violence escalate, he said. Some writers he knew were shot and killed. I called Fox 11 several times and left messages requesting interviews for this article, but none of these requests were answered.
People all over were associating graffiti with gangs. "It wasn't true," Man One said. "That was not happening on the streets."
Once the violence exploded, police began to crack down. For a while it was incredibly dangerous to be a graffiti writer in Los Angeles. Graffiti artists who were active at the time felt they were under siege, not just from gangsters, but from the major news outlets.
"Newspapers of the streets"
Sociologists have interpreted graffiti as a form of self-expression. Some observers have even suggested that the unique graffiti of Los Angeles expresses the character of the city itself.
Los Angeles graffiti cannot be found elsewhere. Cholo gang writing has existed since the Mexican gangs of the 1940s and the Zoot Suit Riots. The Chicano gang markings, or placas, often served as the roll calls of gang members. These placas would indicate what areas certain gangs controlled.
Francois Chastanet writes in his book "Cholo Writing: Latino Gang Graffiti in Los Angeles" that placas were sometimes referred to as the "newspapers of the streets" because one could keep track of gang wars by observing which group's tags were crossed out.
An anti-graffiti community leader, Juan Gonzalez, told the Times in 1984 that the markings were more than mere vandalism to those who made them. "The wall is a newspaper for them, a sort of blank bulletin board," he said.
Many have noted how different Cholo writing is from the New York hip-hop graffiti style. Whereas New York writers tended to connect the letters with loops and decorative flourishes, Chicano writers tended to use distinct, unconnected lettering. Chastanet compares the Chicano wall typography to that of the Los Angeles Times. The taggers wanted the most official look possible.
Cholo writing, to Chastanet, "represents the very essence of Los Angeles."
The graffiti culture in Los Angeles is special. The Cholo gang writing has a huge influence, but there's also the skate, surf and tattoo culture. New York's hip-hop graffiti style has a huge influence, as well. All of this fuses together to make L.A.'s graffiti unique.
"There are so many styles and variety going on here. People who grew up and have lived in LA for some time carry their own tradition and influence with them and it shows in their work," Sherm said. "People who also come to live in LA bring a piece of their own personal style from somewhere else and it sort of merges with what already exists and becomes something new."
From the barrio to the gallery
Chaz Bojorquez, L.A.'s most respected graffiti artist, was heavily influenced by the Cholo graffiti in his neighborhood, but he combined other influences in such a way that made him a quintessential Los Angeles street artists.
As a youngster, he started tagging in 1969 amidst the Chicano barrio graffiti culture, but he was not a gang member.
Greg Escalante, founding partner of Juxtapoz magazine writes about his early experience with Bojorquez's work in the "introduction to The Art and Life of Chaz Bojorquez" (published in 2010). He writes about his first contact with the artist's work at the Zero One Gallery in 1988.
"His neighborhood graffiti was his main inspiration, and I could feel all this and more that day at the Zero One," he writes.
The Cholo writing clearly meant more to him than it did to people from outside the culture. The idea of graffiti as the "newspapers of the streets" perhaps wasn't so far-fetched.
"Cholo graffiti identifies the neighborhood you're in, how many strong, and threatens those not allowed," Bojorquez said in an email. "Knowing a little of its history and culture helps to read between the lines."
His street art is now considered to be some of the most influential in the world, enough to merit a Juxtapoz magazine cover story in 2009. But even the art press did not take his work or any other graffiti art seriously. It was especially hard for artists in L.A.
"If you wanted to pursue a career as a professional artist, you had to go to New York," he said. "No other city had that power, because New York had all the major art magazines."
Publicity was rare for Bojorquez. His first review was in 1975, and it was for a book he was involved in called "Street Writers." He got no other press attention until MTV took notice in 1986. He had to look to his peers for respect.
"I became very self-reliant and validated myself through the respect of the other graffiti writers," he said.
His transition to painting on canvas was natural, he said. It was the result of wanting to express himself on a deeper level – the natural progression of an artist. "At my age, it's all graffiti," he said. "I don't need to tag in the streets anymore. What I do is tag your mind."
Artists like Man One owe an enormous debt to Bojorquez. When Man One was younger, part of the appeal of the graffiti culture was the adrenaline rush and the fact that everything he was doing was illegal. He even had to steal the cans of spray paint.
Even when started in the 80s, Man One had ambitions of bigger projects. The rush was one thing, but it wasn't all that drove him to create. He took inspiration from huge murals, books, magazines and New York train graffiti.
Man One's art often has some kind of political connotation, sometimes overtly and sometimes much less so. But to him the act of graffiti, and even the tools themselves, are political on their own.
"The moment you pick up a spray can, you're being political," he said. "As soon as you're painting with a spray can outdoors, immediately there's some kind of judgment on you, there's some kind of connotation… You're going against the system. You're automatically doing something that's not the norm."
Man One no longer writes on the streets, at least not for free. Like many writers who came up practicing their craft on the walls of L.A., he now makes his living through his art. As is common with L.A. artists, he is also a small business owner. He runs a gallery downtown called Crewest, which sells high-end spray paint.
He also generates income through commissioned works. Since his days on the streets, Man One has shown his work in galleries, but what really brought his work to the public attention was his role in advertising.
As graffiti style became more accepted as an act of self-expression, it also became more accepted in marketing. Man One has done work for Coca Cola, Adidas, Nike, MTV and other companies. The "newspapers of the streets," like other papers, have advertising sections.
"To benefit the community"
Many graffiti writers historically have gained favor for their work in the name of community service and urban beautification. This lives on today in programs where community leaders channel youths' talents to improve the community.
A popular program called Justice through Uniting in Creative Energy (J.U.i.C.E) originated a few years ago as a safe place for South Los Angeles youths to express themselves creatively.
Call it the Run-D.M.C. version of the Boys and Girls Club. J.U.i.C.E. started out with just break-dancing and D.J.ing workshops. Then the organizers added an MC production program. But one of the most popular additions was a program for budding graffiti artists.
J.U.i.C.E. has expanded over the years and has held performances to showcase the young talents. The program's growth is due partly to public funding, said the project's leader Monica Delgado.
She called the city's funding "amazing, because the city cultural affairs department is supporting a graffiti art program. It's because it's a free expression, but it's also a way to help young people do something positive for the community."
Well-known L.A.-based professional artists like SANO and Cre8 lead the workshops.
The children paint on public walls after J.U.i.C.E. secures the city's permission. All the artwork is legal and sends a positive message.
The workshop leaders teach the kids that "you don't have to be tagging and vandalizing to be an artist… Of course, there are always people who think, 'Oh, you're just teaching kids to tag.' But it goes so far beyond that."
Graffiti artists can also use their craft for the benefit of their community. I found Man One weeks ago painting a mural for a library in Watts. The Southern California Library for Social Studies and Research commissioned him to paint over a wall that had long been covered in tags and graffiti art that was not up to the library's standards.
The mural, called "They Claim I'm a Criminal" after the Public Enemy song, features a portrait of the late community activist Michael Zinzun, the former Black Panther who founded the Coalition Against Police Abuse.
There are two light poles across the street that, at any time of the day, will create two long black shadows against the wall, which, to Man One, evoke prison bars.
On a wall facing perpendicular, the artist has painted a picture of a local woman simply known as "Auntie," someone who Omanale said just about anyone from the neighborhood would recognize. Her hair is braided into the words "Educate," "Organize" and "Power."
As Man One and his buddies sat down and relaxed on the tailgate of a truck filled with spray cans, locals began to come by to check out the work in progress. One of them, a teenager who goes by the name "Castro," is a budding street artist. He came out with his sketchbook to show it off. He'd been hanging out all day.
He said he picked the name Castro because it sounded good and was easy to write. Graffiti writers add embellishments to their pennames to make their work more elaborate, and it's easier to do that if their names are short and simple. "You wanna make it easier for yourself," he said.
Like any young writer, he loves the adrenaline it gives him, the rush of "just putting your name out there."
I asked if any of his tags had ever been painted over by the community. He pointed to a garage door across the street. "See that white spot over there?" It looked like concealing makeup over a zit.
"They don't like it," he said. "But why don't they see it from our point of view?"
Man One laughed a little when I asked about the kid. That's all part of it, he said, knowing that kids from the community might come along, see what he's doing and get inspired.
Reach senior editor Ryan here.