International
Gaddafi Safe If He Quits By Friday Night, Libyan Rebels Say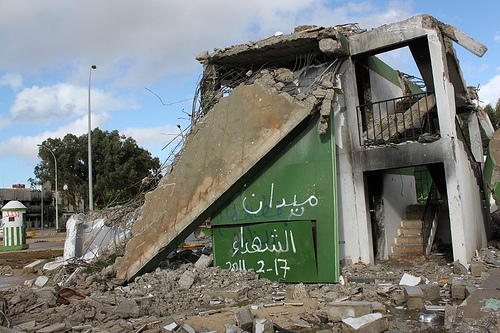 Col. Muammar Gaddafi can avoid prosecution if he steps down as the head of Libya within 72 hours, Libya's new opposition leader
said Tuesday on Al-Jazeera
.
Rumors have been swirling since Sunday morning about whether or not the National Libyan Council, which has emerged as the new controlling body in much of Eastern Libya, would be willing to negotiate with Gaddafi and his emissaries.
Thousands of anti-Gaddafi protestors have been killed by bombings through the air and heavy fire on the ground. With Gaddafi's fighters still standing strong in several key cities such as Tripoli, it makes sense that the opposition would be willing to negotiate.
Some rebels interviewed by other media outlets from the Washington Post to the N.Y. Times have said they would refuse to stand by negotiation with Gaddafi's regime because of all the recent deaths at his hands.
President Barack Obama has considered intervening in Libya by sending U.S. troops to aid the opposition cause, but if this 72-hour escape window for Gaddafi does exist, then it may give Obama cover to stay out of Libya for another week.
Three in five Americans said that America should stay out of Libya, according to a Rasmussen poll released Tuesday.